---
---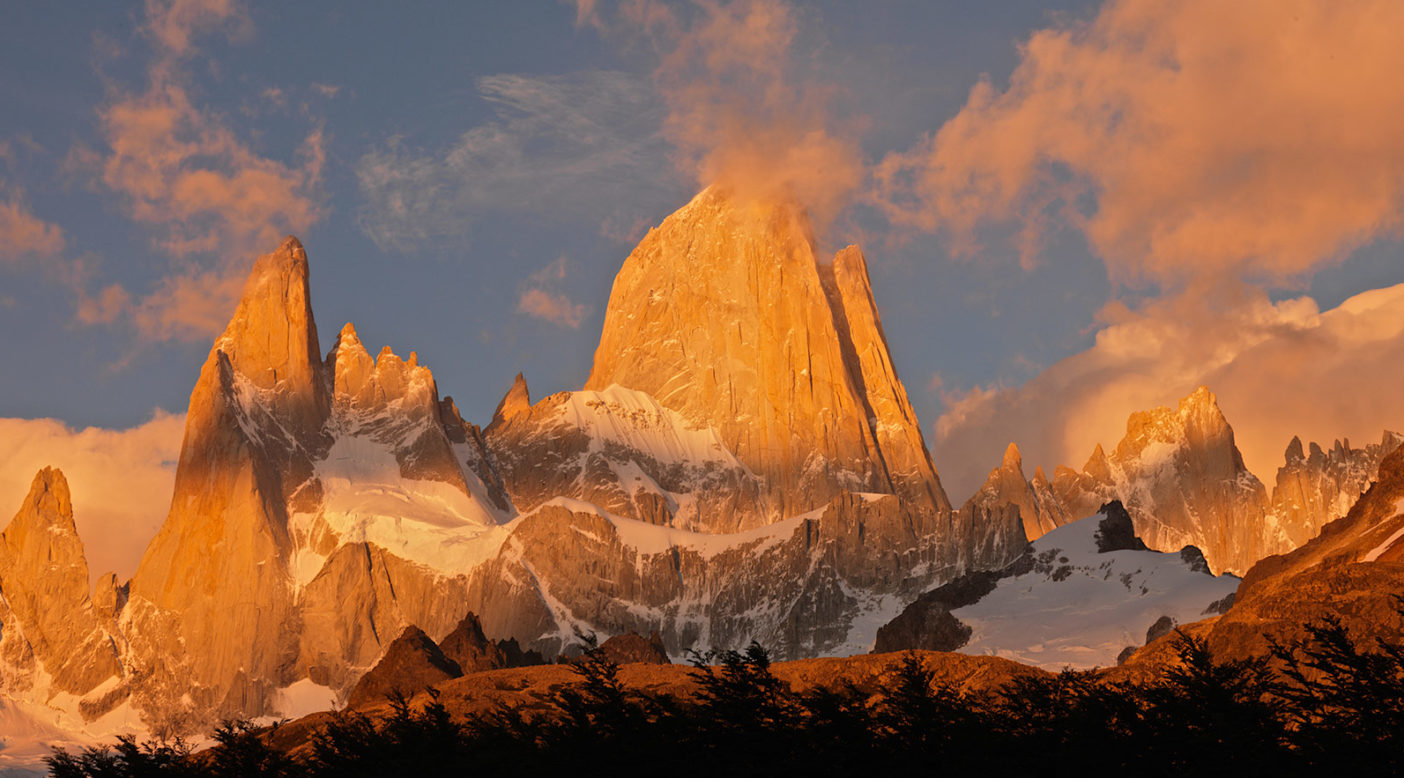 Surfers for Cetaceans Chile Tour – Part 2
Jun 27, 2008
June 27, 2008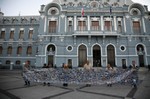 Patagonia surf ambassador Crystal Thornburg has sent another update from the road in Chile. Check out part one first if you missed it.
[Showing off the Visual Petition in Valparaiso, Chile. Please consider adding your own photo to the petition if you haven't already. Photo courtesy of Surfers for Cetaceans]
We are continuing our journey south with the EL MAR, ME ALMA tour in Chile for SURFERS FOR CETACEANS.

Heading to Valparaiso we drove through the countryside watching the sun beams shine in between the grape vineyards extended to the horizon. Valparaiso is one of the largest port towns in Chile, and is known for its colorful murals and mosaics on every street corner. The town itself looks like a mosaic from afar with all the different colored houses lining the hillside. Artist and surfer Chris Del Moro joined the crew to contribute to the creative quiver. We made our way to the city center to unravel our Visual Petition banners to display in front of the "Armada De Chile" which drew a curious crowd.
We were off in a rush to make it to the next town on our list, SanAntonio. Just a few hours south, we made it on time to catch thefishermen and families in protest, and were asked to join them forlunch. The fishermen in San Antonio are taking notice of the massivereduction in fish count, and the loss of cultural connection with theocean ecology in general.

We met that night with the founder of theNatural Museum in San Antonio, Jose Luís Brito. He described that it ishard to explain to people in the area about ocean awareness andsustainable fishing practices, because most of the town people are verydeprived and depend on the ocean for food resources. He also suggestedthat because of population expansion from inlanders, they do not haveas strong a cultural connection with ocean as they did in pastgenerations.

Just across the street from the protest, Howie Cook, Chris Del Moro and I started yet another Whale mural next to a mural done bylocal artist/youth worker Loreto Ramirez. Our time in San Antonio wasshort, but very informative on the current ecological and politicalsituation of marine life in the area.

We made our way down the coast to Puertecillo, a very small village onthe sea. The villagers export seaweed known as Cochallullo all the wayto Japan. Another export is a fish called Corvina that averages about31 pounds. Down the beach from our cabanas lay a nice left peeler thatruns down the sand bottom point. Needing to wash off the off-roaddriving scum after getting lost we made it just in time for a muchneeded session. Howie set up his beautiful tipi, which made for a greataddition to the already stunning scenery. After our surf session westarted a bonfire to roast some Cochallullo we scrounged up. It has aninteresting texture, kind of like trying to eat a wetsuit, but verytasty. During the next few days at Puertecillo we made our way to a fewpounding point and beach breaks, and were greeted by world famoussurfer Joel Parkinson, who will be joining the tour for a few weeks.

Rolling out of Puertcillo at dusk we made our way south to Pichilemu,into our lodge tucked in the eucalyptus-enriched hills above the surfbreak Punta de Lobos. Waking up to a view of the point, and adeveloping swell we rushed down to see the point in action. SurfingPunta de Lobos for a few days with local big wave surfer Ramon Navarrowas a great experience.

One of our nights in Pichilemu we joined Rodrego Farias, organizer ofthe Pichilemu Surf Festival, to present his film Chile Oculto, andour slide show of the Visual Petition and Whale footage taken in ByronBay, Australia. We also met up with environmentalist and ChileanProgram Director, Joshua Berry from the Save the Waves Coalition. Hescreened the trailer for his up and coming movie called All PointsSouth. Local artists also presented some of their works, and threelocal bands came to play after the movie. We spent the rest of thenight taking over a great restaurant in town, singing, drinking wineand shouting environmental facts and silly jokes across the table. Itwas a nice night to get the whole crew of 19 together in a non-workingenvironment to unwind. It was time to move on to our next destinationsix hours south on a dirt road to a little village in the Buchupureoarea.

Passing through valleys and hills filled with farmed pine andeucalyptus trees was a stark reminder of the environmental issues thatChile is facing right now. Every few minutes we would pass a wood pulpmill, what they call an "Industrial Forestry Complex" in Chile. Therehave been many protests surrounding the impacts of the mills in thetowns and villages in which they reside — pollution, being the mainconcern, due to toxic water runoff and air pollution. In the 150K ofcoastline alone there are over 54 mid- to large-sized mills.

We are now in the Buchupureo enjoying the peace and tranquility of theplace. Although yesterday, from the point break looking back at land,you could see blank spots on the hills with the occasional glimpse of abulldozer, and the sound of destruction.

Tomorrow (June 19) we are heading down to Concepcion where we will bemeeting with Mapuche representatives and the Students Federation atUniversity de la Purisima Concepcion, to discuss environmental issues,and our concerns with the Chilean Cetaceans.

To check out more info and blogs about our trip visit www.chiletour08.com.

To upload your VISUAL PETITION, visit www.visualpetition.com.
Here's a really cool postscript from Crystal: "Jack just sent us this clip in support of our Chile trip. It's a clip from his tour in the states just a few days ago."
Finally, some more photos from this leg of the trip: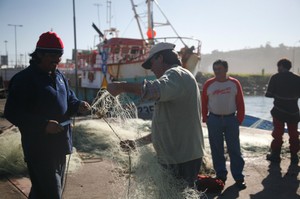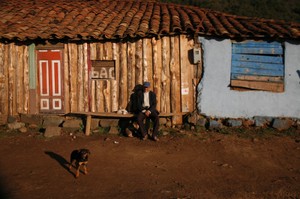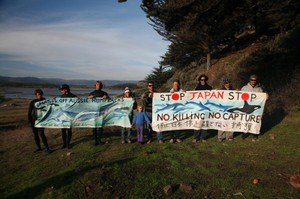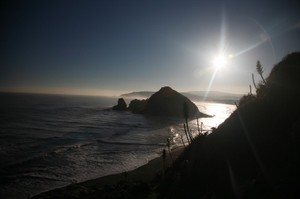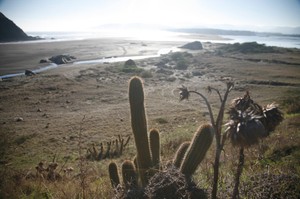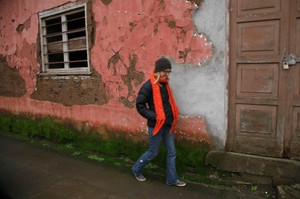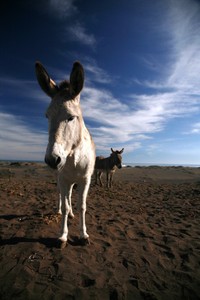 [All photos courtesy of Crystal Thornburg and Surfers for Cetaceans]
« Product Testing – On Sol Patrol in Africa Vanquished: Kelly Cordes Chases a Fleeting Ice Route in His Own Backyard »