---
---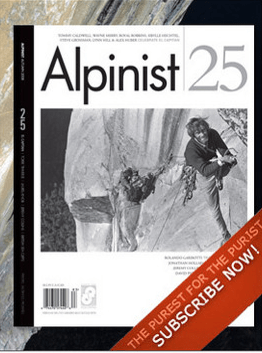 It's old news to all you die-hards out there. The notice has been public for, what, a good three weeks now. To be honest, we're still having a hard time accepting it. Alas, it's true: long-time friends and standard-setters, Alpinist Magazine, announced earlier this month that they would be closing up shop. And despite any quiet finger-crossing from their fans, it's really happening.
In a business climate of ever-increasing corporatization, the Alpinist staff kept our shared passions at the forefront of every interaction. As climbers, they understand a team can only ascend if they do so together. Thus it was that Patagonia's relationship with them transcended the typical corporate exchange. Put simply, we inspired each other. Alpinist continually reminded us of our roots and our ideals. And in our modest way, we tried to do the same for them.
No doubt, readers were Alpinist's lifeblood. And it was their unwavering focus on-and respect for-their readers that helped shift the standard of the whole industry higher. Somehow, they figured out the tricky balance of telling climbing's full story. Within its pages, climbing's most legendary dirt bags and most estimable modern professionals held equal sway. It was, as editor Christian Beckwith stated in his farewell address to Alpinist's advertisers, "a publication that was at once timeless and universal, that introduced our beloved readers to some of the deeper reasons we climb, that revealed a world without cultural barriers, that held up what we believed to be beautiful for readers everywhere to appreciate."
Another excerpt from that same letter embodies the spirit of Alpinist's business ethic, and hints at why it's hard to see them go:
Most important . . . we've enjoyed working with you. The outdoor community is singular: filled with dynamic, passionate adventure seekers, it sometimes feels like a great extended family, one that welcomes and cherishes its own. Nearly seven years ago, you welcomed us into your business and helped us to create ours. We've enjoyed every issue, every webpage and every film festival we've created, and we remain honored that you believed in us strongly enough to advertise with us. Thank you for your support.
To the staff at Alpinist, all we can say is thank you, farewell and climb on.
« Product Testing – Babes in the Woods Makalu: Heading Up »