---
---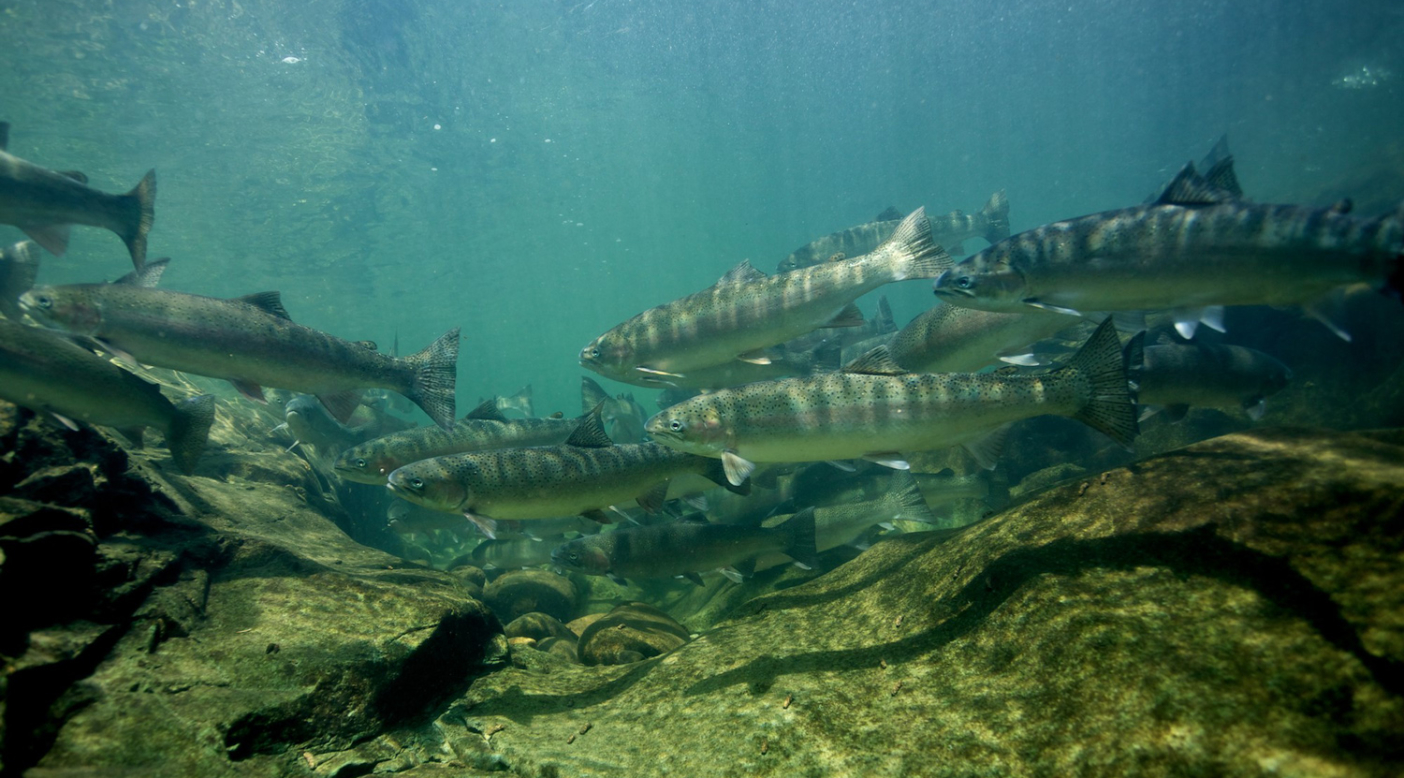 Bozeman Save Wild Steelhead Festival
Fly-fishing fanatic and Patagonia field report writer, Dylan Tomine, shares his experience at a recent steelhead-conservation fundraiser in Bozeman, Montana.
Just back from the Bozeman Save Wild Steelhead Festival and thought I'd report in. I know what you're thinking – I thought it too: What the heck is a steelhead event doing in Montana, of all places? A fundraiser for a species that doesn't even live there, on a school night in November, during a severely spiraling economy? No way.

Well, what can I say? It was an absolutely spectacular event put together by the Fly Boys, Paul Tarantino and Josh Brandner, with a packed house, tons of enthusiasm and a lot of money raised for the Wild Steelhead Coalition and Trout Unlimited. I was blown away by the level of support from the community – Bozeman is a really special place.

Wild Steelhead Coalition President, Rich Simms, receives a $5,000 check and hearty handshake from Patagonia's Blake Nicolazzo. The donation came directly from the sales of WorldTrout T-Shirts. Photo courtesy of Fly Boys
I don't know what the final count was, but I would guess somewhere between 400 and 500 people showed up to see steelhead film clips fromAEG, Steve Apple, the Fly Boys, Jeff Bright and others. And in the middle of all the beautiful images and exciting, action-packed films, I was fortunate enough to be able to do a reading of my "State of theSteelhead" essay accompanied by great images from my buddy Tim Pask.

I thought my presentation would be a real low point, as it basically outlines a lot of the problems and challenges steelhead runs are facing coast-wide, but the response was incredible. People came up to me afterward to say they wanted to get involved and contribute to the cause, and at least half the people I talked to said they didn't even fish for steelhead. Some said they didn't fish at all! Like I said,Bozeman is a really special community.

Dylan Tomine (right) prepping for his presentation (or discussing water levels) with Fly Boy Jess. Photo courtesy of Fly Boys

Other high points included Blake Nicolazzo from Patagonia presenting Wild Steelhead Coalition President Rich Simms with a check for $5,000 from the sale of WorldTrout T-Shirts to thunderous applause, and Rob Mason is, the new VP ofWestern Conservation for Trout Unlimited delivering a rousing, "get involved"message.

The whole event, and Patagonia's sponsorship of it, made me proud to be a part of the team and gave me more hope for steelhead conservation than I've felt in a long time. Now I hope the Fly Boys can take the show on the road and generate this kind of excitement, awareness and fundraising in other towns around the West. I also want to thank Patagonia and Sage for sponsoring my reading – I think we did some real good out there in the Rockies.
Dylan Tomine is a freelance steelhead bum, writer and recovering sink tip addict. He lives in Washington State, where he is pioneering the use of Spey rods for bluegills with his four-year old daughter,Skyla.
Patagonia field reports by Dylan Tomine:
State of the Steelhead – The Canary Ain't Singing Anymore, But The Fat Lady's Just Warming Up
The Little Things
40 Winks
Silver Lining
« Patagonia Receives FLA Accreditation Hand Cut Screening in Santa Barbara December 4th; Enter to Win the DVD »