---
---
The Alpine Briefs – An Online Newsletter from the Editors of the American Alpine Journal
By
Patagonia
|
Dec 10, 2008
December 10, 2008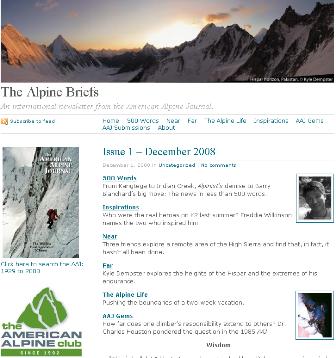 Patagonia ambassador Kelly Cordes just sent word of a new margarita-fueled project he's been working on: The Alpine Briefs, a web-based newsletter filled with news, expedition reports, essays, gems from the American Alpine Journal archives, and other material of interest to alpine climbers.
As senior editor of the American Alpine Journal (AAJ), Kelly spends his non-climbing hours editing the massive, once-a-year print journal for the members of the American Alpine Club (AAC). With the advent of The Alpine Briefs, AAJ contributors, AAC members and alpinists around the world can get a taste of the Journal on a bi-monthly basis (+/- depending on trips and tequila reserves).
We asked Kelly for a personal comment and he sent us something like a press release — we fear he might be readying for a career change and move to NYC for work at a PR-agency:
The idea for The Alpine Briefs came together from some moderately creative thoughts floating around in my head, combined with something we at the AAJ often discuss among ourselves: that we get lots of cool things that we can't fit into the book. Sometimes it's multiple great photos, other times it's the story behind the climb, and other times it's an adventure on an awesome new route that might be too short for us to run in the limited space of the book.
The AAJ comes out only once per year, but the Internet obviously allows for more frequent transmission of some of this cool material. As for the other material we (or I) might come up with, well, it's been conclusively proven that the web is also the home of the great unwashed. We'll finally fit in. So anyway, with the help of a few margaritas we developed The Alpine Briefs — not to be confused with your briefs after an alpine climb.

We're sort of winging it content-wise, keeping it flexible while having one foot in proud AAJ tradition and one foot dancing around a bit. This is purely a volunteer effort on our part, and it takes more time to compile and make presentable than most people could imagine, so we'll keep each issue short — er, brief.

When we create a new issue, it'll get emailed to AAC members and AAJ contributors, but each issue will also be posted on the site and is free for anybody to view. No registration or b.s. involved. We figure we'll do a new issue every other month or so, but I'm definitely not going to miss any climbing trips, either. Initially I thought quarterly would be best, but Dougald and John have higher standards and argued for bi-monthly. In an uncharacteristically ambitious move I caved in. If we find the time and have good content, perhaps we'll even try to do it more frequently — but no promises there. I'm all about enabling success through keeping expectations low. We thought it'd be cool and a fun thing to put together — we hope you enjoy it.
The American Alpine Journal and The Alpine Briefs newsletter are supported by dues-paying members of the American Alpine Club, and by generous outdoor-industry partners and Friends of the AAJ. Please consider joining the AAC or making a donation to support their work. Comments and submissions for The Alpine Briefs can be sent to Kelly Cordes.
« My Footprint – Ode to a Dead Volvo A Moment of Silence »