---
---
Train Ride to the Inauguration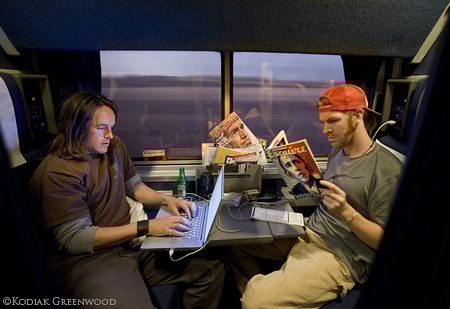 Many Americans traveled to Washington D.C. for today's Presidential inauguration. Two in particular made the long trek from Santa Barbara, California: writer Ethan Stewart and photographer Kodiak Greenwood. In true historic fashion Ethan and Kodiak hopped a train in Los Angeles and road it cross-country to Chicago, and then on to D.C. for the ceremony. The duo are documenting their travels for the Santa Barbara Independent in a series dubbed "The Obama Express." They also generously offered to share a taste of their journey with The Cleanest Line. We all witnessed the ceremony. Here's a taste of what it was like getting there.
[Kodiak (left) and Ethan (right) who says, "This looks posed and that's because it is." Photo: © Kodiak Greenwood]
The mojo is rising. It is Martin Luther King Jr. Day, and we are on a sold out Amtrak train headed straight for history. With any luck, by nightfall, we will be in our nation's capital along with an estimated 3 million other Americans, to celebrate the inauguration of the 44th President of the United States of America. Time folds over itself as we speed through the rural countryside of western Pennsylvania. A fresh half-foot of snow blankets the scenery as meandering rivers, abandoned mills, steaming steel factories and two–traffic-light towns blur by our window. A young girl, red, white and blue beads braided in her hair, walks by our seats with her mother in tow. Tugging excitedly on her mom's hand, the girl, no more than 10 years old, asks innocently, "Will we be able to see him Mommy? Will we be able to see Barack?"
These moments of historical poignancy have been becoming more prevalent here on the Obama Express as we approach the nation's capital. Since last Thursday, photographer Kodiak Greenwood and I have been on a train traveling east from Los Angeles. From the red rock badlands of New Mexico and the forever-flat views of Kansas to a frozen Mississippi River and the bone-chilling bite of January in Chicago, we have been watching the good, the bad, and the ugly of America whiz by.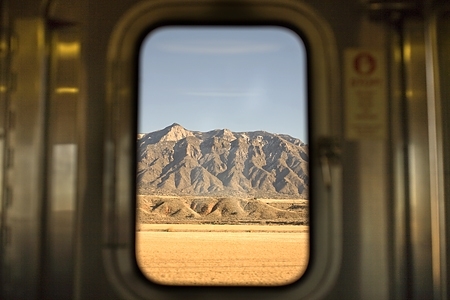 [This is somewhere west of LA and east of Chicago. Photo: © Kodiak Greenwood]
From day one, there have been healthy amounts of Obama supporters onboard making the pilgrimage to D.C. But yesterday, after a weekend stopover in Obama's adopted hometown of Chicago, the train is now standing-room only with church groups, families, politicians, campaign workers, babies, recovering hippies, the chronically disillusioned and the contagiously inspired. Obama gear reigns supreme, as do smiles, well wishes and a buzz the likes of which I have never before experienced.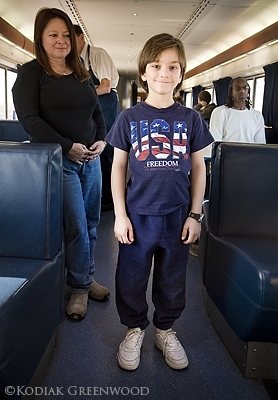 [Rexie is 8 and he is the the Missouri Chairman of Children for Obama. That's his proud momma, Karen, looking on. Photo: © Kodiak Greenwood]
Last night, delayed three hours in Chicago's Union Station due to mechanical issues, the situation was ripe for tempers to flare. However, when we boarded the train around midnight, spirits remained remarkably high – even for the stressed-out crew. Faced with a dilemma of lost bags, over-sold seats, a moody engine car and bad weather, the train conductor, no doubt breathing the same excitement-filled air as everyone else on board, took to the PA, "Just like all of you, I too have a date with history tomorrow. So what do you say we get this train moving?" And, as if on cue, the train burst into cheers as the whistle blew and we steamed away from the station.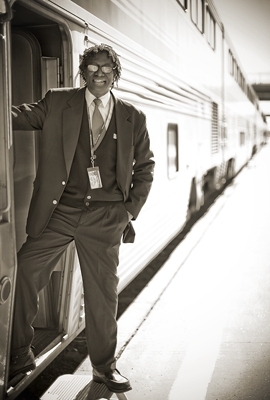 [This is Antonio. He was the man in charge of our realities for the duration of our ride on the Southwest Chief. Photo: © Kodiak Greenwood]
Besides the sheer adventure of it all, the real purpose of our journey is to jump buck-naked into the fateful river of history. You see, it wasn't too long ago that most Presidents would ride the rails to their Inauguration Day. The slow overland trips serving as a celebration tour of sorts, each train stop featuring crowds of excited Americans, waving, shouting and cheering to their new President as he made his way to his first day on the job. Even better, it was a lanky, well-spoken Senator also from Illinois – a dude named Abe Lincoln – who took a now famous train trip to his swearing-in ceremony. Living in an age when the Secret Service had yet to be formed, Lincoln alternated between the aforementioned high-profile party stops (complete with cannon blasts) and some decidedly sneaky, under-cover-of-darkness stretches of travel where he wore a disguise and refused to stop for anybody. He was, after all, an anti-slavery northern-states President and many folks from the south wanted to kill him for it.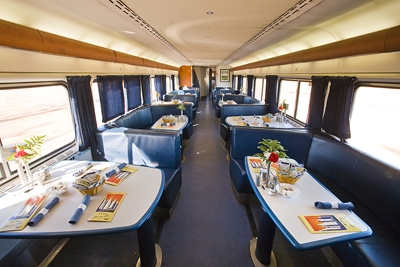 [This is where the flat iron steaks and french toast flow like water. Photo: © Kodiak Greenwood]
No dummy to the power of story and the inertia of history, President Obama – similarly lanky, well-spoken and a former Senator from Illinois – and his Vice President, Joe Biden, also decided to take a train ride this week. Opting for an abbreviated affair that focused on communities in the Mid-Atlantic States, the bi-racial bodysurfing Hawaiian native and his running mate arrived at Union Station on Saturday to a sea of adoring supporters. One can only imagine the thoughts Barack had swirling in his head as he gazed out from his window seat at America, his America, on his way to becoming the first black President in the history of our nation. His views were, no doubt, occasionally the exact same as Lincoln's 148 years before.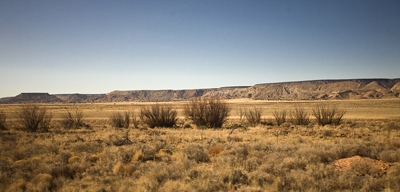 [Somewhere in New Mexico. Photo: © Kodiak Greenwood]
Last night, lying in my bunk watching the lights of Cleveland, Ohio, I couldn't help but feel exhausted. Long hours of travel, crappy food, and a whirlwind 30 hours spent on Chicago's Southside digging for Obama's Hyde Park roots, left me with a sensation oddly reminiscent of a journey about to conclude. And that's when it hit me: the real adventure has yet to really begin. Being shoulder-to-shoulder with millions of fellow Americans on Tuesday, participating in an occasion that will no doubt have its own chapter in the history books of the future, will be an adventure of a lifetime. But, more importantly, the unfolding adventure of our country has, once again, taken a turn back towards the masses. As one inauguration-bound passenger told me a few days ago, "Do you have any idea how good it is going to feel to have a President who has more in common with the average American than he doesn't have in common? I'm no idiot – I know there will be mistakes and disappointments – but come on, it is about time we had someone leading us again who we can believe in."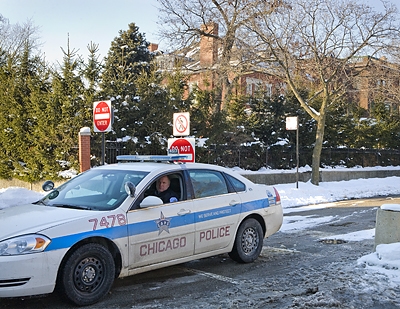 [One of Chicago's finest questions the weird California long hair taking a picture of Casa Obama. Photo: © Kodiak Greenwood]
One need look no further than the images beamed around the world last weekend of the free star-studded concert in Washington D.C. to realize that there is something truly powerful and unprecedented currently unfolding in our nation's capital. No matter your political lean, the idea that millions of Americans are traveling to the District in the dead of winter during some of the most economically trying times in our country's history, is, well, downright inspirational. The "change" that we hear so much about these days will not be brought about by a new President or a new Congress or by some pigeon-holed political view, but rather by the wills, wants, desires and dreams of a Nation that once again is engaged. Cue the Gil Scott Heron, the Obama Express rolls on…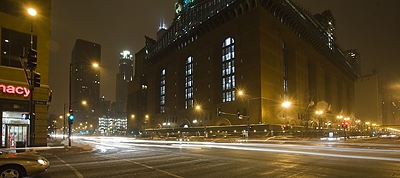 [This is Chicago after dark when it is cold enough to freeze a dog to a fire hydrant. Photo: © Kodiak Greenwood]
Our thanks go out to Ethan Stewart for taking the time to write this piece for The Cleanest Line, and to Kodiak Greenwood for sharing his beautiful photographs. We hope to hear from them one more time for a post-ceremony recap. In the meantime, you can immerse yourself in the full adventures of Ethan and Kodiak at www.independent.com/blogs/obama-express. And don't rob yourself of the opportunity to check out all the visual sweets your teeth can handle at Kodiak's site www.kodiakgreenwood.com.
With thanks to Branden Aroyan and Low Tide Rising.
« "History had been made. And I was there." The Hammer Monkeys »