Mar 9, 2009
March 9, 2009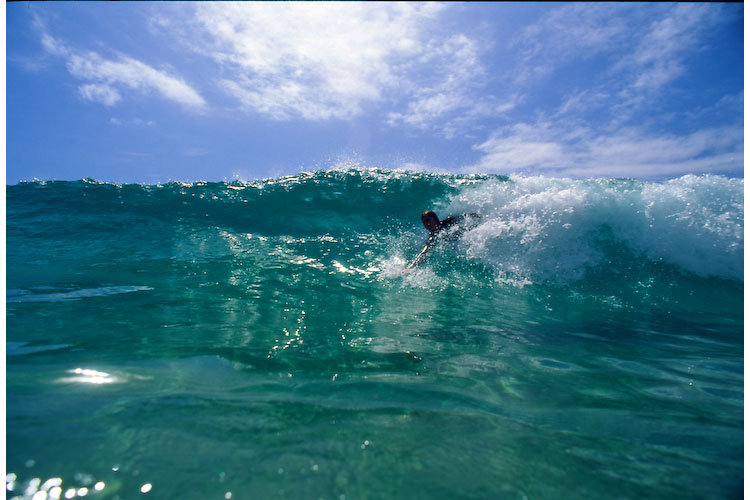 The world premiere of Thomas Campbell's new surf film, The Present, was a hit this past weekend with all four shows selling out. Patagonia ambassador Belinda Peterson-Baggs was one of the featured surfers in Thomas Campbell's previous movie, Sprout, which portrayed a multitude of wave-riding vehicles and plenty of wave riding without any vehicles at all — an austere activity known as bodysurfing.
[Belinda Peterson-Baggs. No board, no problem. Photo: Dane Peterson]
A little while back, Shakas and Singlefins turned me on to an ultra-minimalist, online photo journal based on the art of bodysurfing — its design and navigation mirroring the simplicity of the subject matter. Clicking through, I noticed some sweet shots of Belinda – taken by her husband Dane – so I thought I'd ask her about the project and what bodysurfing means to someone who, as Thomas Campbell puts it, "is one of the finest navigators of the nasal passage" on a longboard today. Belinda's reply:
Surfing represents something different to each of us. It can be an escape from our daily lives; a place to find peace and wisdom; a time to understand the significance of beauty, fill our desire for wildness and give us a sense of belonging; and an opportunity to feel the pure joy of life on this planet.
For me, living daily in the ocean is all those things — a gift from Mother Nature that brings balance and with each swell a moment of temporary euphoria. Every day is an endless quest for the next infusion that lends purpose to an existence.
Those moments come from a connection, feeling the glide, and trimming with the energy source. More often than not, it doesn't require a longboard, shortboard or any kind of sea-craft, just a streamlined body, surf and a will for freedom.
For the full experience, visit http://www.bodysurf.com.au.
The next stop on The Present film tour is the Montalban Theater in Los Angeles for a March 10 screening (that's tonight if you're reading this on Tuesday). Then it's off to Laguna Beach and the South Coast Cinema on March 11, followed by the Lido Theater in Newport Beach on March 12th, and then, good ol' Ventura on March 13 at The Lodge. Tickets, times and full tour dates here.
[With thanks to Belinda, Dane, Ryan Tatar and Thomas Campbell.]