---
---
Sacred Craft Surf Expo & Respect the Gaviota Coast Paddle Through Ventura This Weekend
May 15, 2009
May 15, 2009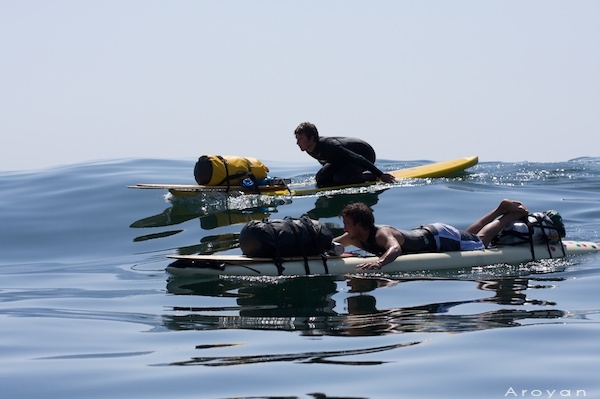 We have two stellar happenings to share with you today: the Respect the Gaviota Coast paddle and the Sacred Craft Surfboard Expo.

Respect the Gaviota Coast
On May 12th, two surfer activists, Chadd Konig and Nole Cossart, launched their paddleboards into the glassy waters off the Gaviota coast. The pair will be paddling all the way down to Mexico, surfing their alaias along the way, in order to raise awareness for SaveNaples.org and the pristine Gaviota coast, which is threatened by imminent development. This Saturday, May 15th, Chadd and Nole will paddle up to the Ventura County Fairgrounds for the Sacred Craft Surf Expo.
[Chadd Konig and Nole Cassert on day one of their paddle from Gaviota to the Mexico border. Photo: Branden Aroyan]
Sacred Craft Surfboard Expo
When last we covered the Sacred Craft Consumer Surfboard Expo, the event was held at the Del Mar Fairgrounds. This weekend, Sacred Craft comes to Patagonia's backyard, the Ventura County Fairgrounds, for "two days of surfboards, live shaping, demos, seminars, movies, music and good times…but mostly surfboards." Patagonia and Fletcher Chouinard Designs, along with the Malloy Brothers and Jeff Denholm, will be on hand to answer questions about FCD surfboards and Patagonia wetsuits. On Sunday, Gerry Lopez will be signing his book Surf is Where You Find It at the Patagonia booth and he's scheduled for a live shaping demo that afternoon at 12:30 pm. FCD will also be offering board demos at the point on Saturday morning at 7am.
One of the highlights of the Expo is the Tribute to the Masters Shape-off presented by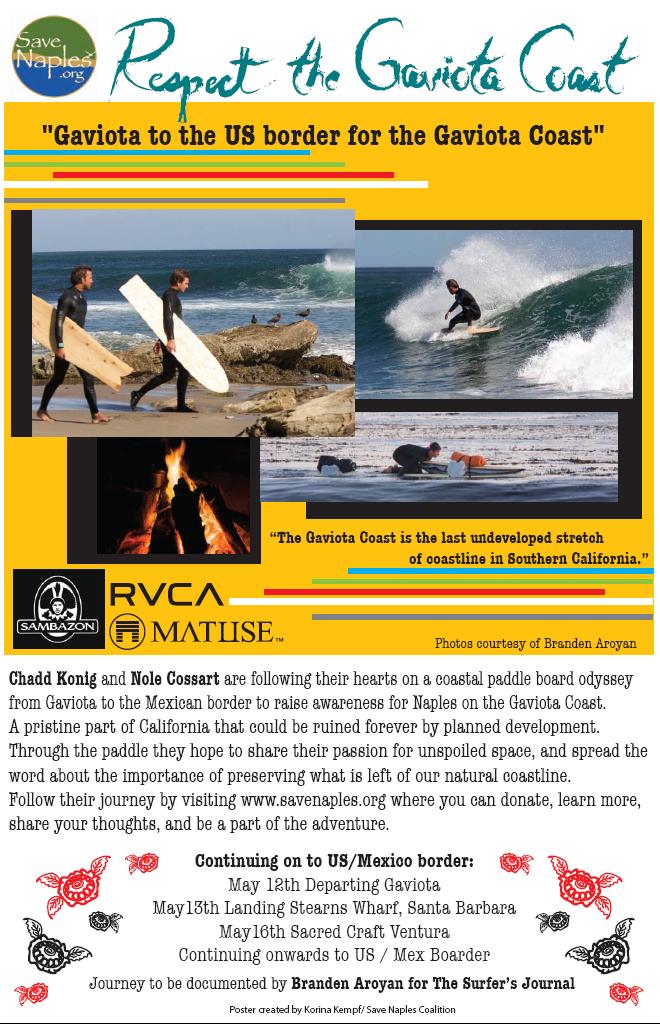 [Please help SaveNaples.org. Spread the word on your blog or Web site. Right-click to download PDF].

« Bike to Work Week – Young Lust and New Love Bike To Work Week Wrap Up »