May 13, 2009
May 13, 2009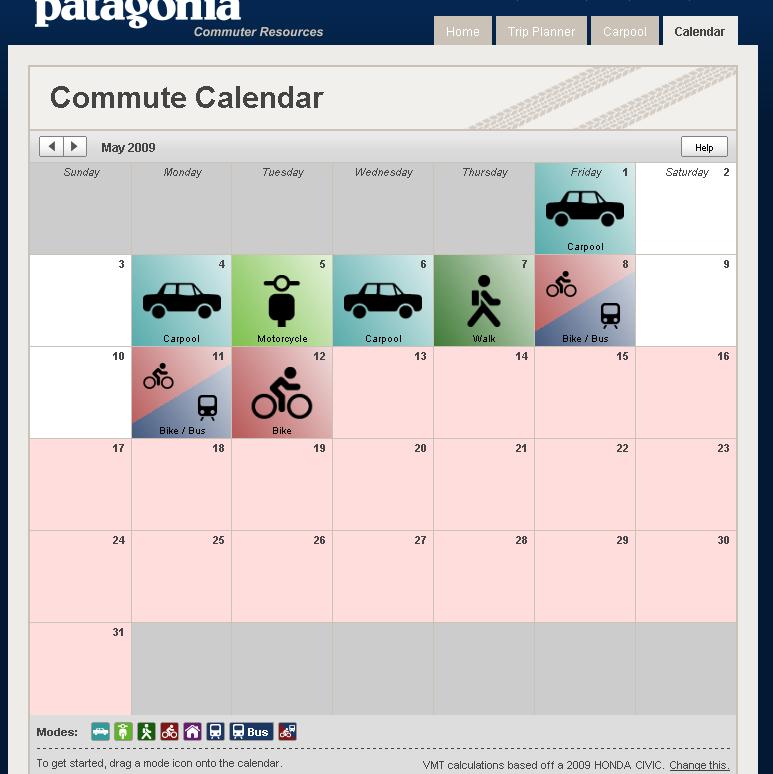 Used to be, I'd change into my biking garb in an exceptionally small closet. I'd shoe-horn into a closet that offered just enough room to change between the clanky boiler, a pile of broken bricks, and an impressive mouse-turd collection. It wasn't that my last job—at a local rag-tag paper—was un-supportive of biking to work. They just hadn't ever hired anyone willing to do such a thing. 
I hold no ill feelings toward my old employer, or even to the folks who threw weird looks at the guy who chose daily to get naked in the company of incontinent mice. But I have to say, compared to that place Patagonia's support of bike commuting is nothing short of righteous. You're listening to one satisfied employee on this front. I mean, there's bike parking, showers, OTHER bike riders. Over the years, more incentives have been added – prize giveaways to the most dedicated commuters, kind-spirited contests between Patagonia stores to see whose employees could pedal the most miles, and incentive programs to keep people riding year-'round.
And this year, things just got better. Thanks to a new partnership with Seattle-based Goose Networks, we've just been blessed with a killer new tool to keep track of the miles and rack up the smiles.
[Image: An example of how employees can track their daily commutes on the Goose. Simply drag the appropriate icon from the bottom of the screen to the date (either AM or PM), then choose the distance of your trip and how many people (if any) you rode in with.]
Through Goose's nifty new commute-tracking software, Patagonia employees are able to keep an eye on their positive environmental impacts in a whole new way. All they have to do is follow a quick and easy setup feature that incorporates all the pertinent details of each employee's commute: total distance, route traveled, vehicle type most commonly used, etc. Special map tools make it a cinch for employees to hook up for carpools and create new ride-share options. When an employee chooses alternative transportation, this system awards credits based on the impact that employee is NOT having.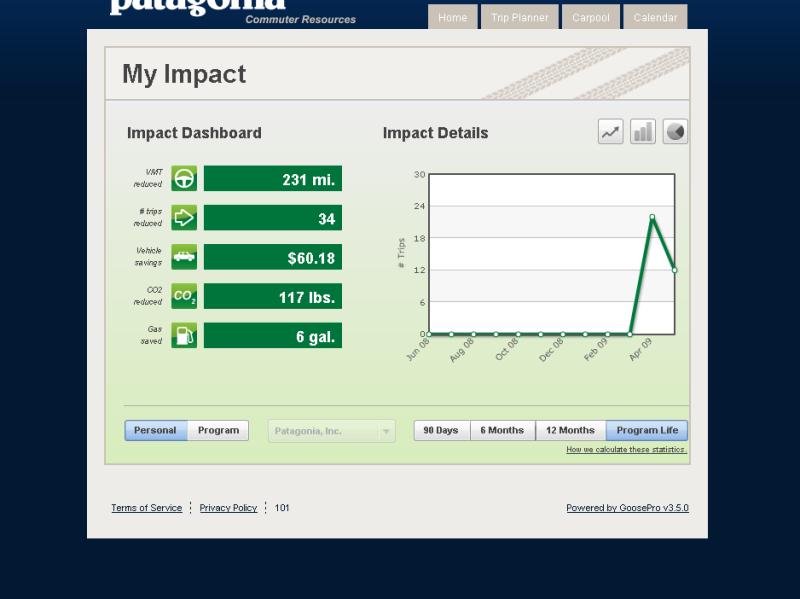 Using my trusty old Subaru GL (code-name: "Golden Thunder") as an example, the system is able to tally the total amount of miles NOT driven, carbon NOT pumped into the atmosphere, and, oh yes you guessed it, money NOT spent on gas.
For a while now, Patagonia's supported efforts to get employees motivated to ditch the moto-coffins and grab the reigns of a pedal-powered steed for their daily commute. Bike to Work Week has been a reliable time to rally the troops, and it may well be one of our highest smileage weeks every year. But something's different about this cool new stuff from Goose Networks. More than a chance to earn a pat on the back, this tool gives bike riders a solid answer to something we've all asked ourselves at some point: Just how much of a difference am I making?
[Image: A sampling of the environmental damage Golden Thunder is not wreaking upon the earth by staying parked in the driveway. The chart tallies results from any time period you choose, this one is from the last couple weeks.]
Here's a few more looks at the Goose Tool to whet your whistle.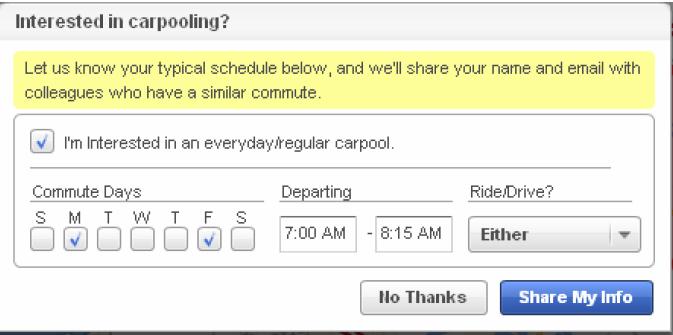 Finding a carpool is as easy as sharing your preferred schedule.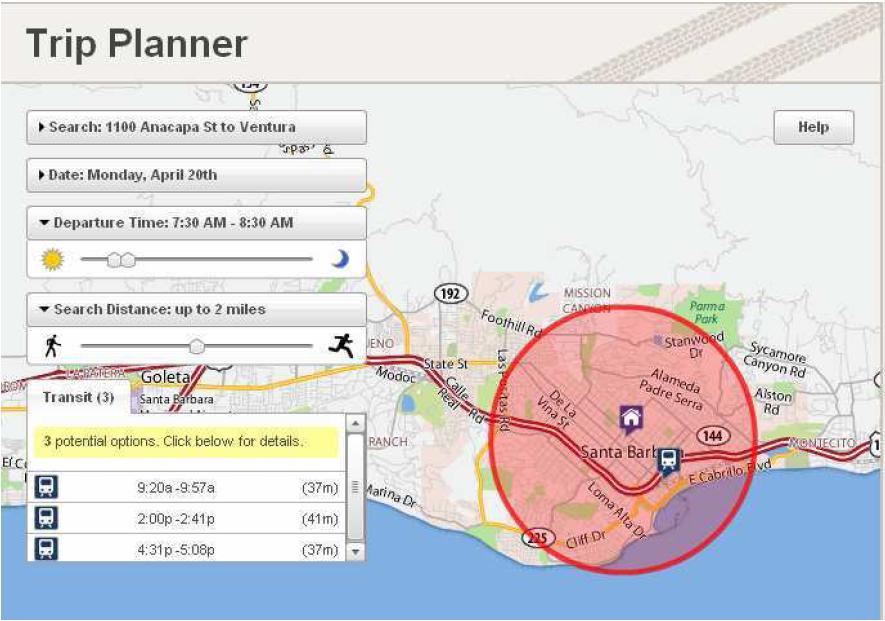 If there are other carpoolers in your area, they will appear on this screen. If no results are returned, you can change the time frames and radius of the search.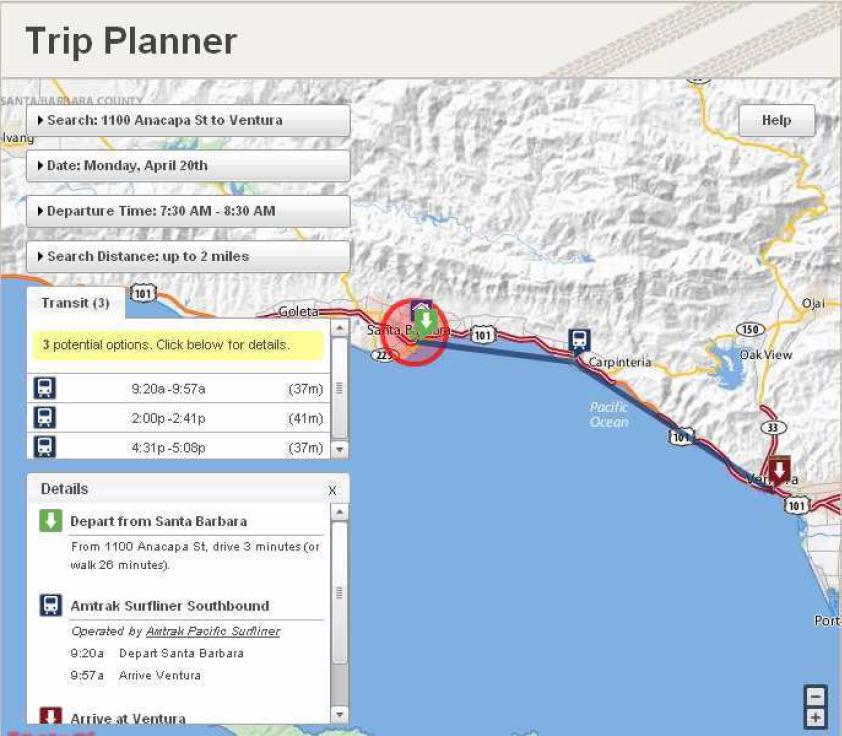 Click on an available carpooler for more detailed information or to contact them via email.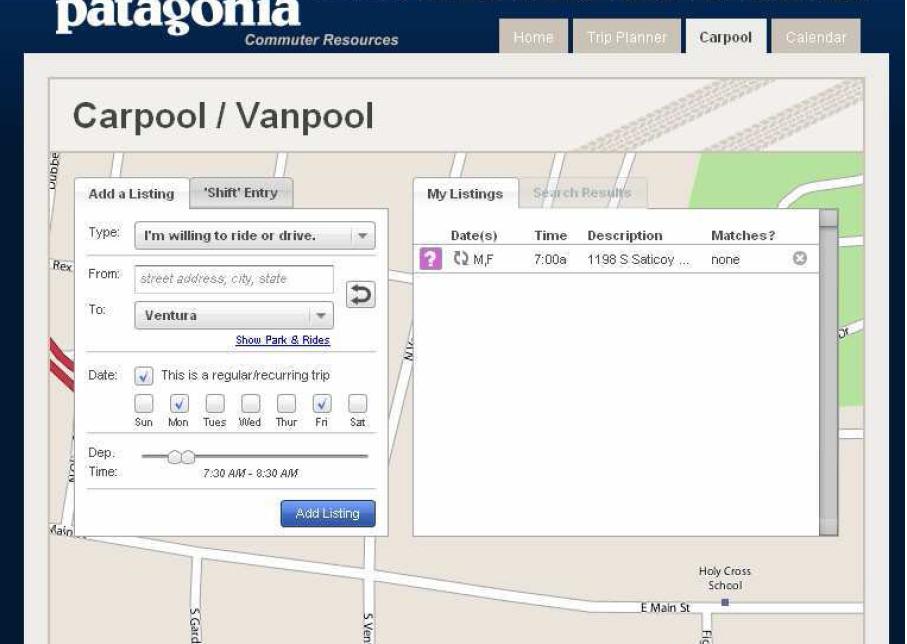 If you want to make yourself available as a carpooler, just fill out the carpool tab.
Tasty . . .
[With thanks to Patagonia I.T., Environmental Affairs and Human Resources for setting us loose with the Goose.]