---
---
New Tin Shed is Live – 14 Fresh Stories to Fuel Your Stoke
Aug 26, 2009
August 26, 2009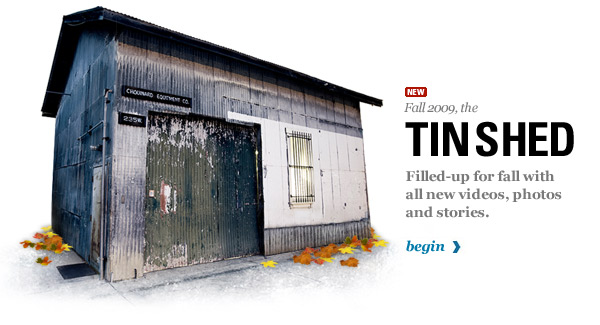 Friends, the new Tin Shed is now live. Within its walls you'll find 14 inspiring stories from around the globe covering alpine climbing, rock climbing, skiing, snowboarding, surfing, fly fishing, environmental activism and cultural connections. Go bouldering with Lynn Hill and surfing with Wayne Lynch and the Malloys, hear Steve House's  thoughts on climbing partners, go fly fishing with Tom Brokaw, explore the deserts of Namibia, travel to Patagonia — all of these stories and more are waiting inside.
Tip: clear the cache on your browser if you don't see the new content right away.
A new Tin Shed means the old stories have been moved to the archive. You can click View All Stories within the Shed to see all the past-season content, or, hit the jump for a YouTube playlist that contains most of the videos from the spring '09 issue of the Shed.
[YouTube playlist for Patagonia Tin Shed – Spring Issue '09 from PatagoniaVideo]
I'd like to extend sincere thanks to everyone who contributed towards the creation of the new Tin Shed: all the ambassadors and athletes, the photographers, videographers, writers, coordinators, designers, developers, programmers and proofers — thank you.
And on behalf of all those mentioned above, we hope you enjoy the new Tin Shed.
« Skiing Pico de Orizaba BAG en Peru »