---
---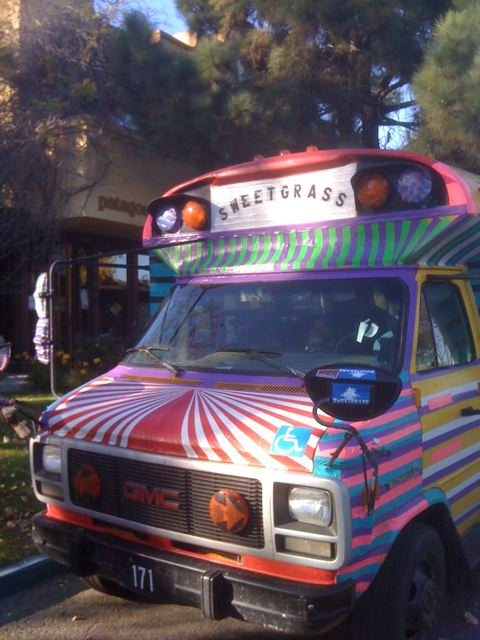 We don't keep a formal visitor log here at Patagonia headquarters in Ventura; we don't keep a formal anything. But we do see a steady stream of students interested in sustainable business practices, journalists who come to cover various aspects of the company, environmentalists promoting their issues, and athletes visiting friends and giving their input on our technical clothing and gear designs.
Above: A couple of guys from Sweetgrass Productions dropped by in early December to promote "Signatures," their new backcountry ski film. Photo: Jim Little
In recent months, we've also seen visitors from Wal-Mart intent on greening their company. We got a drive by from Tesla Motors, complete with test rides in their new fully electric roadster. And just the other day we were treated to a beer tasting by one of our corporate customers and favorite brewers, Dogfish Head Craft Brewed Ales.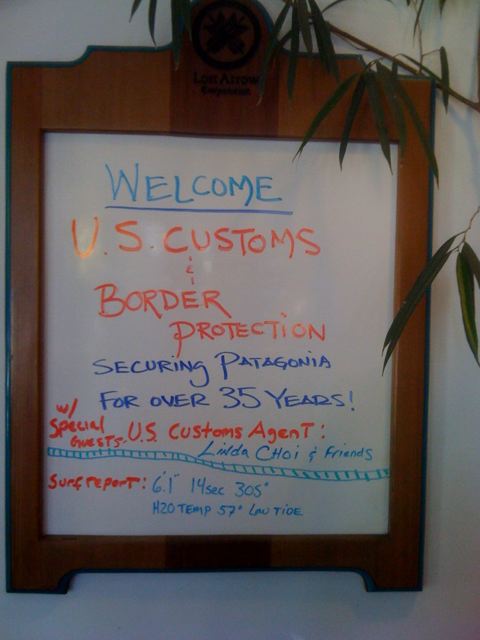 Even government agents (especially government agents?) get a royal welcome at Patagonia. Photo: Jim Little
Over the years, we've received visits from many amazing people from all walks of life who've come to Patagonia for lots of different reasons. We've seen and heard authors, activists, athletes, scientists, politicos, and futurists, among others. Below you'll find the names of some of the people we've been fortunate to spend time with – some we invited, some who just dropped by to say hello.
• Aaron Feuerstein, owner Malden Mills
• Anne Lamott, novelist
• Annie Leonard, "The Story of Stuff"
• Bertice Berry, author & sociologist
• Bill McDonough, architect, designer, author
• Carl Pope, Sierra Club chairman
• Dale Velzy, "The Hawk"
• Dave Foreman, co-founder of Earth First!
• David James Duncan, novelist/essayist
• David Mas Masumoto, organic peach and grape farmer, author
• David Whyte, poet/author
• Doug Peacock, American naturalist, outdoorsman, author
• Elizabeth Kolbert, journalist/author
• Fred Beckey, mountaineer
• George B. Schaller, pre-eminent wildlife biologist
• Gerry Lopez, surfer
• Hunter Lovins, president and founder of the Natural Capitalism Solutions
• Jack Johnson, musician
• Jane Goodall, researcher, speaker, author
• Janine Benyus, natural sciences writer, innovation consultant, author
• Jim Collins, student/teacher of enduring great companies
• Jim Hightower, national radio commentator, writer, public speaker, author
• Kenneth Leach, expert in quality systems development and assessment
• Kennan Ward, wildlife photographer
• Lance Craighead, Craighead Environmental Research Institute
• Marcus Buckingham, author/consultant
• Michael Fay, conservation biologist
• Mike Roselle, author and co-founder of Earth First!, the Ruckus Society, Rainforest Action Network
• Paul Hawken, environmentalist, entrepreneur, journalist, author
• Ray Anderson, founder & chairman, Interface, Inc.
• Robert F. Kennedy Jr.
• Sylvia Earle, oceanographer/Explorer-in-Residence at the National Geographic Society
• Ted Danson, actor/activist
• Terry Tamminen, former head of the California Environmental Protection Agency and cabinet secretary to California Gov. Arnold Schwarzenegger
• Terry Tempest Williams, author, naturalist, and environmental activist
• Timothy Treadwell, documentary filmmaker/grizzly man
• Van Jones, pioneer in human rights & clean energy economy
• Vandana Shiva, physicist, ecologist, activist, editor, author
« Backyard Corridors: What obstructs animal movement in your neighborhood? Tear Gas For Breakfast »