---
---
Announcing the Patagonia Winterfest Sale: February 11-16, 2010
Feb 1, 2010
February 1, 2010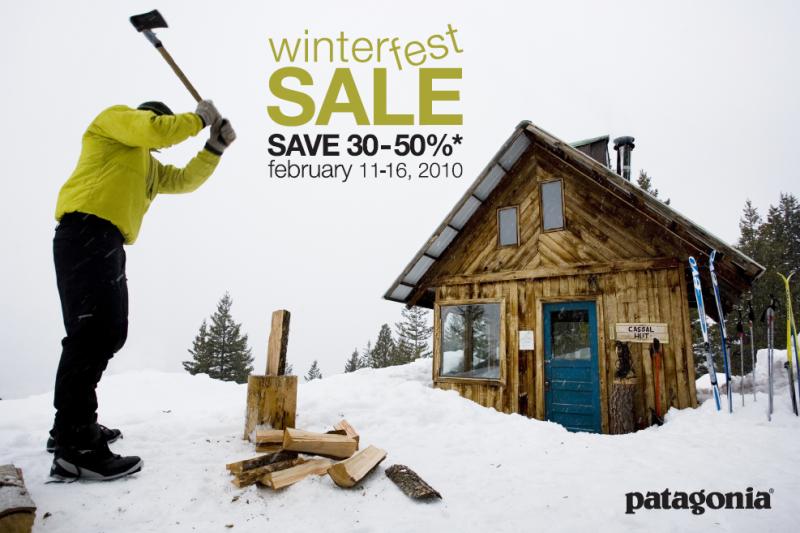 This is your chance to chop 30-50% off retail prices on select Patagonia products.* Pick up great gear for the snowy months ahead or take care of next year's holiday shopping while prices are right. Save at Patagonia.com/sale and most Patagonia Retail Stores.
PATAGONIA WINTERFEST SALE
Save 30-50%
February 11-16, 2010
While you're there, be among the first to check out our great new spring offerings. They're not on sale, but you're sure to find something you like.
Thanks to everyone who asked about the sale dates. We appreciate your patience and support.
[David Hanson preps heat for the hut. Methow Valley, Washington. Photo: Michael Hanson]
* Sale limited to stock on hand. Sale prices apply only to Patagonia® merchandise on days specified. Patagonia Outlets and Patagonia Cardiff-by-the-Sea are not participating in the sale. New for spring items, surfboards, wetsuits, blankets, gift cards, gifts bags, Carry Y'All Bag and shipping are excluded. Offer valid in USA and Canada only (Canadian orders, call 1-800-638-6464). Not valid with pro, team and group sales or any other special offers. Sale ends February 16, 2010.
« Freedom To Roam and Oceans As Wilderness: Eye On Aquaculture Remembering the Buffalo Soldiers »