---
---
Dear & Yonder Screening and Art Show this Saturday at Patagonia Cardiff
Feb 23, 2010
February 23, 2010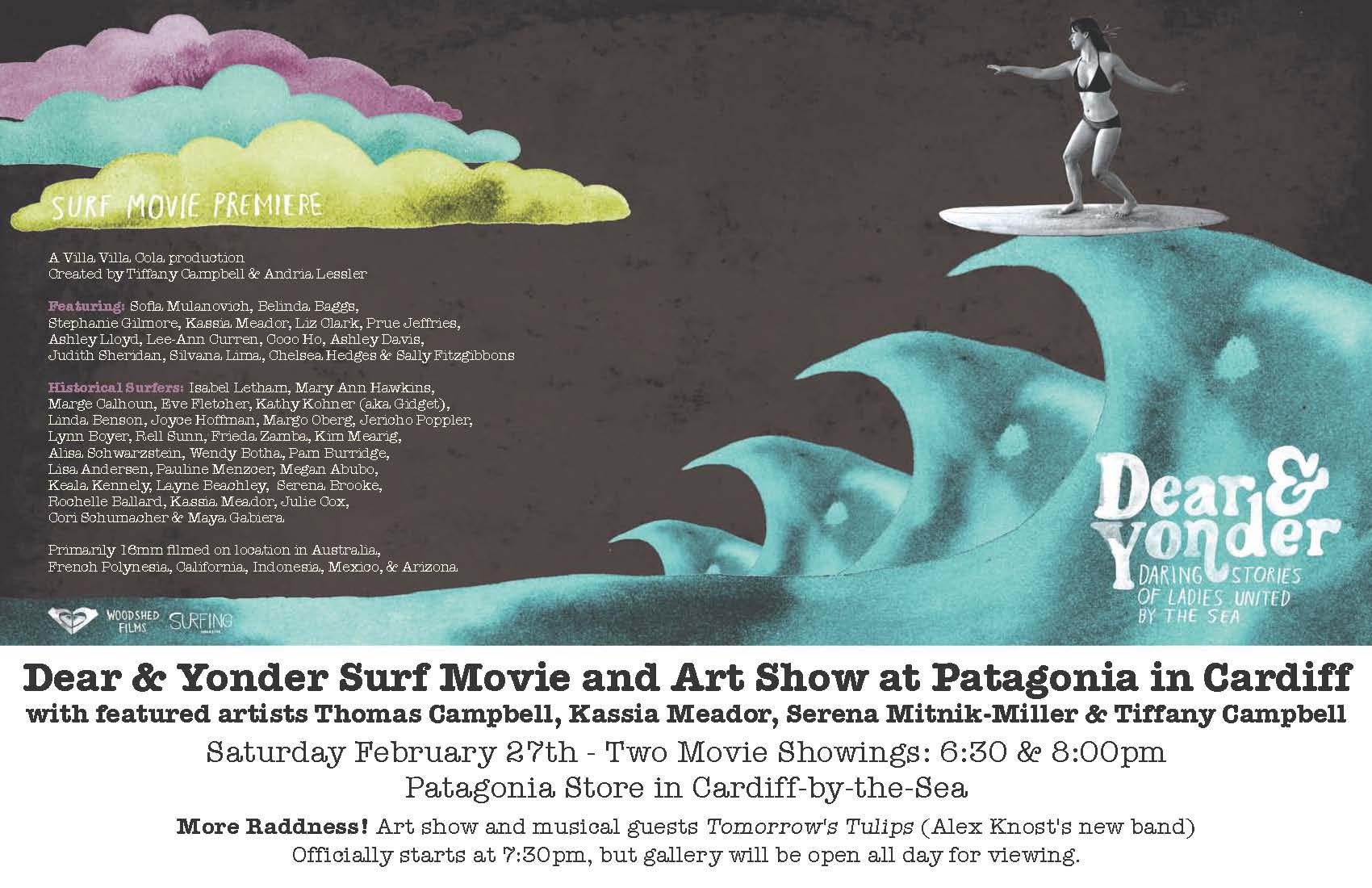 Patagonia Cardiff is hosting a special engagement screening of Tiffany
Campbell and Andria Lessler's new movie Dear & Yonder – a primarily
waveriding film that features a diverse cast of ladies united by their
love of the sea. Immediately following the first screening, please join the filmmakers
upstairs for an art show reception, DVD signing and live music. Artists Thomas Campbell, Kassia Meador, Serena Mitnik-Miller
and Tiffany Campbell will be on hand to display their latest creations.
An encore screening will commence at 8:00 pm.
Dear & Yonder Screening and Art Show
Saturday, February 27, 2010   
Film: 6:30pm & 8:00pm (two shows only)
Art show reception: 7:30 – 9:30 pm (gallery is open 10am – 9:30pm)
This indoor event is free. Seating is limited to 150 people, and is available on a first come first serve basis.
Take a brief journey back in time to experience the incredible history
of women's surfing, then come full circle to modern day shortboard
professionals like Stephanie Gilmore and Sofia Mulanovich shredding
shallow bottom reef waves in Indonesia. The film also explores graceful
surfing on logs and quads with Kassia Meador and Belinda Baggs, as well
as following the inspirational stories of San Francisco bodysurfer
Judith Sheridan and Pacific sailing/surfing adventurer Liz Clark, among
others.
Visit the Tin Shed to see an excerpt from Captain Liz Clark's part in the film or hit Dear & Yonder for the official trailer and DVD info.
« Struggling Economy Means a Threat to Organics Seabirds Regain a Perch on Channel Islands »