---
---
Fly Fishing: Our Newest Online-only Catalog
Mar 25, 2010
March 25, 2010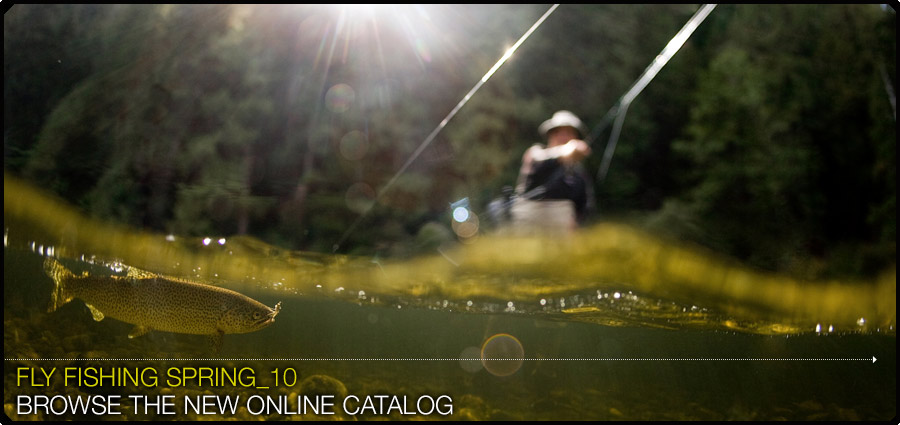 A little tired of the traditional catalog format and a lot inspired by the November 2009 online-only Surf catalog, our fishing team decided that our approach to a catalog could be . . . well, less like a catalog and more like a good fishing trip. So just like any trip we've tossed in our best gear, but we didn't stop there. We also made sure to throw in a heaping helping of pictures, stories, and inspiration as well. Our latest Fly Fishing catalog is filled with stunning photography, videos and interactive pages that help you see what works together and why. We're sending it your way just in time to get fired up for the season. Check out Patagonia Fly Fishing Spring_10 catalog and let us know what you think.
Online catalogs aren't completely new to us. About six years ago we offered online replicas of our print catalogs. Like any over-enthusiastic fisherman, we were so fired up to get line on the water that we never stopped to think about the importance of presentation. Times have changed and we've learned a thing or two about how to put these things out there. We hope you find the results to be irresistible.
The amount of resources it takes to produce paper catalogs has always made us squirm. And while folks have long been aware of the impact catalog production has on trees, it's only recently that attention's been turned to additional impacts in the form of energy consumption, greenhouse gases, solid wastes produced, and water consumed. Together, our only-online Surf and Fly Fishing catalogs have prevented close to 3 million gallons of waste water from entering our waterways. It's no accident that our first online-only catalogs are made for the folks whose passions are deeply connected to the water. We hope you'll help us in our efforts to set a new example by passing this catalog along to your friends, either via e-mail or your social media platform of choice.
Share with friends: http://www.patagonia.com/fishcatalog
As it stands, the vast majority of our customers still love the print catalog, but we've been encouraged to keep diversifying our approach. Stay tuned. As we make progress we'll share it here.
Thanks as always for your support and for telling us what works best for you. We hope you enjoy the catalog.
ED NOTE: We mistakenly reported above that our two catalogs together have helped to avoid producing nearly three million gallons of wastewater. We've since learned that the paper that would have been used for this catalog production is 50% post-consumer content, which alters the final impact tally. Taking this updated information into account, our online Surf and Fly Fishing catalogs have prevented the production of nearly 1.8 million gallons of wastewater from entering our waterways. Our environmental impact estimates are made possible by the Environmental Defense Fund's online Paper Calculator. To find out more, visit http://www.papercalculator.org.
« Dirtbag Diaries: The Shorts – Upward Mobility Hiking Down Memory Lane »