Adventure Film Festival Comes to Santiago, Chile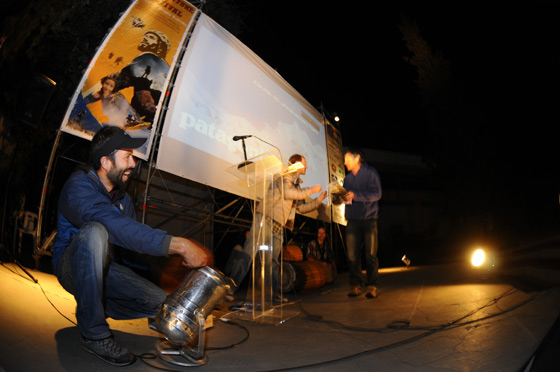 Editor's note: Ignacio "Nacho" Morales from Patagonia Chile brings us a recap of the Adventure Film Festival's (AFF) recent screening in Santiago, Chile. After enduring the recent earthquake that hit the region, it's great to hear the store is up and running, and bringing positive events to the people of Santiago. Our thanks go out to Mark Reiner of AFF for his help, and Claudio Vicuña for his photo contributions.

When people come to an event like Adventure Film Festival for the first time, most are expecting to just get their fix of the raddest action in the mountains, the rocks, the snow, the waves or on wheels. But what happens when on top of such an adrenalin shot, what they see are powerful stories, capable of producing positive changes in ourselves and the world around? After the first wave of surprise and strong emotions, what remains is pure inspiration. And at Patagonia Chile we had the chance to witness it firsthand a couple of weeks ago.
[Not only the audience went away fully inspired – juicy door prizes were also given away. Photo: Claudio Vicuña]
On April 15-17, Patagonia Chile and Escalando magazine hosted the second edition of the Adventure Film Festival in Santiago. After a successful international debut on 2009 (followed by the Chamonix, France event), this year we decided to take the risk and have the AFF outdoors. After all, it's the outdoors community that we were aiming to bring to the show, so we thought they might as well be willing to withstand the cool evening air of Santiago in early fall.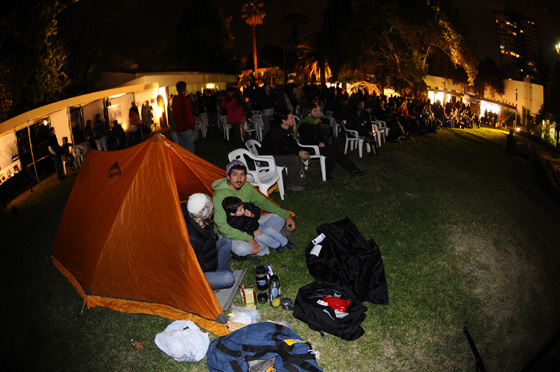 [The chilly autumn air didn't stop outdoor enthusiasts and their families from enjoying the show. Photo: Claudio Vicuña]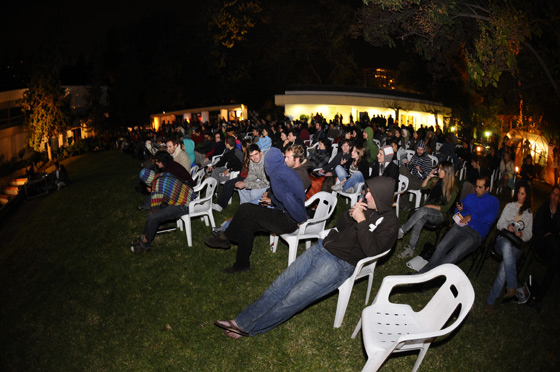 [Wish you could have been there, we saved a seat for you. Photo: Claudio Vicuña]
The venue couldn't have been better to put together such an event. Corporacion Cultural de Las Condes, the local arts and cultural community center, was kind enough to let us take over its otherwise quiet park, surrounded by an old colonial building, the public library and ancient trees. Another addition this year was an outdoor and environmental fair that accompanied the Fest. Ten booths were offered to sponsors and local NGOs working on grassroots projects, such as Conservación Cochamo, Rios Libres, Fundación Patagonia, Acceso Sur, and Vigilante Costero. All these are community groups that decided to get organized to act and protect their immediate environments and the values they praise most.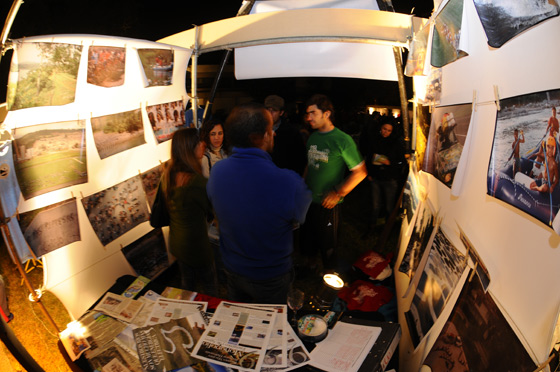 [Rodolfo Rada from Rios Libres was one of the NGOs that took part in the enviro fair. Photo: Claudio Vicuña]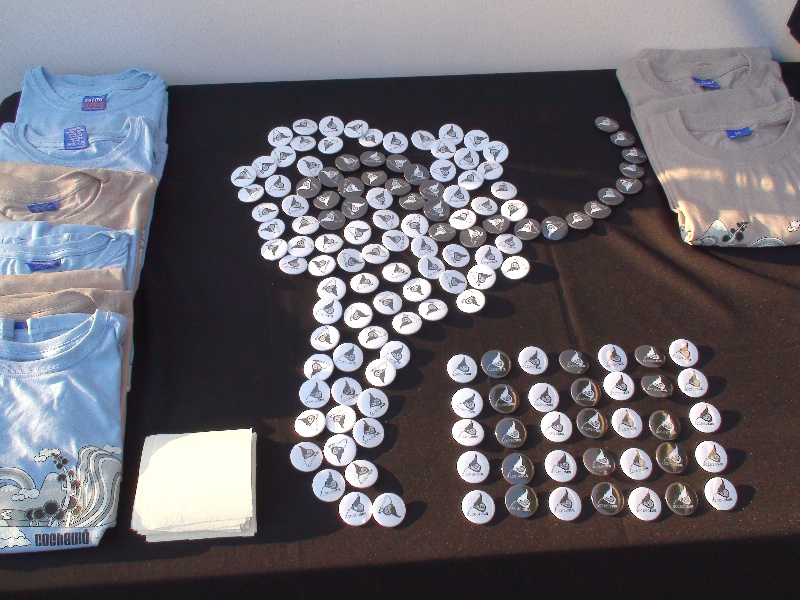 [Acceso Sur is the first climbers' access group founded in Chile, and was part of the environmental fair. Photo: Nacho Morales]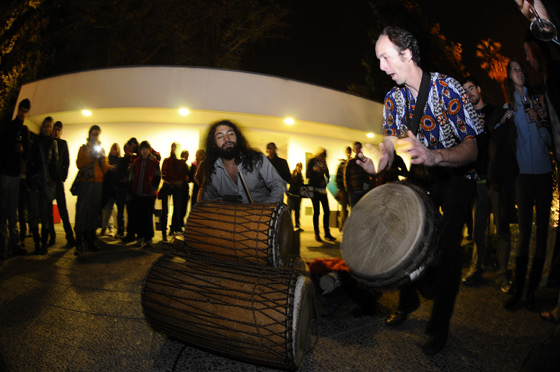 [Orixango had the crowd on their toes with their trancey African vibes. Photo: Claudio Vicuña]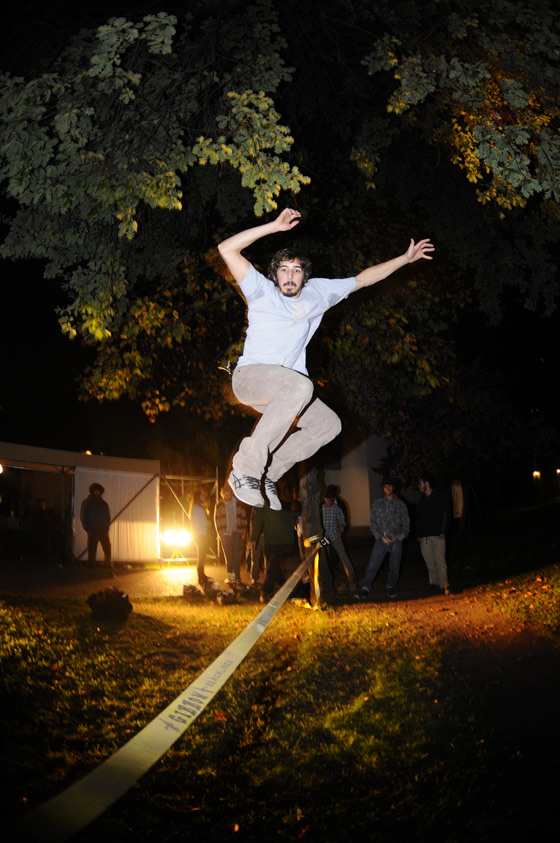 [Give a climbing bum a couple of old trees and a stretch of webbing, and you'll have him spinning like mad in no time. Photo: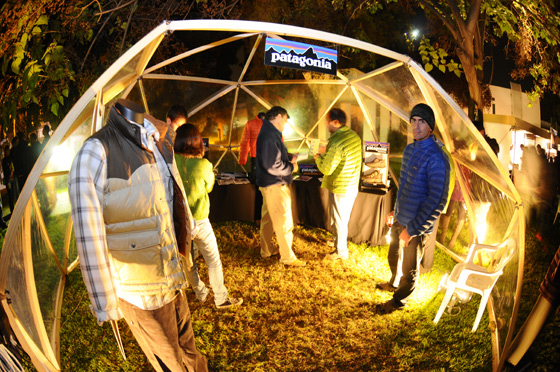 [The AFF was a unique opportunity for Patagonia Chile to reach out to all those who love what we do – and of course the cool new product releases for the season. Photo: Claudio Vicuña]
On the first day, people started flowing in at dusk, and in no time the place was packed. In high spirits, we kicked off the Fest and started the show. Mark Reiner, Director of AFF, came down all the way from Boulder, CO just in time to share the stress, frantic work and wild fun involved in throwing such an event. It was indeed a special moment for all of us, since this year's Fest was dedicated to our friend, hero, Patagonia Ambassador, and founder of AFF, Jonny Copp. "Jonny was with us, as he always will be in spirit," said Mark after the festival. "It was nice to share through film, his contagious thirst for adventure with the people of Santiago. This show in Chile represents the growth in our continued mission to be a global platform of exposure for adventure filmmakers around the world. We hope, through inspiration gathered from watching these award winning films, people are not only personally recharged, but inspired to affect change in their local and global communities. Eyes were shining and hands were clapping throughout the shows."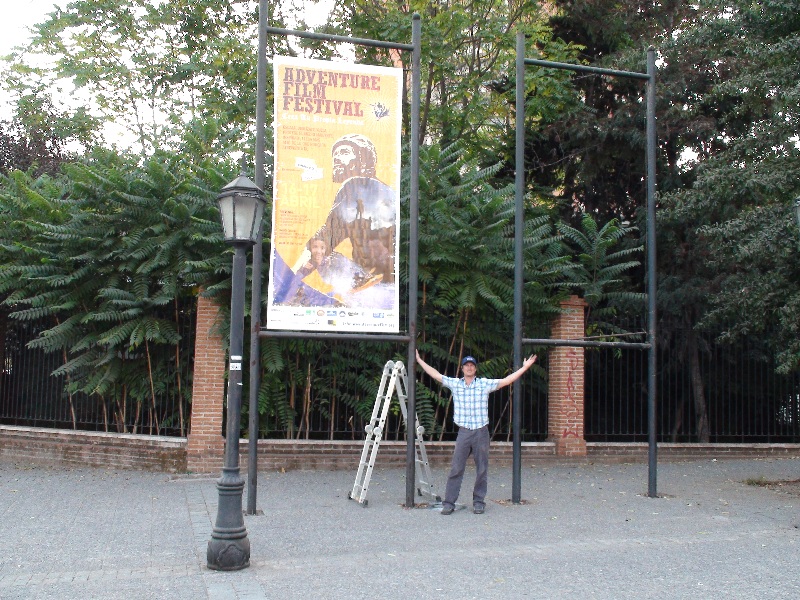 [Mark Reiner setting up the AFF banner outside Corporacion Cultural de las Condes. Photo: Nacho Morales]
As the films rolled, the audience was immediately surprised by what they were seeing – not your average adrenalin junkie flick. Amazing footage of white water action, deep powder and extreme climbs, paired up with testimonies of athletes from all over the world that went the extra mile and got involved with the world and communities around them. It was very inspiring for everyone in the audience to discover in situ that taking such positive action is just one step away. It was a matter of approaching the closest booth, learning about the groups' projects, and signing up.
The following two days were equally as smooth and crowded – except for a light shower risk on Friday that forced us to show the films indoors that night. All we heard from people around were words of thanks and motivation – perhaps enhanced by the free organic wine and microbrew that our sponsors were kind enough to give away. Jonathan Franklin, an American journalist based in Chile, told us, "That was an awesome collection of outdoor films and adventures that made city living look – oh – so dull. I can imagine going home tonight, throwing my laptop out the window, putting on my hiking boots and joining up with these merry adventurers. Inspirational without being cliché – that was the best film festival I have ever watched."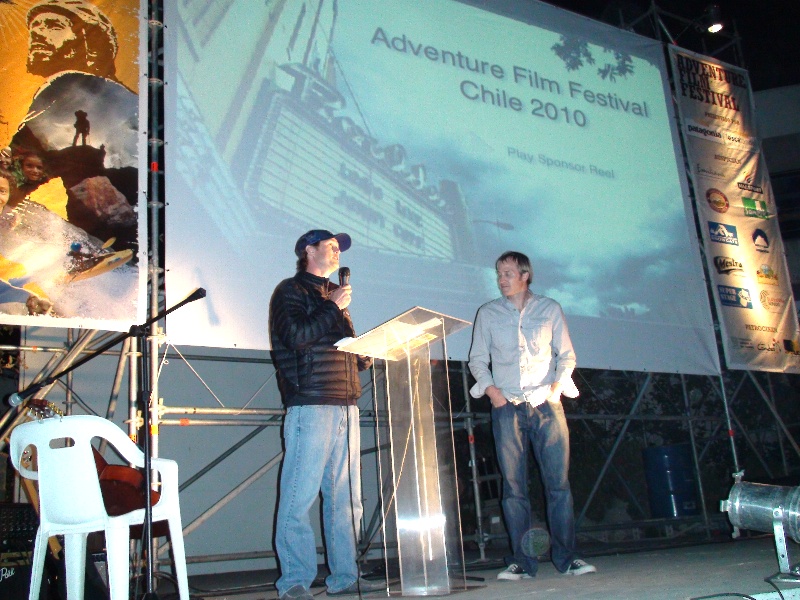 [Mark Reiner welcoming the audience on the first night. To the right is Brady Liljemark, from Patagonia Chile. Photo: Nacho Morales]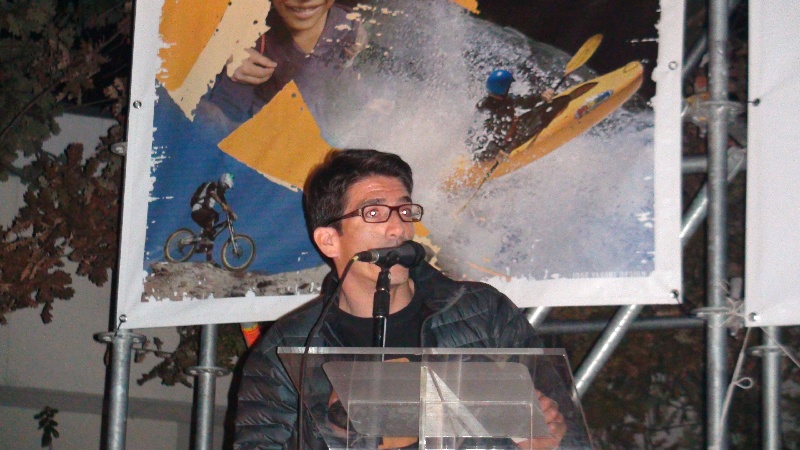 [Myself presenting Jonny Copp's film on the last night. Photo: Mark Reiner]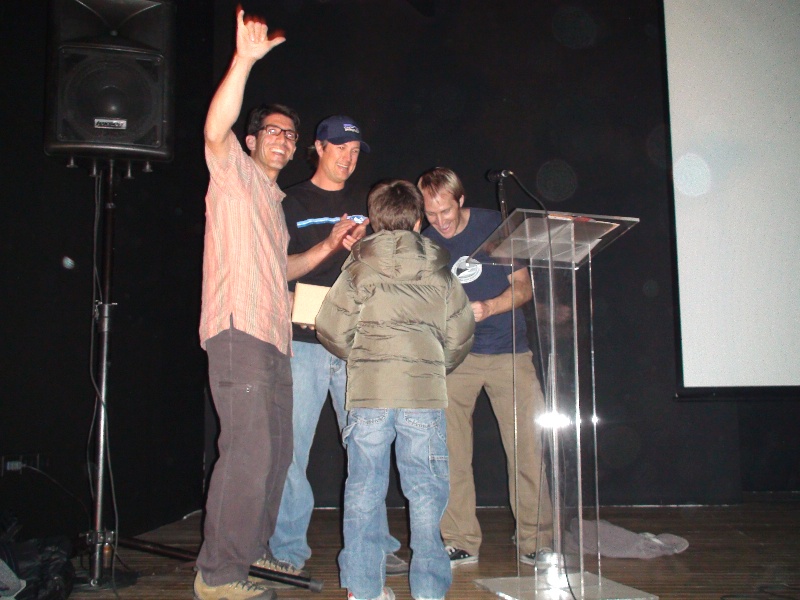 [Giving out prizes on the second night indoors. More than 700 people saw the show and visited the fair during the three days.]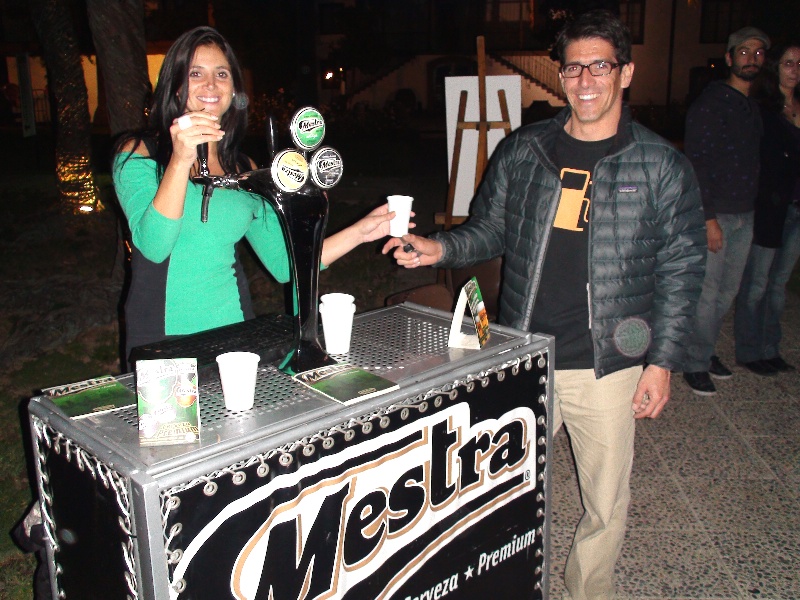 [Myself lining up for yet another free beer! Photo: Mark Reiner]
Events like these are unique opportunities to reach out to the local community. More than 700 people saw the Festival throughout the three days, and we're sure that to some extent, when they left they were not the same people that came in.
The task ahead is to bring the Festival to more audiences throughout Chile. Stay tuned for the coming tour dates. And if you have the chance, don't miss it. Remember that change is just one step away.
–Nacho Morales