---
---
The 2010 Kids' Catalog Backstory: More About Hiking Lessons
Sep 28, 2010
September 28, 2010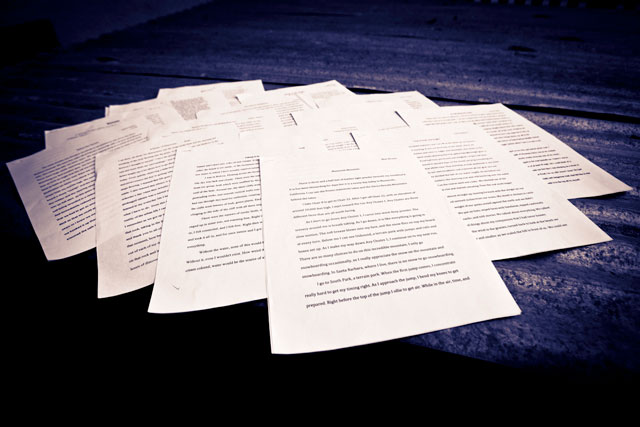 [The contest becomes official: Essays received from students of Santa Barbara Middle School sit waiting to be read. Photo: Tim Davis] 
Last January, a half-inch-thick manila envelope was delivered to Patagonia's edit department and that made the contest official. We had 16 essays from students attending Santa Barbara Middle School and now we had to decide which essay – if any – could serve as the field report for 2010 Patagonia Kids' catalog. We had a weak backup plan in case the contest didn't work out, but we basically banked on the idea that the kids could write.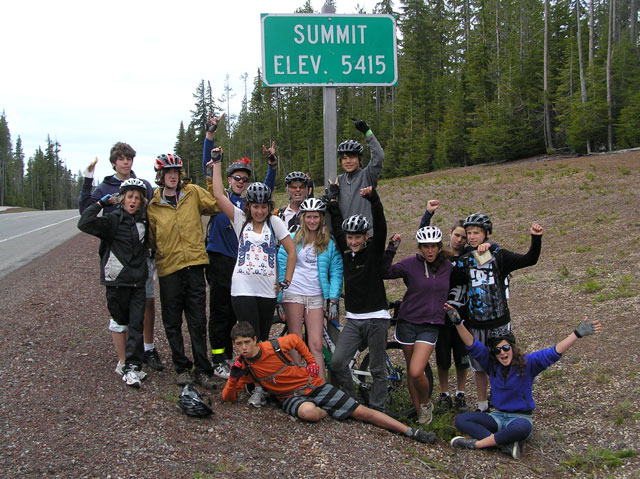 [Middle-school students make it to the top and celebrate – it's all downhill from here. Remaining photos courtesy of Jesse Wooten.]
We asked students from Santa Barbara Middle School (SBMS) to participate in an essay-writing contest for several reasons: The school has a well-established outdoor program, a friend-of-a-friend of Patagonia knows the headmaster there, and SBMS is only a short drive up the California coast from Patagonia's Ventura headquarters – we thought it would be neat to work with local students and teachers.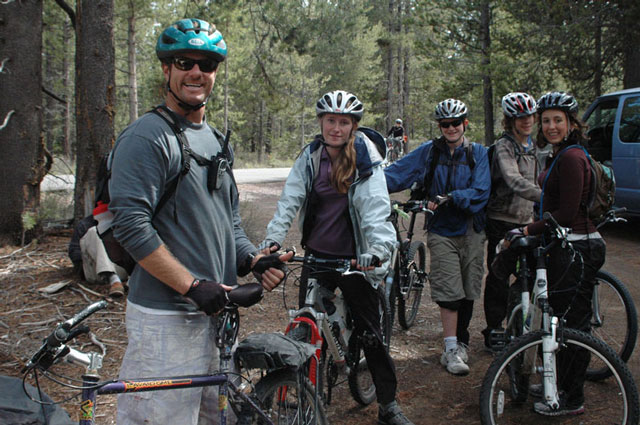 [Most English classes require a book, pencil and college-rule paper, but Jesse Wooten's English classes also require a helmet.]
We talked to the head of the SBMS English department, Jesse Wooten, about the essay topic, "Describe an outdoor experience and how it changed you," and he worked directly with the students. He also told us more about the school: "The outdoor program at SBMS is truly unique. It's based on the ancient idea that young adolescents need to be separated from their homes and put into challenging situations in order to become adults. We call our journeys 'Rites of Passage' through which children grow and become confident and independent young adults. Students are faced with difficult, yet conquerable tasks that help them learn self-reliance, resilience, teamwork, and leadership."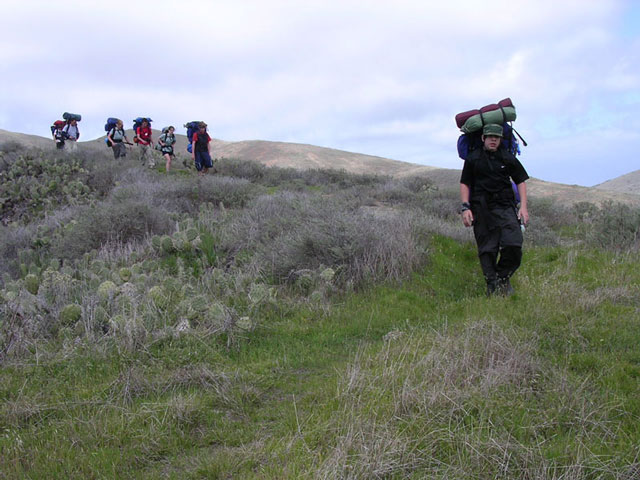 [SBMS students hike down to Little Harbor during a Catalina Island trip.]
Some of the students wrote about experiences biking or backpacking during school trips, and others wrote about sailing, skiing or hiking with their families, but all the students had clearly spent time crafting their essays. Jesse noticed the difference in his students' writing. "They worked harder on these essays than their regular school essays. Perhaps because they were competing with each other (something I never do with essays in my normal curriculum) or because this work had the chance of being published. This project confirmed my belief that having students write authentic works that will be read by people other than their teacher is key to getting quality work."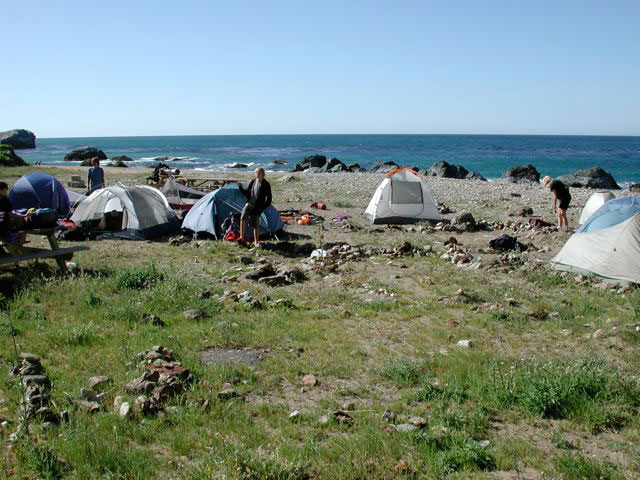 [Backpacking tents – and the students who carried them – dot the shoreline of Catalina Island.]
There were gems in each of the 16 essays. Many of our readers were amused by Griff's piece that began, "Nature and I don't mix. Like oil and vinegar." We were impressed by Brigid's insights gained after a grueling bike ride: "… you never really know how strong you are until you have no other choice other than to be strong." And Jade helped us understand his feelings about climbing Mount Masada in Israel: "I am in the holy land that my Jewish ancestors fought to protect … I sense the security that the Jewish people must have felt emanating from this high point." Eliana wrote with convincing comic effect about hiking in Austria: "How did my mom and dad talk me into this? … I weigh 85 pounds … my pack weighs down my scrawny body." And who could resist Henry's essay after reading the first line: "The taste of puke was strong in my mouth as we battled our way across the Santa Barbara Channel." All the essays contained some good writing, but we could print only one.
Vincent Stanley is a published poet and writer and also manages Patagonia's edit department. After several of us had read the essays, we placed the whole stack of papers on his desk and hoped he would make the tough decision. He read the essays and announced, "I know which essay should go in the catalog."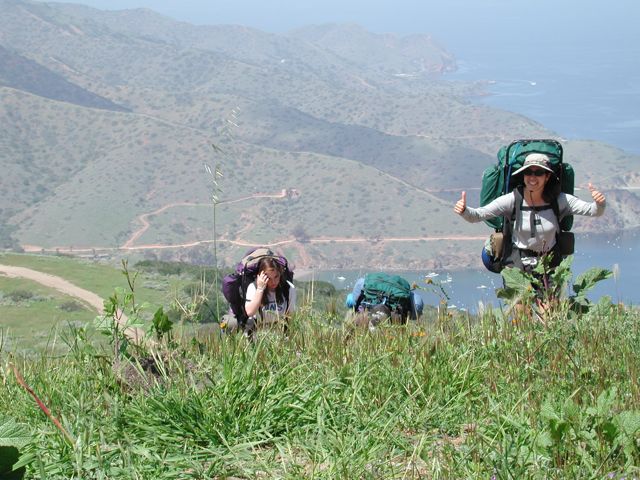 [Which is easier: Hauling a heavy backpack up hill after hill, or solving 20 geometry proofs?]
Lexi Aquilino's piece, called "Hiking Lessons," about a school trip to Catalina Island was unpretentious and engaging. Like all good writers, she used descriptive language to show rather than tell. Her words took us hiking with her around the island, introduced us to her friends, and helped us understand what she learned from her eight-day backpacking trip. We asked Jesse how his other students reacted when they learned the news. "Some students were disappointed when they didn't win," explained Jesse. "However, when they read the winning essay, they understood why and were happy for Lexi. She wrote a great essay!" You can read Lexi's essay in the 2010 Patagonia Kids' catalog or at Patagonia.com.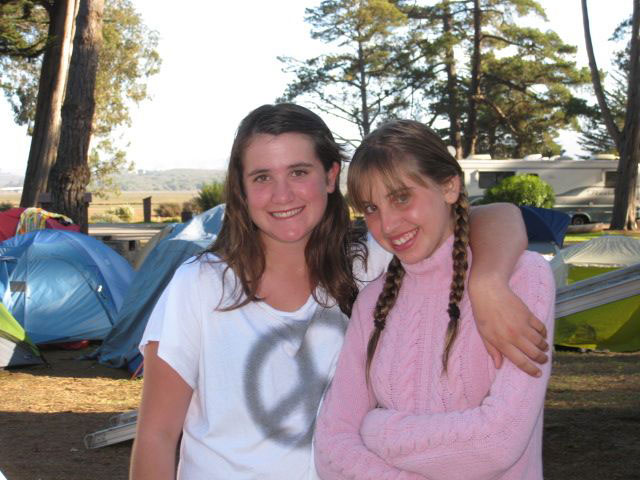 [Lexi (left) poses with a friend during a camp out.]
In her own words, Lexi describes herself as "… a student at Santa Barbara Middle School. I love going on bicycling and camping adventures with my school. I play on an AYSO soccer team and like to play tennis regularly. I am athletic and enjoy any type of exercise. I also train my puppy, Chai. I am trying to rebuild my life since my house burned down in the Tea Fire. I plan to attend high school in Santa Barbara next year."
We extend our gratitude to Jesse and his students for making the essay contest a success; we hope that they continue to enjoy the outdoors and that they keep writing.
« Dirtbag Diaries: Embrace This Tracing the Edge – Episode 10 with Krissy Moehl, plus a Look Behind the Scenes »