---
---
180° South Tour Schedule Update; Yvon Chouinard to Introduce Oct. 28 Screening in New York
Oct 21, 2010
October 21, 2010

Those of you living in the New York area have two chances to see 180° South very soon –  this Saturday (10/23) and next Thursday (10/28). The event on Thursday the 28th promises to be extra special as Yvon Chouinard will be in town to introduce the screening which is a benefit for Riverkeeper, New York's clean water advocate.
This Saturday's event, which is part of Mountainfilm New York, will be no less exciting as Jeff Johnson, Timmy O'Neill, and Rick Ridgeway will all be in attendence. There are also Saturday (10/23) screenings in Colorado and (heads-up U.K. readers) Wales.
Hit the jump to see the latest 180° South tour schedule.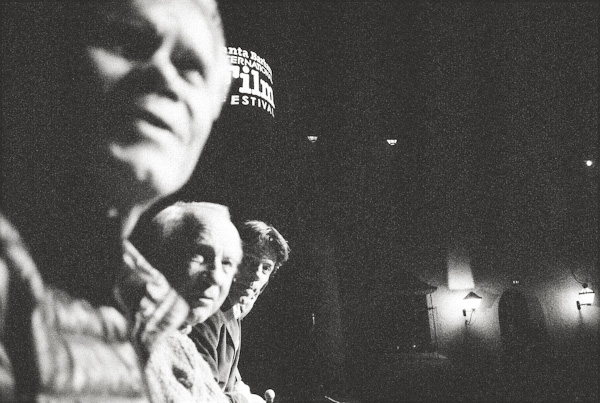 [Rick Ridgeway, Yvon Chouinard and Danny Moder (Director of Photography) on stage at the world premiere last February. Photo: Jeff Johnson]
10/23/2010
Paradise Theater
215 Grand Avenue
Paonia, CO
7:30PM
$8/$6kids
(Boy, don't miss Darol Anger either on 11/4, same venue)
10/23/2010
Lincoln Center
New York, NY
10/23/2010
The Refectory
St Davids, Pembrokeshire, Wales
United Kingdom
7:00pm
10/26/2010
The Flicks
Boise, ID
10/26/2010
Adventure 16
Los Angeles, CA
10/27/2010
Adventure 16
Oceanside, CA
10/28/2010
Adventure 16
San Diego, CA
10/28/2010
Peter Norton Symphony Space
2537 Broadway at 95th Street
New York, NY
7:00pm
Special Guest: Yvon Chouinard
$10 in advance, $15 at the door
All proceeds will be donated to Riverkeeper
Presented by Paragon Sports
More info at Patagonia SoHo
11/03/2010
Jacob Burns Film Center
Pleasantville, NY
11/12/2010
Victoria Theatre
San Francisco, CA
1/14/2011
Nevada Theatre
Nevada City, CA
New dates will be added to the 180° South Film Tour Schedule page as they solidify. And don't forget, you can purchase the DVD, soundtrack and book – as well as Mountain of Storms the original movie inspiration – from Patagonia.com or stream the movie on Netflix.
[Excerpt from Mountain of Storms, the movie that inspired Jeff Johnson's trip and 180° South.]
[Original trailer for  180° South by Woodshed Films.]
« Fark: New England Fuerza Chile! T-Shirt Benefits Save The Waves Chilean Earthquake Relief »