---
---
SXSW x Patagonia Music – Free Concert this Saturday at Patagonia Austin
By
Kasey
|
Mar 17, 2011
March 17, 2011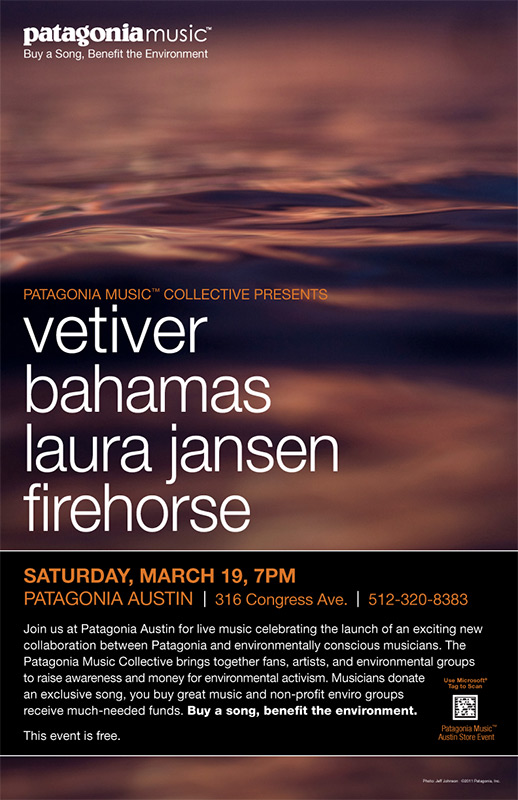 If you live in the greater Austin area or happen to be attending the SXSW Music festival, mark your calendar for this Saturday night. Patagonia Austin will be hosting a free concert in the store to celebrate the launch of our new Patagonia Music program. If you can't make it, please consider helping an enviro non-profit by grabbing a Benefit Track or two.
Patagonia Music Collective Presents
Vetiver
Bahamas
Laura Jansen
Firehorse
Saturday, March 19, 2011
Patagonia Austin
Doors open at 7:00pm, music from 7:30 – 9:00pm
Free
Space is limited, first come first served
I just returned from Austin and the SXSW Interactive conference. It's a fantastic city filled with friendly folks, delicious food, good music and tons of bike taxis. Free's recommendations if you visit: Lambert's, Manuel's, Koriente, The Ginger Man, Cork & Co. (yo Fresno!), and The Bright Light Social Hour if you're looking for a rocking local band.
Cheers to everyone at SXSW and the Patagonia Austin crew.
[With thanks to Brad for the passes.]
« Tracking Endangered Mountain Caribou – Patagonia Employees Help Witness for Wildlife Picture Story: Wind »