---
---
30% Off Sale Happening Now!
Jul 21, 2011
July 21, 2011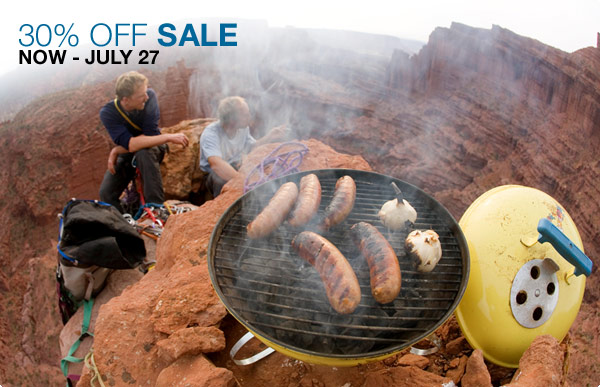 On now! 30% Off Sale at Patagonia.com and participating Patagonia Retail Stores, now through July 27, 2011.* Offer valid in USA only.
Shop the Sale at Patagonia.com
Get hours and directions to your nearest Patagonia Retail Store
*Sale limited to stock on hand. Offer valid in USA only. Sale prices apply only to Patagonia® merchandise on days specified. Patagonia Outlets are not participating in the sale. New for fall items, surfboards, wetsuits, wetsuit accessories, DVD's, books, Frisbee Whirl, mugs, water bottles, gift cards, gift bags, Carry Y'All Bags, repairs, and shipping are excluded. Not valid with any other offer. Sale ends July 27, 2011.
[Fresh brats, roasted garlic, and Onion Creek, these citi-boys are living it up. Jonathan Thesenga and Brian Edmiston, on top The Citadel. Moab, Utah. Photo: ANDREW BURR]
« Postcards from Chamonix: Sleep Finale Patagonia Time-Lapse Video »