---
---
Come Hell Or High Water World Tour – A Bodysurfing Film by Keith Malloy
By
Kasey
|
Sep 20, 2011
September 20, 2011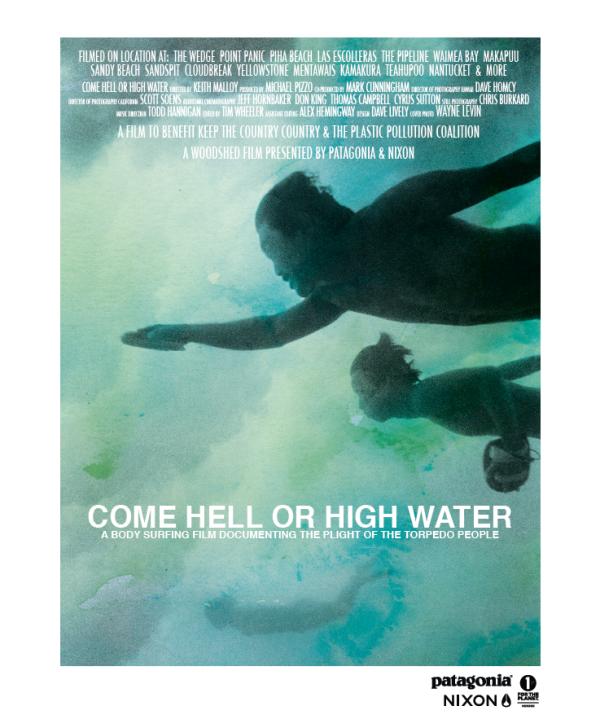 Woodshed Films, Patagonia and Nixon are proud to announce the world tour for Keith Malloy's debut film project, Come Hell or High Water. The film explores the history and progression of the sport of bodysurfing and the pureness that comes from riding a wave. Shot primary in 16mm, the film takes a unique look at the culture, beauty and simplicity of the sport, capturing the stories and locations of those who belong to this community.
While Keith is most widely known for his time in the water as a surfer, his exploration into the world of bodysurfing began some 10 years ago when he wanted to reconnect with the ocean and did so through bodysurfing. Said Malloy about this project, "It's about taking a breath and kicking your feet in the big blue sea."
A sold-out crowd watched the world premiere of Come Hell or High Water last weekend at the New York Film Festival. The film makes its west-coast debut this Friday, September 23, at the La Paloma Theater in Encinitas, California and will continue to crisscross the globe with more stops in Southern, Central and Northern California, North Carolina, London and more. A portion of the proceeds from the tour's ticket sales will be donated to The Plastic Pollution Coalition, a global alliance aimed at working toward a world free of plastic pollution and its toxic impacts.
Hit the jump to watch the trailer and see the current film tour schedule.
Come Hell or High Water World Tour
September 2011-December 2011
DOMESTIC TOUR:
Sept. 23
Encinitas, CA. @ La Paloma Theatre
Tix Available @ Box Office Day of Event
Q&A with Keith and crew after the movie
Sept. 29
Newport Beach, CA. @ Lido Theatre
Presale Tix Available @ Box Office Sept. 25
Q&A with Keith and crew after the movie
Oct. 7
Ventura, CA. @ Patagonia Headquarters (upper parking lot)
This is an outdoor event (bring a blanket or a lawn chair) and admission is free. The doors will open at 7:00pm and the movie will start at 8:00pm. There will be a live performance by the Brotheryn Studios All Stars w/ Todd Hannigan, Jesse Siebenberg, Ron Hargrave and Sam Bolle. The event includes giveaways, beer and a Q&A with Keith Malloy and the crew after the movie.
Oct. 8-9
San Diego, CA. @ Bird's Surf Shop
Oct. 19
Malibu, CA. @ Elkins Auditorium on Pepperdine University Campus
Oct. 21
Cardiff, CA. @ Patagonia Store
Oct. 22
San Clemente, CA. @ Surfing Heritage
Nov. 4
San Francisco, CA. @ Save the Waves Film Festival, Victoria Theatre
Ticket Information: savethewaves.org
Nov. 4
York, ME. @ Grain Surfboards
Nov. 5
Mill Valley, CA. @ Proof Lab
Dec. 1
Wilmington, NC. @ The Brooklyn Arts Center
Dec. 9
North Shore, Oahu. @ Sunset Beach Elementary
Outdoor Event
INTERNATIONAL TOUR:
Sept 29-Oct.1
Halifax, Nova Scotia @ Canadian Surf Film Festival
Ticket Information: canadiansurffilmfestival.com
Oct. 13-15
Riverside Studios, Hammersmith, London @ London Surf Film Festival
Ticket Information: londonsurffilmfestival.com
Stay tuned for more tour dates at Woodshed Films.
« Reputations To the Elwha and its Salmon – Welcome Home »