---
---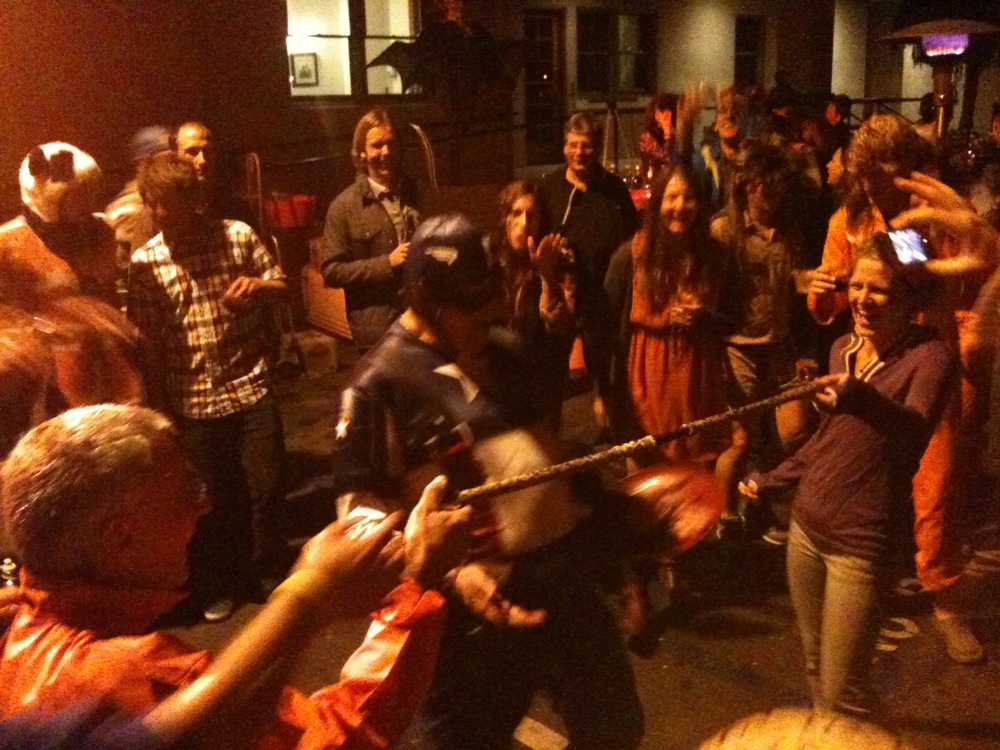 "It's gonna be a bloodbath!"
The words rocked me back to my mullet years in the 80s, back in high school, central Pennsylvania. "Oh my," Mean Gene would usually add. I'm talking about Mean Gene Okerlund, the rounded, balding, deadpan serious WWF announcer. As you know, WWF would later become WWE (World Wrestling Entertainment, rather than Federation), and things would never be the same. It's when rasslin' lost its soul, became all about the money and show instead of love of the sport. As a former diehard professional wrestling fan (today I can no longer bear witness to the charade it has become), I feel qualified in my assessment, and not just because of my mullet – I attended multiple events live. Like Mean Gene, I kept it real. I once shook the massive hand of Andre the Giant (RIP), got the Junkyard Dog's autograph in a bar, got spit on by one of the Samoans, and chased by George the Animal Steele (at the shows in Altoona, Pennsylvania, they sometimes eschewed fan restraints, unthinkable as it seems given the IQ and behavioral tendencies of most [emphasis mine] 'rasslin fans). Anyway, when Mean Gene talked bloodbaths, he usually spoke of an upcoming steel cage match, as in, "This Saturday night, at the West Virginia state fairgrounds, Superfly Snuka and Rowdy Roddy Piper, in the steel cage! It's gonna be a bloodbath, ladies and gentlemen!" Oops, almost forgot: "Oh my."
"Dude, there's gonna be Gremlins swinging from the rafters," Josh said next, snapping me out of my 1986 nostalgia. Josh Nielsen, who manages Patagonia's ambassador team (not unlike herding cats), was telling me about the upcoming all-company Halloween party.
And though he dropped the bloodbath line, I have no idea where he got it, because, he insisted with a condescending snort when I asked, he has never been a devotee of bigtime rasslin'. Weird. Anyway, this was last week and I was in town for Patagonia's global sales meeting, which is when I see the new products (some of which I tested or had input on), which I then write about, since I'm one of the cheeseballs professionals who writes the beautiful, put the reader there, catalog copy. (Except for the bad copy blocks – somebody else wrote those.)
I mostly work from home, or wherever I am with my laptop, so I don't know much about company meetings. But here's what I remember from the Halloween party:
• It started with a nice social gathering in the Patagonia parking lot, with incredible gourmet food. The music began at dusk, followed soon by the limbo stick. Sound like a scene from The Office? Oh, I forgot to mention: open bar. With only one brand of tequila: Patron. Patagonia and me, we were meant to be.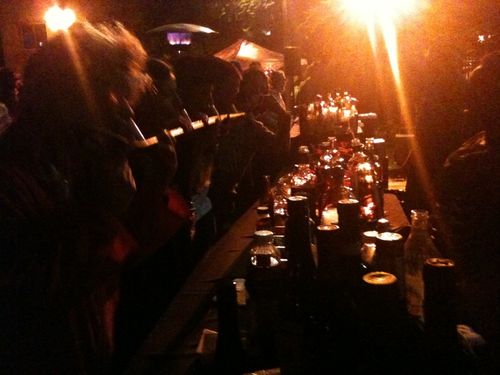 The ShotSki. Photo: Kelly Cordes
• Soon the ShotSki came out – a ski affixed with four shot glasses. I don't like shots, and I could see trouble brewing so I Jaked-out, determined to have a pretty nice little evening.
• But before I knew it I remember observing that there weren't no rafters in the parking lot, and then thinking that Big Daddy Cordes ain't getting on no shuttle back to the hotel at 9 p.m. (much as I should have). After all, Scotty was spinning tunes at the El Rey tequila bar afterward. It's gonna be a bloodbath!
• Jake "Sorry for Partying" Martin politely accosted the waitress at the El Rey and ordered her to not serve me any more water. Kelly "No Bloodbath" Cordes had shifted to the hydration plan, again thinking himself wise. "I have his credit card, Jake, he has a tab," the waitress said (notice the first-name basis) before turning to me, "So, sir, would you like another margarita or a PBR?" Goddamnit. Sorry for Partying, Jake.
–Important sidebar: I should note that he disappeared home early to go beddy-bye. Like suddenly, "Hey, anybody seen Jake?"
• The one-and-only Glen Casey, the surf man, myth and legend, most definitely keeps it real. First time I met Mr. Casey was at one of the meetings a few years ago, when a handful of us went to a nice joint for dinner. And the place had a bar. At this juncture I should note that Glen "PandaPizza" Casey is Australian.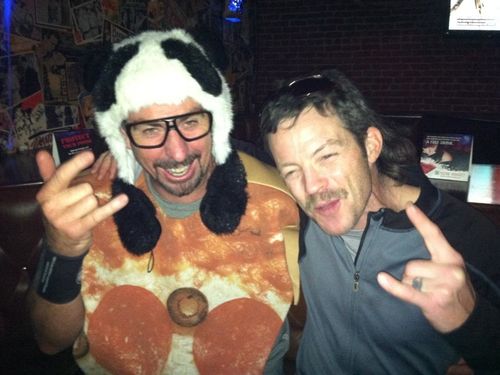 PandaPizza on the left. Oh my. Photo: Can't remember (One-year update: the fog has cleared and revealed that the photo was taken by Boston store manager Betsy Pantazelos)
Anyway, he had just come on board and was probably looking to make a good impression. The bathrooms were upstairs, and as I sauntered toward the staircase I noticed several of the ever-polite Japanese crew near the top. Moments later I heard a loud ROAAAR! followed by shrill screams – Casey, subtle as Godzilla, had leapt from around the corner in the dark hallway and scared the sweet bejesus out of our Japanese friends. I seem to recall deep guttural laughter and nervous laughs both, followed by a series of headlocks and "I love you guys!" ("Ah, thank you, thank you.") If anybody on this earth is not sorry for partying, it's Glen Casey.
• Which might have rubbed off on me: Early in the evening, I'd been feeling a little insecure about my haircut when no fewer than eight dudes, and even a couple of chicks, showed up at the costume party in mullet wigs. But by the time we were rockin' the El Rey (and late-night shuttled to the In and Out Burger – "Those are good burgers, Walter"), I'd remembered something: imitation is the sincerest form of flattery. Funny how that works. Wig-wearin' poseurs…Cordes is going up to the top rope! It's gonna be a bloodbath!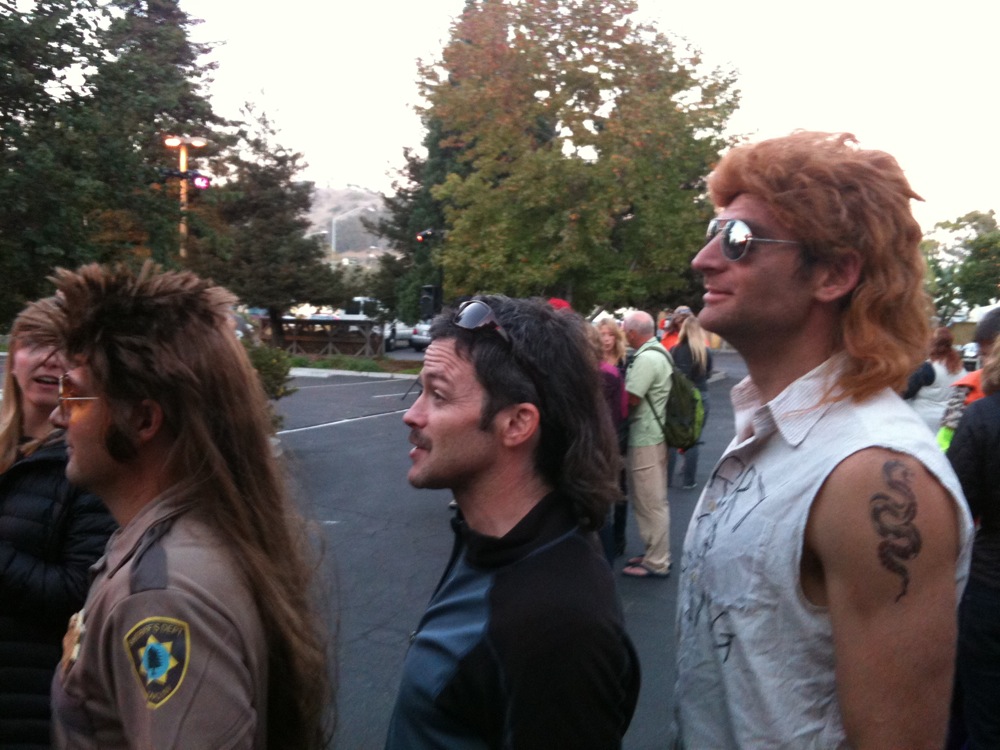 Real or fake? Photo: Kelly Cordes
Anyway, in my book the 80s never died, Mean Gene forever lives, and Patron never goes out of style. Have a great Halloween weekend, be smart, and beware the gremlins. Oh my.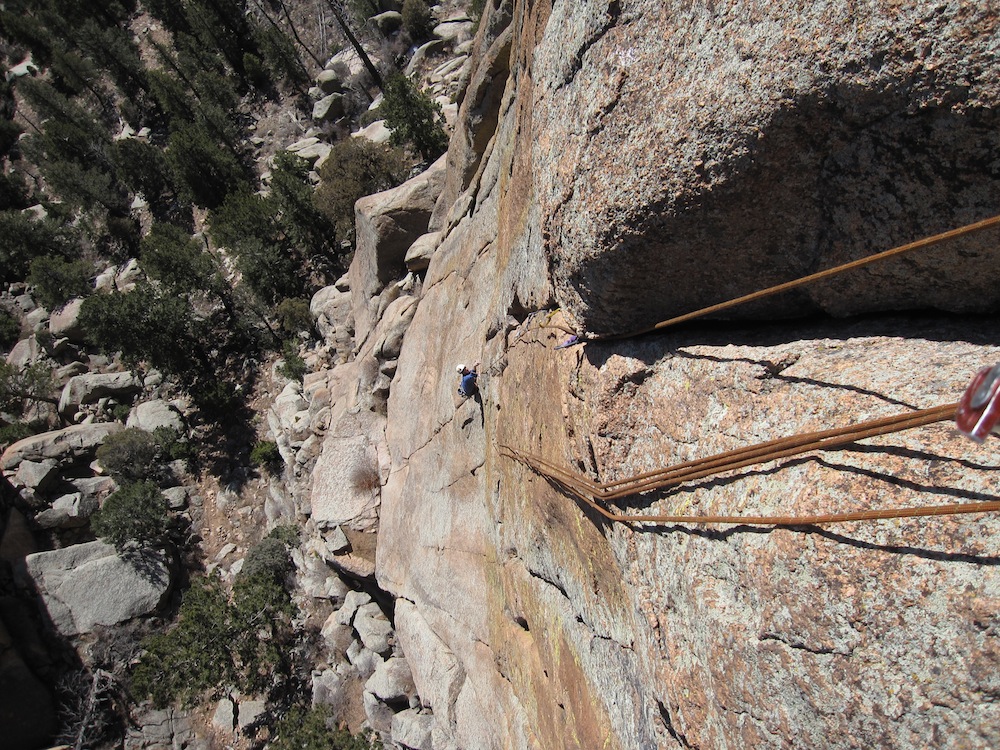 Random, obligatory climbing photo. Photo: Kelly Cordes
« Back to Patagonia – Part 2 Dirtbag Diaries: Tales of Terror Vol. 2 »