---
---
Introducing EcoWatch – Your Daily Source for Environmental News
Jan 11, 2012
January 11, 2012
by Marc Yaggi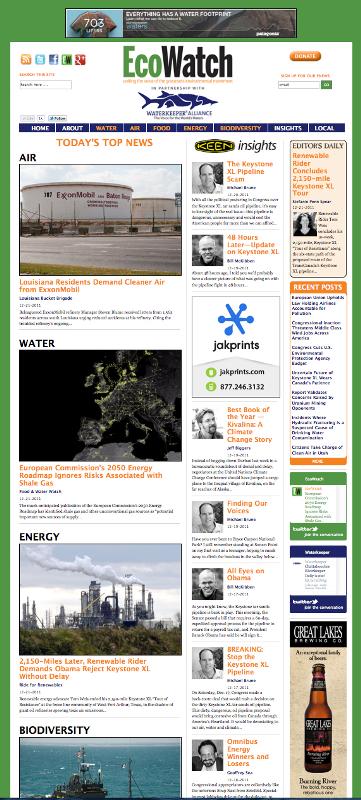 Where do you get your news? For decades, the news media in the U.S. has been controlled by a small group of corporations who dictate what you see, hear and read. The internet has provided outlets for alternative voices and opportunities to speak the truth about issues that corporate controlled media would sweep under the rug. Despite these new opportunities, one thing was lacking—a place to unite the voice of the grassroots environmental movement.
On Oct. 27, 2011, EcoWatch and Waterkeeper Alliance launched EcoWatch.org to unite the voice of the grassroots environmental movement and mobilize millions of people to engage in democracy to protect human health and the environment. The launch took place on the shores of the Cuyahoga River – a location that played a major role in the birth of the modern-day environmental movement and the Clean Water Act. EcoWatch.org is the only media source that focuses exclusively on environmental news aggregated from more than 1,000 environmental organizations worldwide. The site also showcases original content in its Insights column from national leaders in the environmental movement, including EcoWatch's advisory board members, Wendy Abrams, Ed Begley, Jr., Lester Brown, Laurie David, Paul Hawken, Randy Hayes, Robert F. Kennedy, Jr., Phil Radford, Laura Turner Seydel and Harvey Wasserman.
The news service provides timely access to relevant information that seeks to motivate individuals to become engaged in their community, adopt sustainable practices and support strong environmental policy. The site focuses on five critical issue areas—water, air, food, energy and biodiversity—and covers topics including, renewable energy, water and air quality, sustainable agriculture, fossil fuel depletion, solution-based sustainability projects, species protection, global warming, climate change and pending legislation.
The EcoWatch model helps foster collaboration among grassroots environmental organizations, allowing groups to identify other organizations that are doing similar work, and provides easy access to connect with these groups and enhances the opportunity of joining forces on environmental issues and policies.
Since the launch of the site two months ago, EcoWatch.org has serviced more than 175 grassroots organizations and brought more than 22,000 visitors to the site. The next step is to complete an EcoWatch mobile application and enhance it hyper-local capabilities.
Be sure to check out EcoWatch.org daily to stay up-to-date with the news of the grassroots environmental movement and share with your friends this new and exciting way to engage with the work being done to protect the Earth.
You can like EcoWatch of Facebook and follow us on Twitter. And, be sure to visit Waterkeeper.org to learn how you can get involved in protecting the world's water.
Marc Yaggi is the Executive Director of Waterkeeper Alliance.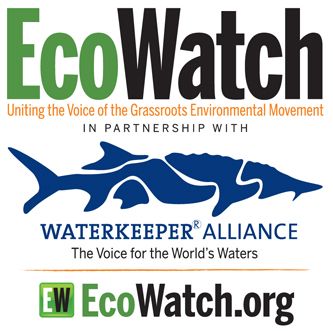 « Claim It: There is No Green Wetsuit Back to Patagonia – Part 4 »