---
---
Celebrating Bike to Work Week 2012 – Cheddar, Challenge, Cold & Cops
Every day is bike to work day at Patagonia, but we still love to celebrate Bike to Work Week around the company each year. Enjoy a recap of the 2012 festivities and make your own switch to a pedal-powered commute. We'll start with a story from mom and managing editor, Diane French.
I have a four and three-quarters year-old son (don't be rounding that down or up or you'll hear about it). That means everything in my house has a name. There's Craney, the toy crane; Jadey, the jade plant; JuJu the pillow. Bikes, especially, have names. Orange Crush, my orange crossbike; Twilight, my townie; Fire Flame was Amato's first pedal bike; now we have Blue Stash, his second. The blue trail-a-bike that I attach to Twilight to haul Amato to preschool is named Blueberry.
And then there's Cheddar.
Cheddar is a three-inch tall stuffed finger-puppet mouse who, in the Stuffie Pantheon, reigns supreme. He is cute and maddeningly easy to lose. He refuses to stay home, ever, and loves preschool.
So when I bike to work, Blueberry, Amato and Cheddar bike to work as well.
We have rules. Helmets, gloves and proper shoes required. Hands on handlebars at all times. No wiggling. No slacking on the hills.
Cheddar is too small to reach the pedals and even the smallest gloves won't fit, so we make allowances, but the almighty helmet rule still applies. An Orangina bottle cap sits comfortably between the ears and a zip-tie doubles nicely as a seat belt.
Cheddar is never happier than when he's on the bike. My ride to work includes a constant, animated stream of mouse-boy conversation. Then finally – "Mom, Cheddar loves to ride."
"Why's that, do you think?"
"He loves to feel the wind in his whiskers."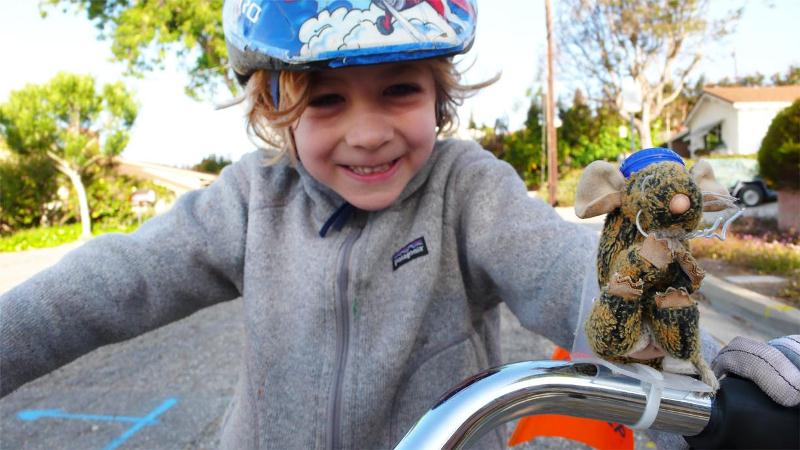 Amato Halenda and Cheddar.
RETAIL STORES ACROSS THE COUNTRY
Patagonia's retail stores again took part in the company-wide Bike to Work Week celebrations. Riding for inter-store bragging rights, and the chance to raise some money for local bike advocacy groups, the folks in retail ended their week having logged more than 7,000 miles; bike commutes accounted for 68% of all the shifts worked that week.
Again this year, each store was given the chance to partner with a local bicycle advocacy or environmental organization, with the goal of raising money and increasing community exposure for a well-deserving group. Patagonia contributed $200 as an initial "Challenge Grant" and then promised to match $1 for each mile ridden by the store's employees to benefit the store's partner organization. All told, that equaled $12,000 going to worthy groups, from L.A.'s Bicycle Kitchen to Boston's Boston Cyclists Union.
Leading the way, the Freeport, Maine store tallied an astounding 1,118 miles over the course of 7 days, an average of 22 miles ridden for each employee, each day! Seattle and Toronto took top honors in the participation category, with 100% participation – every shift worked, every employee riding, all week long.
–Colin Pile, Patagonia New York Upper West Side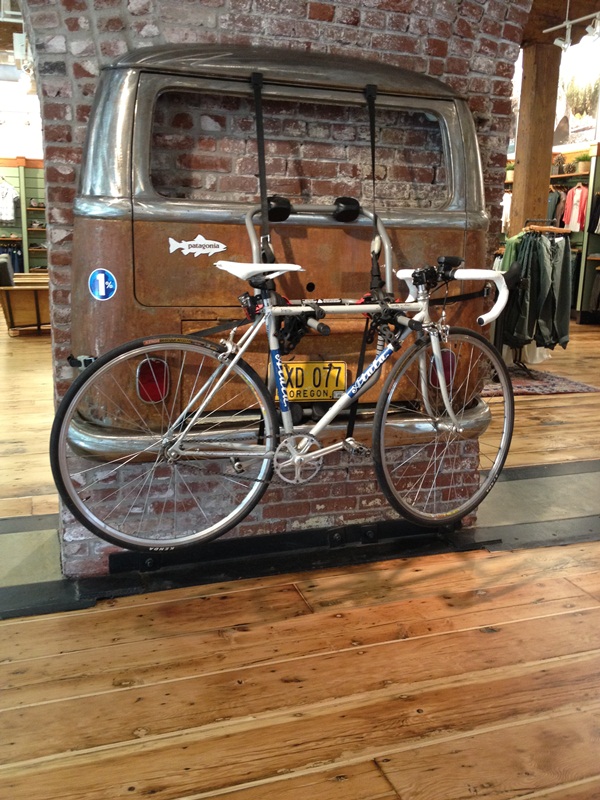 Cool display inside Patagonia Portland.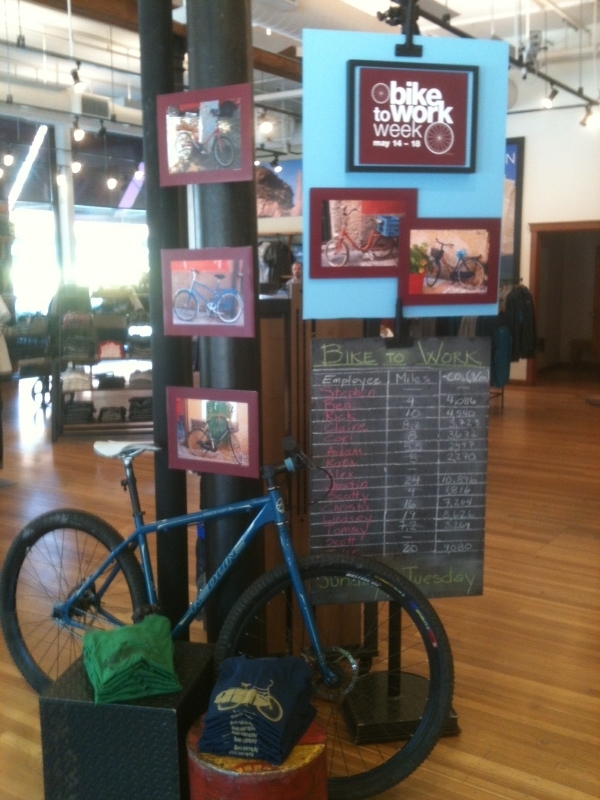 Patagonia Denver logged their miles as well as the CO2 savings associated with each bike commute.
RENO SERVICE CENTER
Bike to Work Week in Reno seems to be weather-challenged every year and this year was no different. Our week started out with some sunshine, along with 40 mph winds. The forecast for Friday was for snow at elevation 5,500 feet, just a bit higher than the service center itself. Patagonia employees are a fierce bunch however and we rode from near and far, racking up over 4,000 miles in two weeks. Even the weather did not deter us. All day Friday we had snow, wind, rain, sun, rain, and more snow, and we still rode in!
Each morning riders were presented with fat breakfasts provided by Mail Order, Dealer Services, Quality Control, Administration, and Shipping. Not content with merely breaking lasts year's total, we doubled the miles ridden from last year. All told, we had 73 employees ride a total of 3,091 miles during bike to work week. Combine that with the 1,641 we rode the previous week, and the Reno Bike Project received a none too shabby check for $4,732.
The week's festivities ended with a moving tribute to Mike Colpo, music by our very own Chronic Wood Revival and a drawing for riders who rode every day. This year's lucky winner of the New Belgium Fat Tire Cruiser was Ron Flesher. Congratulations!
Thanks to everyone who helped out, especially the employees who rode in with big smiles on their faces! Thanks also to Pro Purchase, the Bike to Work Week volunteers, all the departments that helped out, and Tanya Faw for all her help getting us the Fat Tire Bike!
–Kim Jardine, Environmental Donations & Old School, Customer Service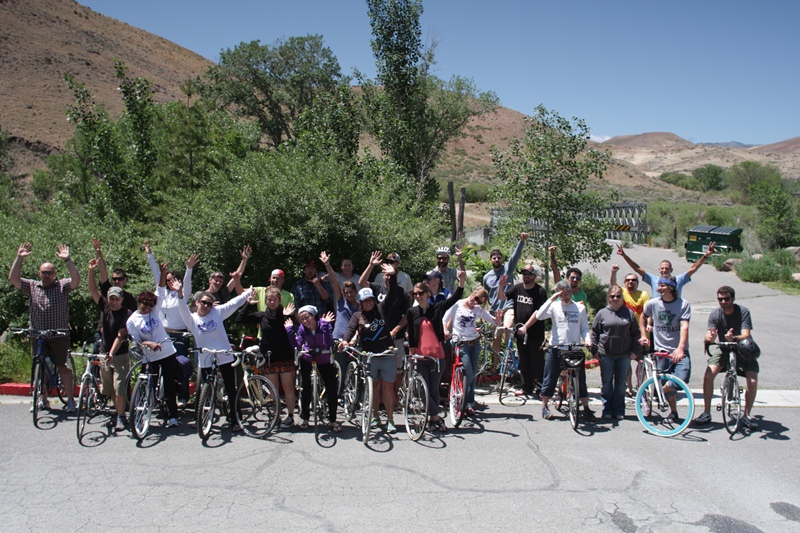 The Reno riders.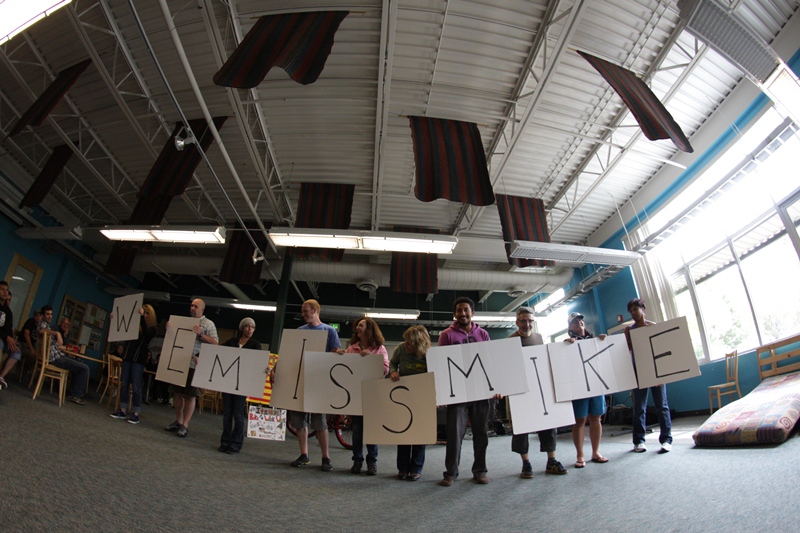 We do too.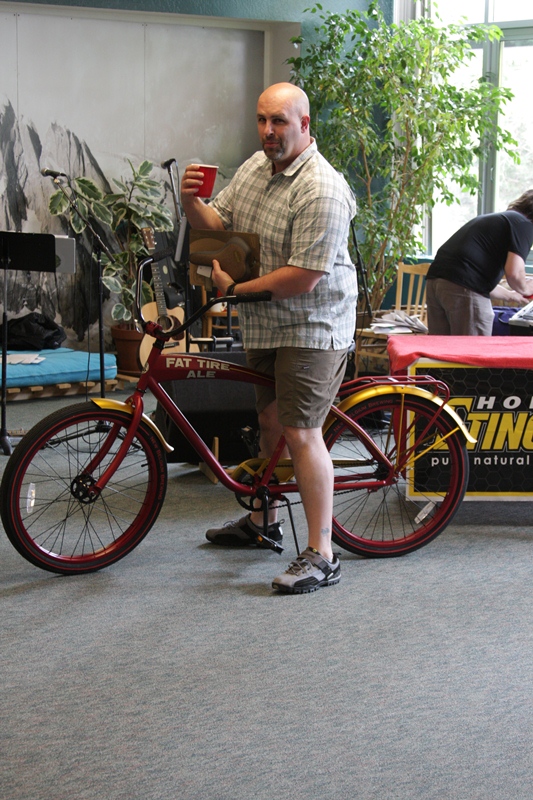 New Belgium Fat Tire Cruiser raffle winner Ron Flesher.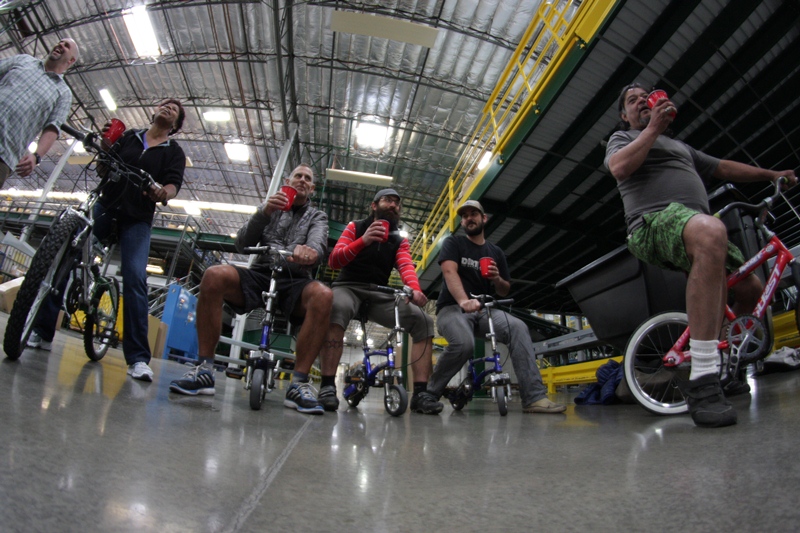 Participants line up for the annual adult-children's bike race.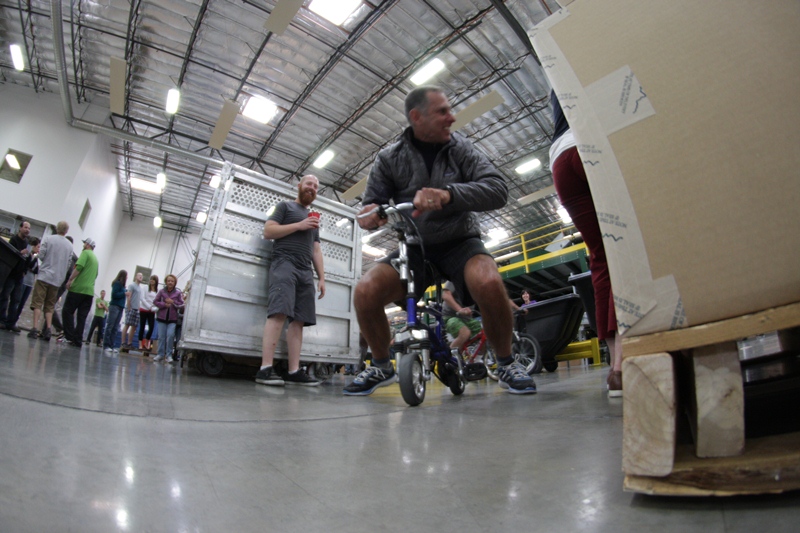 Chris pulls ahead.
VENTURA HEADQUARTERS
Ventura set out this year with a challenge to employees to ride 25% more than they did last year. We blew that goal out of the water and improved our numbers by a whopping 47%!
We kicked our Bike to Work Week events off on the first of May, when several volunteers from Patagonia and Rob Perks, the owner of Ocean Air Cycles, set up shop in the parking lot to help employees get their bikes in working order. Jeff Byers, from Trek Bikes of Ventura, also set up shop last week and volunteered his time and expertise to work on employee bikes for the majority of the day.
Last week was packed with several fun events including tasty and hearty breakfasts compliments of several departments in the company: Human Resources, Creative Services, Accounting, Product Development, Fab Lab and the Forge. Free coffee was flowing on Tuesday and Wednesday, compliments of Rapha Performance Roadwear. On Wednesday, Patagonia CEO, Casey Sheahan, led a casual lunch ride down along the beach. Our GPCDC childcare center held a bike safety clinic, lead by Officer Redenek and Commader Al Gomez of the Ventura Police Department. And of course, we had to wrap up the week with a party to celebrate everyone's efforts, with a fine selection of beer donated by New Belgium Brewery. New Belgium also donated a beautiful new cruiser bicycle for our Ventura campus employees to use.
There were several other generous raffle donors that made this week such a success, they include: Trek Bikes of Ventura, Aaron Kuehn, and Green Guru.
Patagonia matched every mile ridden by our Ventura employees with a $1.00 grant to VCCool – a prolific grassroots climate-change action group dedicated to promoting a sustainable way of life through improved public policy, personal transformation, and a green economy. They are the sole group in Ventura that actively promotes bicycles as transportation. Our employees' collective pedaling resulted in a $2,762 grant.
Last but not least, a big thank you goes out to the committee that pulled all of this together: Alison Perks, Ben Galphin, Betsy Held, Billy McFarland, Brian Helminski, Erick Lord, John Mirk, Lisa Myers, Maggy Mittler, Nate Ptacek and Ryan Thompson.
–Lisa Myers, Environmental Programs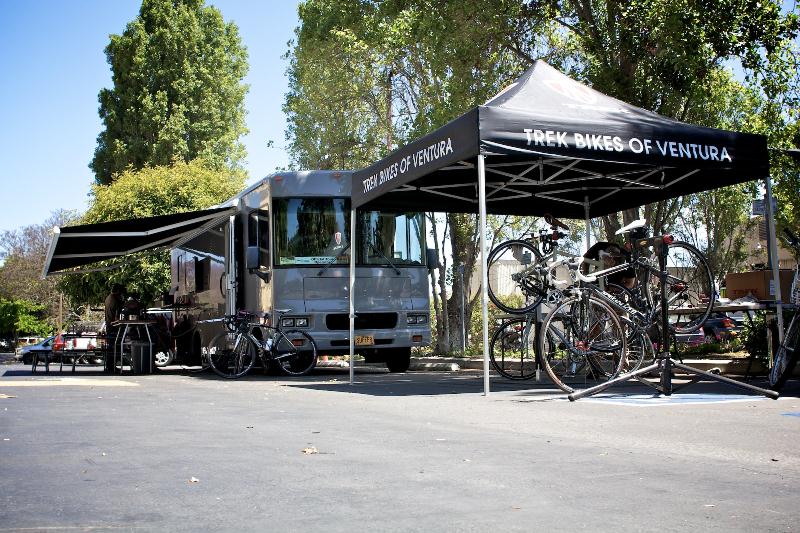 The Rapha Performance Roadwear RV and Trek Bikes of Ventura repair tent.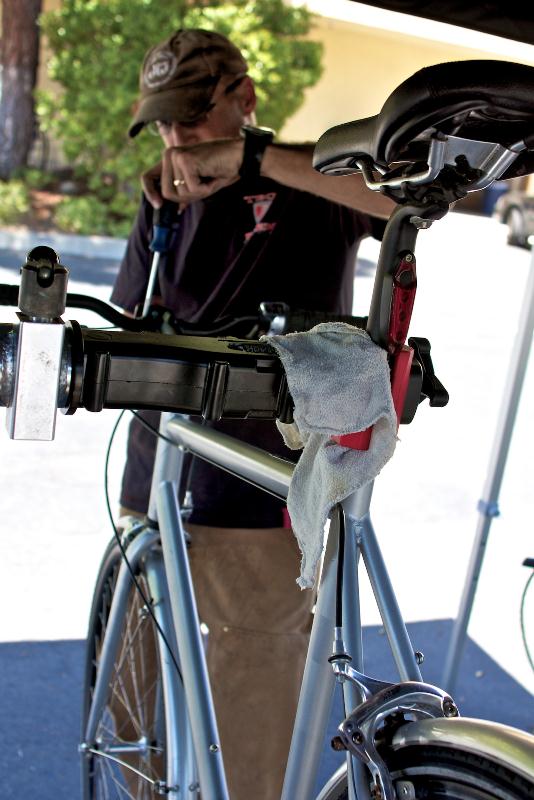 Jeff Byers from Trek Bikes of Ventura tunes up a Swobo.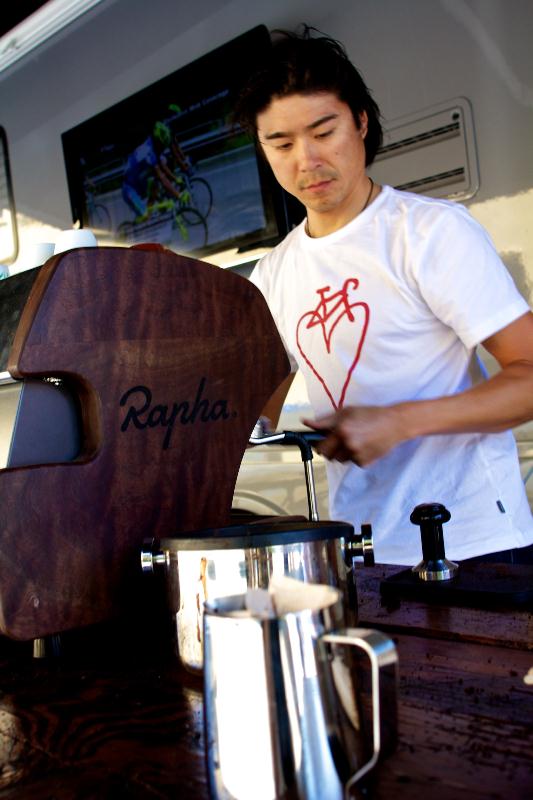 Patagonia marketer, coffee expert and Clif team rider, Mark Shimahara, takes a turn on Rapha's espresso maker.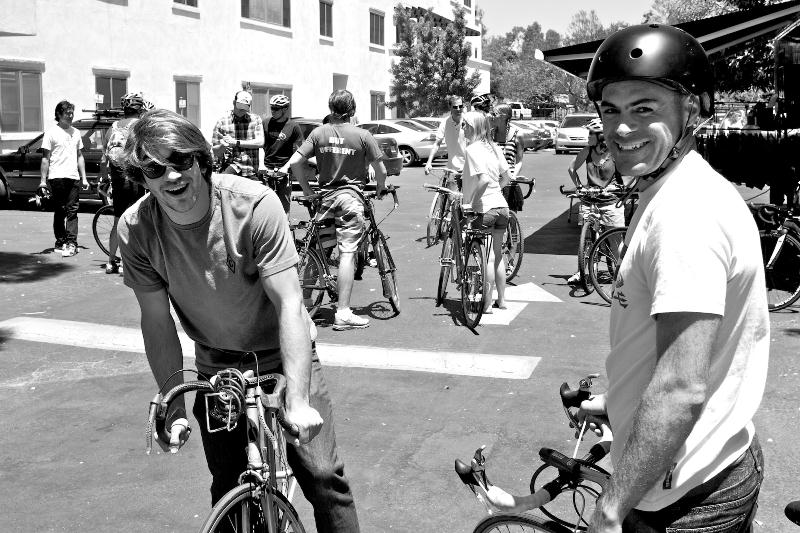 There were miles of smiles during bike to work week.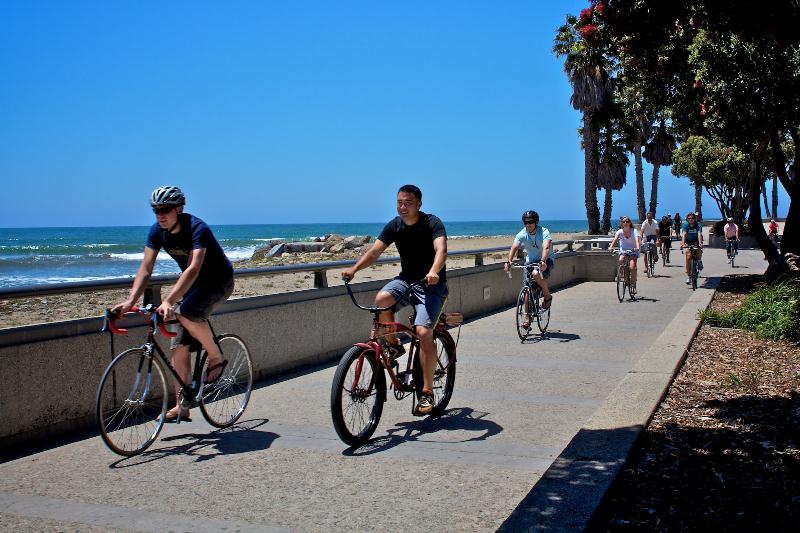 Pedaling by some small waves at C-Street.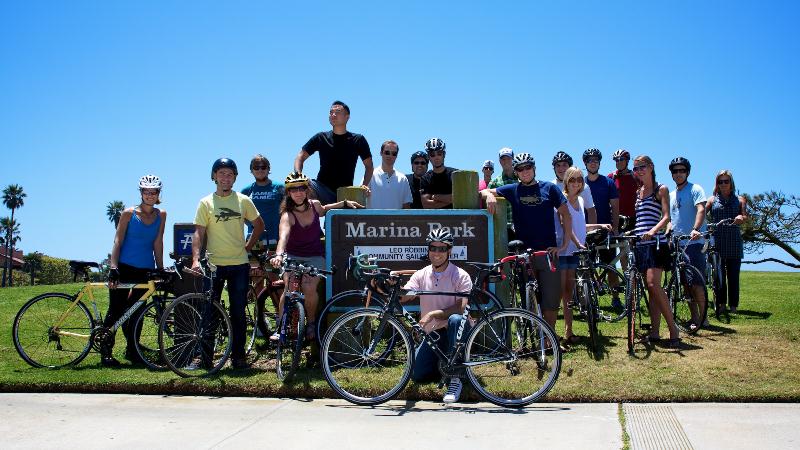 Ventura lunchtime riders.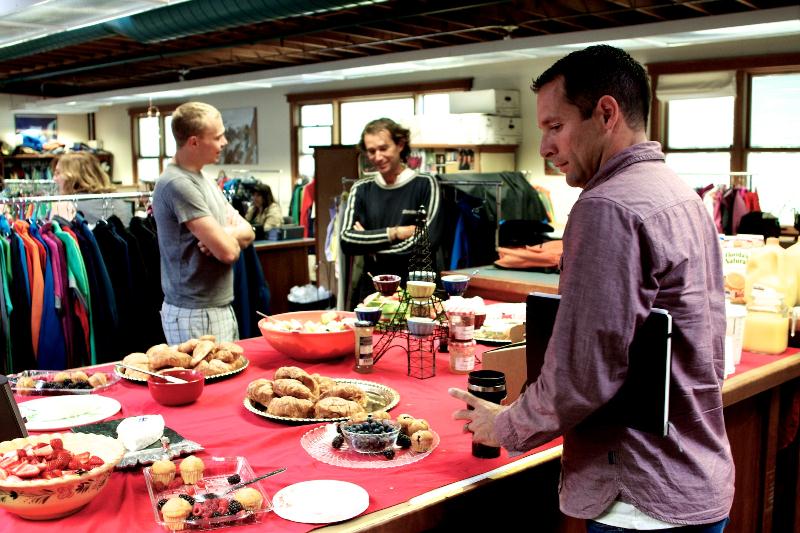 One of the many delicious breakfasts provided to the riders.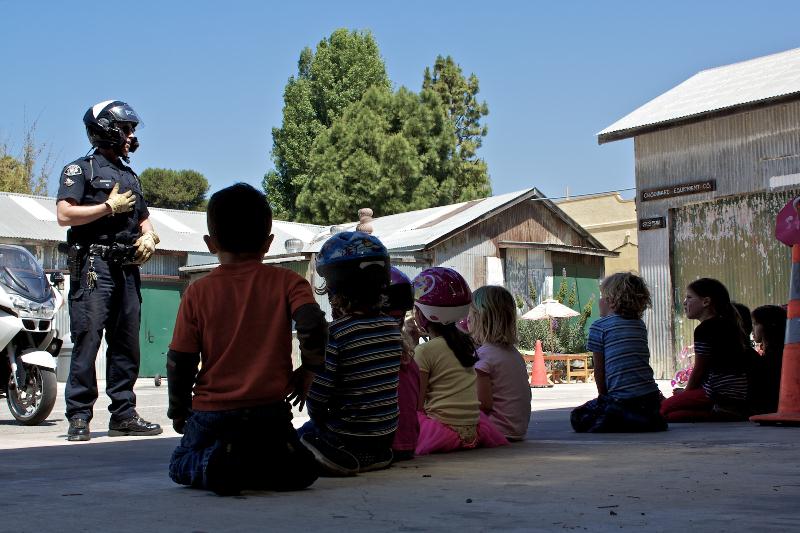 Learning the rules of the road from the Ventura Police Department.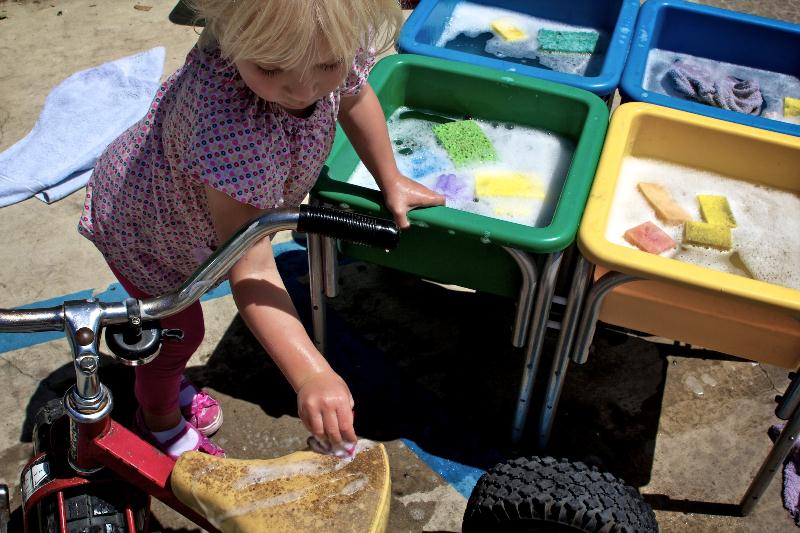 You're never too young to learn about bike maintenance.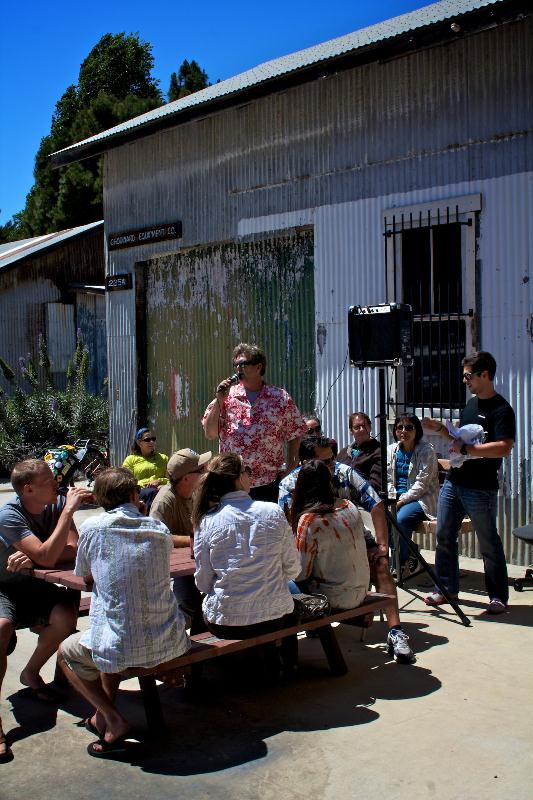 Longtime bike to work coordinator, Chipper Bro Bell, emcees the closing party.
Until next year!
All Ventura photos and the video you watched at the beginning by Nate Ptacek.
« What We Do For a Living – An Excerpt from 'The Responsible Company' Watch "Shattered" a Short Film Featuring Patagonia Ambassador Steve House »