---
---
2013 Mugs Stump Award – Application Period Ends December 14
Nov 12, 2012
November 12, 2012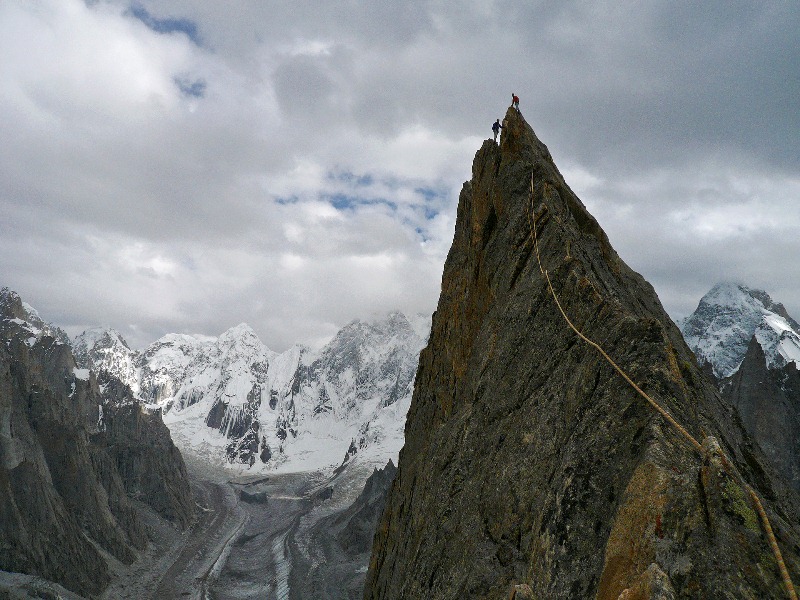 The application period for the 2013 Mugs Stump award is quickly dwindling. Established in 1993 to honor the late Mugs Stump, the award provides grants to a select number of individuals and teams whose proposed climbs present an outstanding challenge – a first ascent, significant repeat or first alpine-style ascent – with special emphasis placed on climbers leaving no trace of their passage. Interested parties have until December 14, 2012 to apply. Visit the official Mugs Stump Award page for application details.
We asked a few Patagonia ambassadors to share some memories from trips they were able to take because of the Mugs Stump Award.
Steve House: "The MSA helped me fund my crucial, early expeditions in Alaska. Yet as my ambitions expanded, the award kept pace, helping me to launch an expedition to Nuptse in Nepal, attempts on Masherbrum and Kunyang Chish in Pakistan and successful climbs of K7 West and Nanga Parbat's Rupal Face."
Marko Prezelj: "Mugs Stump Award is a special stimulation in the process of trusting climbing ideas that are beyond instant reach. Inspiring confidence is very powerful support. Thanks for all that."
[Above: Naisa Brakk in the Charakusa Valley. Photo: Marko Prezelj]
Colin Haley: "The Mugs Stump Award has helped me get to the Karakorum and to the Alaska Range. In one case it helped me achieve a great climb, in other cases I came home empty-handed but with strong memories, and in all cases I was able to try something that was otherwise out of reach. If you have all the other ingredients – experience, skill, motivation and dedication – but lack the funds, it is the perfect resource to help make a trip happen!"
Kelly Cordes: "I can thank the Mugs Stump Award for what, to some, would be the worst vacations imaginable, but what, to me, have been some of the most powerful memories of my life. You're assured to be cold, wet and scared when trying ridiculously improbable objectives – but, for some reason, you convince yourself that you can actually pull these things off, and you train your ass off, climb like mad, and try to make them happen. And sometimes magic actually happens – indeed the award has supported many of the most incredible climbs of our generation. The award rarely covers the whole trip, and it shouldn't. If you really want it, you'll make it happen. Hell, I'd always figured we were going anyway, even if it meant moving back into a shack, selling my car, and eating more ramen. But I've been grateful for the times when I didn't have to do that, and had the support of the award. It helps, and has helped me to challenge myself on things that demanded my best. I was honored when I first received the award, and years later, I still look back and feel honored to have been in that position. It's a privilege to receive the award, given what it represents and the types of trips it supports: real-deal, no B.S., lightweight alpinism, which is something that, for all the glitz and flash of today's instant-media world, still exist. Thanks to the Mugs Stump Award for supporting alpinism."

[Marko Prezelj, Vince Anderson and Steve House on Makalu. Photo: Marko Prezelj]
Dylan Johnson: "I thoroughly enjoy 'grant season' – the beginning of winter, when you call your best partners around the country and scheme up the finest, out-there climbing adventure the two of you can think of. You spend late nights researching the AAJ and old, foreign climbing mags and photos, as you craft the application and sketch in your proposed line.
"Here's a little memory from one of the trips I received Mugs support for:
"In the late summer of 2010, for the first time in my life, I found myself high on a mountain that had never been climbed. Since childhood, I had always wondered what that would feel like – I'd actually expected it to feel like any other mountain, never thinking it was that big of a deal to be somewhere no one had ever been before. But the feeling was unexpectedly exciting, almost surreal. Looking out across a sea of peaks thinking no human had ever seen this view, it was far more emotionally profound than I had anticipated. A few hours later, with Chad Kellogg a rope length below, I pulled onto the summit of China's Seerdengpu – years after the iconic image of the peak had been plastered across my mind, I was actually sitting on top of the mountain, where no one had sat before. It was a surprisingly powerful and memorable moment, much more enjoyable than the endless hours that followed trying to get back down to basecamp.
"With the Mugs program out there, it's impossible to set your sights too high. It lets you scheme as big as you want and, with any luck, you won't be held back by a lack of financing for the trip. It enables you to focus on the climbing.  I encourage every alpine climber who is looking to push themselves on new lines on remote, compelling peaks, to apply."

Visit MugsStumpAward.com to apply. For more on the incredible life of the late Mugs Stump, check out Michael Kennedy's article "The Dream – A Journey of the Spirit with Mugs Stump."

« Best Wishes to Liz Clark Dirtbag Diaries: Making It »