---
---
A Belated Bike to Work Week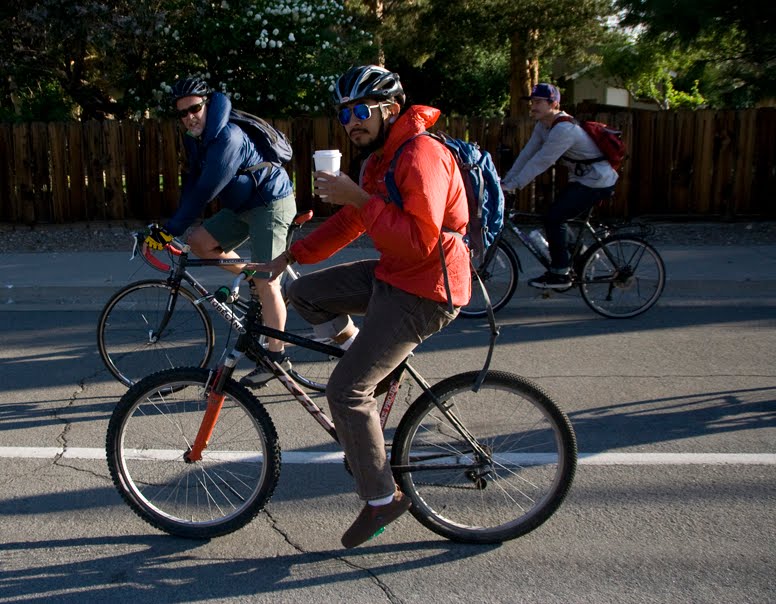 It should come as little surprise that a company with Patagonia's environmental stance is a fervent supporter of Bike to Work Week (B2WW). Unfortunately, important business commitments during the week of May 13-17 meant we are unable to participate during the national event. But this has not deterred us from holding a B2WW!
Patagonia will be holding our annual event next week from June 17-21, 2013. Here at the Reno Distribution Center, our B2WW organizing committee has been working hard to prepare a series of events to celebrate and promote bicycles. We have great participation and support from the local community, especially from Great Basin Bicycles, the Reno Bike Project and Kiwanis. Check them all out!
In anticipation of the festivities, I thought this blog would be good to promote the hardcore who ride to work nearly every day, come rain or shine (and sometimes snow), and encourage others – whether Patagonia colleagues or not – to get on their bike more than one week a year.
Patagonia has a very positive approach to reducing the carbon footprint of its employees. We have a Drive-Less Program which allows employees to log their modes of transport to and from work. Those who choose practices that are environmentally friendly – walking, taking public transport, carpooling and, of course, cycling – receive a financial reward. Coupled with reduced spending at the gas pump and less frequent car maintenance costs, this meant that I was an estimated $1,451 better off last year from the initial investment of $250 for a bike and cycling nearly every day. That is a lot more money in my pocket!
And the benefits are not just financial. There is also the very important environmental aspect. It is estimated from data supplied by our Drive-Less Program that last year I avoided 430 vehicle trips (for a total of 2,670 miles) and 2,219 pounds of unnecessary CO₂ emissions. Even more impressive are the company-wide statistics for last year:
• Vehicle trips avoided: 109,994
• Vehicle miles reduced: 674,210 miles
• CO₂ emissions reduced: 494,110 lbs.
Finally, there is the health benefit of cycling. Doctors have long recommended 20 minutes of light exercise per day as a means toward a healthier lifestyle. Instead of driving to the gym to run on an electric belt for an hour, why not incorporate our daily commute into our exercise routine? If it's good enough for top NBA athletes like LeBron James and Dwayne Wade, surely it's good enough for all of us. And just to prove how committed Wade is to cycling, here he is at a Miami Critical Mass ride:

Video: TheMiamiBikeScene
I hope, if you are thinking of using two wheels and a pair of legs to get to work, some of the information here has convinced you to go for it. In the meantime, you can look forward to the Reno DC B2WW's forthcoming blog post highlighting the great events held over our bike to work celebrations.
Here is a sneak peak at what we have planned:
• Bike repair and maintenance clinics
• Fundraising for local bike advocacy non-profits
• Raffles and prizes for cyclists
• Critical Mass ride to work
• Free breakfasts for participants
• Free portraits of cyclists and their rides
• Two-wheeled scavenger hunt
• Music and party to finish the week in style
Happy pedaling!
« Lockwood Animal Rescue Center visits Patagonia Reno Rios Libres: Environmental Dispatches – Episode 3, The Alternatives »