---
---
Backcountry Film Festival – Ready to Make You Backcountry Famous
How many ski movies have you seen that were shot in July and August – in North America? A deep and abiding snowpack across the West (coupled with a cool, wet, and stormy June) has yielded what is, for most of us, an apocryphal anomaly, the "July ski season." Sure, the guys up in the Cascades and north of the 49th make it a habit of enjoying turns all year, but for the rest of us, winter is rapidly fading memory once the fireworks fly.
Not this year (check the stories from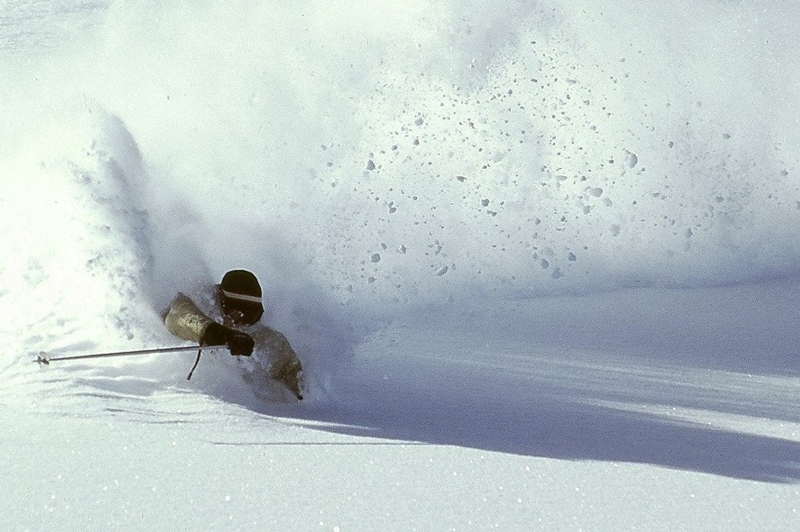 [Photo courtesy Winter Wildlands Alliance/Backcountry Film Festival. Skier, Sam Pope – KGB Productions. Photographer: Tuck Fauntleroy]
Presented by the Winter Wildlands Alliance, the 7th-annual Backcountry Film Festival focuses on grassroots filmmakers who tell compelling and entertaining stories of backcountry, non-motorized recreation and environmental preservation.
When they say "grassroots," they mean it. From the Festival website: "You don't need a degree from a film school. You don't need footage shot while dangling precariously, camera in hand, from an ice wall in the Rockies. All you need is a compelling story, some quality footage and a keen eye for a fun, educational or juicy topic."
This year's categories are: Best Short Short (under 5 minutes), Best Environmental Message and Best of Festival.
Films entered into the festival should be short – no longer than 30 minutes. In keeping with the Winter Wildlands ethos, these films should share a thought-provoking, interesting story of backcountry, nonmotorized recreation. A strong focus on environmental themes is at the heart of the Festival and the Wildlands mission, so stories focusing on conservation, preservation and stewardship are encouraged. The Festival warmly welcomes whatever your creativity can conjure – documentaries, fiction, experimental, you name it.
The Film Festival gets noisy in Boise, Idaho in early November before taking to the road and hitting over 50 cities throughout the nation (up from 30 last year).
Submissions must be in DVD format, received in Winter Wildlands Alliance's Boise office by September 15, 2011 and include three copies and a $20 submission fee. See festival rules for more information and address to which you may mail your submissions. You may also contact Shelley Pursell at spursell@winterwildlands.org  or 208-343-1630 for further details.
[The Desert River, a Sweetgrass Productions short featuring Stephan Drake and Jon Larsson skiing Alaska's big mountains.]
« Postcard from Chamonix: Wedding Gifts The 48-Hour Dress »