Child of the Setting Sun
Mitchell Scott
/
diciembre 15, 2021
/
Lectura de 11 Minutos
/
Snow
One woman's against-all-odds journey to save a beautiful piece of a stolen future.
All photos by Paris Gore
When I first meet little Robbie, he's lying on his tummy in the living room, awash in a rainbow of toys and baby blankets. He gives me a big smile, then immediately stuffs a saliva-soaked fist into his mouth. Outside the windows of his straw-bale house near Winthrop, Washington, rolling, snow-covered hills stack in distant rows. Robbie, who's 6 months old, wiggles to get up on all fours, but he's not quite there yet. He coos and chuckles, while Riddick and Obi, the family's dogs, sneak in quick licks and sniffs, leaving dog hair clinging to Robbie's never-ending stream of drool. He's a healthy baby boy in an idyllic rural home.
It's a Saturday morning in February, and before the sun can fully creep over the eastern foothills of the North Cascades, Steph Bennett, Robbie's mom, is busy. During the week, the 39-year-old works as a senior planning analyst at REI and also moonlights as the operations manager for North Cascades Mountain Guides. Despite her full-time work schedule, she is an active member of her small community, where she likes to volunteer. This morning she's helping at a cross-country ski race. The Methow Valley—home to the towns of Twisp, Winthrop and Mazama—is all-in for Nordic skiing. Like, borderline fanatic. It's not a surprise, thanks to its wide-open landscape and hundreds of miles of track. With a coffee in one hand, and an eye on Robbie playing on the floor, Steph casually, but with some urgency, prepares Robbie for a few hours with a nanny. Steph is a tall, fit woman with long brown hair and piercing green eyes. And while her little boy makes her smile as big and wild as the country outside their front door, there's a sadness there. A grief you can see just under the surface, and a resolve that has risen from it.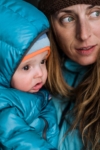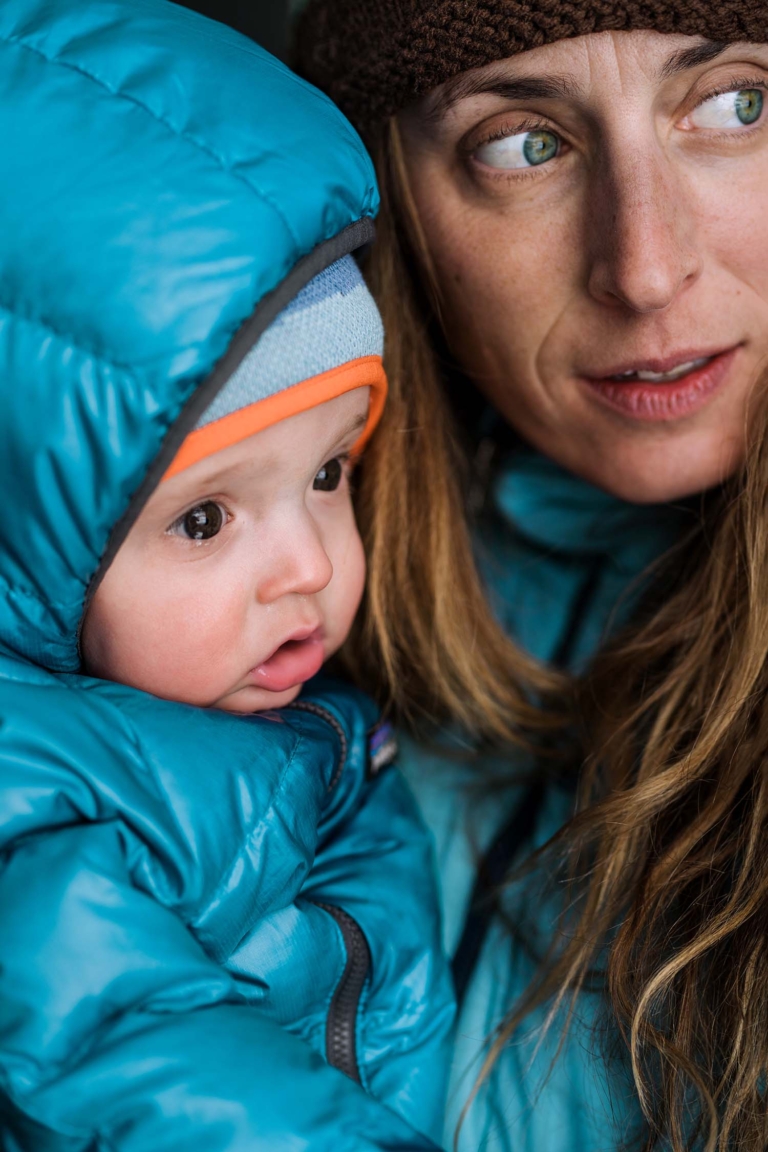 On March 4, 2018, Steph was ski touring with three friends: Paris Gore, a freelance photographer she met through her previous job at K2 Sports; Stephen Ettinger, a friend of Paris's she had just met two days before; and Ian Fair, the love of her life. It was an overcast winter day, with temps in the high teens and good snow, in a regularly skied zone known as Setting Sun Mountain ridge. None of them had ridden there before. Ian, whom Steph describes as the consummate "hippie pow shredder," was keen on exploring this new zone, 7 miles as the crow flies from Mazama, up Black Pine Basin: Ian had his sights on a northwest-facing tree run off Setting Sun Mountain.
Having ski toured with the boys the day before, Steph was more interested in lacing up her shoes for a long run. But Ian was committed and hard to refuse. "He was always the type of guy who liked to go off the beaten path," she says. "He definitely took the road less traveled in both his personal and work life." A tall, energetic, avid adventurer, Ian worked as an environmental educator at a school in Mazama. The two had just bought a house, talked about getting married that summer and were settling into a life together. One they imagined would include a lot of time outside and, eventually, children to share it with.
After a 20-minute snowmobile ride, they started the three-hour climb up the ridgeline to the top of Setting Sun. Steph was getting into the groove of the day: fresh snow, her lover in his element, a huge expanse of wilderness around them. On the ascent, Steph and Ian shared their daily affirmations, a practice they'd developed together the previous year. "I told him I was grateful he was my partner and that he put up with my bullshit," she quips. "He told me he was grateful I always put in the skintrack and that I toasted his bread for his peanut butter and jelly." They continued to skin up, past what looked to be an owl kill of a rabbit. Past tunneling ptarmigan, something they had both never seen before. Images now etched into Steph's memory.
It had been a dry and cold few weeks with a somewhat unstable snowpack. They were an experienced group of backcountry skiers and riders, very familiar with the local snowpack and terrain. Over the weekend they had dug numerous snow pits and dropped cornices, checking snowpack stability, but had seen no sign of a buried persistent weak layer that was known to be lurking in parts of the Pacific Northwest. At the top of the run, the group decided Paris would drop first. Paris ski-cut the slope, safely traversing the possible point of tension in the snowpack to see if it would give way, before descending 300 feet and then stopping in a thick stand of trees. He radioed back to the group saying the slope felt good. Ian asked Steph if she wanted to go, but she declined; she had dropped in first yesterday. Ian headed down, made four turns, and the entire slope gave way. "You could hear the whole thing. It was such a clean crown. I remember looking at my watch and thinking, 'OK, we have 15 minutes to find him.' It was a very clear thought. I don't remember screaming or crying. I think adrenaline just totally took over. Then I heard all the trees start snapping—like, huge trees—and that's when I knew that he was going to die, if he hadn't already. That feeling was immediate."
According to the Northwest Avalanche Center's incident report, the crown face of the avalanche was 12 to 55 inches deep, averaging 28 inches, and 230 feet wide. It dragged Ian down a narrow chute, breaking trees 6 inches thick as it traveled nearly 800 feet downslope. Paris found Ian on the surface of the snow, near the bottom of the avalanche. "It was pretty apparent at that point how his body was positioned," explains Steph, her voice cracking. "You could tell how broken he was before they even turned him over. And then they did turn him over, and at that point it was pretty apparent he had died because of impact."
They had no cell phone service. No satellite phone. It was just beyond 1:15 p.m. Stephen began approximately 15 minutes of CPR. At 1:44 p.m., the group was able to place a 911 call (any cell tower is required by law to relay 911 calls, whether the tower is part of the caller's telecom network or not). They then tried to rig up a system to drag Ian's body out, but they soon realized it would put them at greater risk. In shock, emotionally tapped but still cognizant, they had to move. The trio made a gut-wrenching decision: They noted GPS coordinates in case it snowed, put Ian's bright yellow hat on a tree to mark where they left him and went for help.
Before deciding to leave Ian, however, there was an unconventional exchange. Something wholly unexpected. Ten minutes after the accident, holding Ian's lifeless hand, Steph looked at Stephen, who was just a few months away from starting medical school, and asked, "Do you think that we can recover his sperm?" "I was totally floored and didn't know what to say," remembers Stephen. "We needed to get out of there, but her comment left an enormous impression on me. It encapsulated everything that it meant to her at that moment: Losing Ian meant losing a future that they had envisioned for themselves." And for Steph, at the time unable to grasp ever being with someone else, this meant the potential loss of motherhood.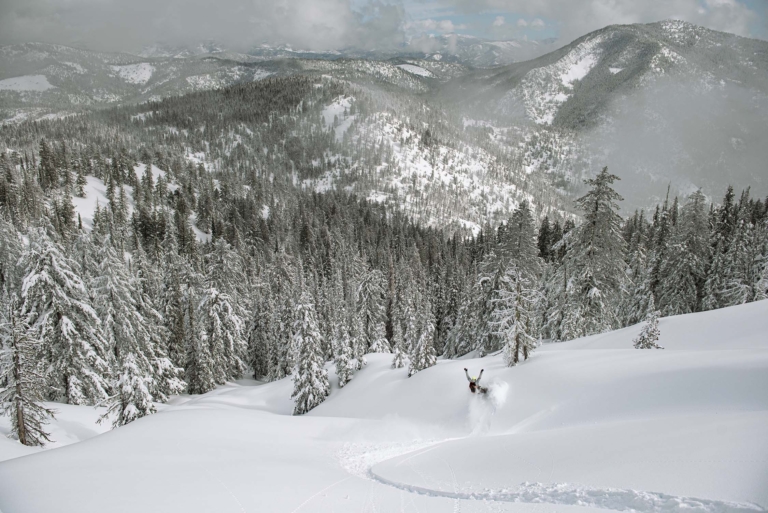 Postmortem sperm retrieval, or PSR, is quite new and not without controversy. It is the act of removing sperm from a deceased man often with the intent to use it for in vitro fertilization (IVF), a process where a woman's eggs are fertilized with sperm outside the body in a lab and then placed in the uterus. This process of posthumous conception has been banned in countries like France, Germany and Canada. In the UK, it requires pre-written consent from the deceased. In the US, there is no specific federal regulation surrounding PSR. The number of PSR procedures increased from three in the 1980s to 15 in the 1990s, to more than 130 from 2010 to 2014. It's a time-sensitive procedure: The window from time of death to successful extraction of healthy sperm is about 36 hours. Because of the ethical grey areas, not many doctors are willing to perform it.
In shock, Steph, Paris and Stephen had to remain focused on complicated avalanche terrain to navigate their way home. Halfway down the sled trail they met the search-and-rescue (SAR) team and decided that conditions weren't safe enough to successfully retrieve Ian's body. "Normally in an avalanche, we go to the body regardless—in case they're still alive under the snow," says David Rodriguez, the county coroner and SAR member. "But the surrounding slopes were unstable. It was snowing really hard, and it was now dark. Steph told me she didn't want to put us at risk of further tragedy, and we knew Ian had passed away. We decided to get the body the next day." The three continued on their sleds back to their trucks, loaded up and drove back to Steph and Ian's house where friends and family were already gathering.
The morning after the accident, Steph and a few friends started making phone calls to IVF clinics throughout the Pacific Northwest. It was a benefit that the snow quickly cooled Ian's body. After it was removed that afternoon on a litter and long line via helicopter, it was placed in the coroner's mortuary cooler, while Steph and her team continued to search for a clinic that would take his testicles, extract his sperm and hopefully allow Steph to use it for IVF.
After calls to 60 different clinics around the country, they had yet to find one that would do the procedure. Then, on the third morning after Ian's death, Steph reached Dr. Klaus Wiemer of the POMA Fertility clinic in Kirkland, Washington, northeast of Seattle. Dr. Wiemer was a backcountry skier, and Steph remembers him saying, "The ski community looks out for each other." They agreed to do the PSR on Ian, and if it worked, the IVF on Steph, but they were running out of time. The last piece of the puzzle was signed affidavits from Ian's long-divorced parents, Bob and Susan, who knew Ian and Steph had wanted children, officially making a gift of Ian's sperm. They were quick to give it.
It had been 72 hours since Ian's death, well past the established 36-hour window. Now the issue of removing and packaging Ian's testicles for transport needed to happen, and fast.
Steph and the coroner had arranged for a doctor—who wishes to remain anonymous—to perform the procedure. According to Steph, however, that doctor "had zero knowledge on how to do the procedure." "I tried calling POMA to get hold of one of the andrologists, and he was not answering his phone," she continues. "I sent him an email and flagged it 'urgent' and thankfully he had just gotten back from lunch and checked his email and saw it flagged. He immediately called the coroner and the doctor to take them step-by-step over the phone as the anonymous doctor and the coroner were executing the procedure."
Highway 20, the most direct route from Winthrop to Seattle, is closed in winter. To get "Ian's package," as Steph calls it, over the North Cascades as quickly as possible, a friend of a friend named Craig Howard volunteered his single­ engine plane, and the little red-and-black Igloo medical cooler containing Ian's ice-cooled child­bearing potential was passed like a beating heart awaiting a transplant. With bad weather forecasted for Seattle, Craig arranged to land in Cle Elum, Washington, where Steph's ad hoc control center had a friend meet it and rush it to Kirkland. By the time Ian's package finally made it to the clinic, sperm extracted and then frozen, it had been almost 96 hours since his death. Even still, the gregariousness of his spirit stayed present. "It was hard not to chuckle at all of this," says Paris. "Ian would have laughed at it all. We're sure."
A number of ethical and legal questions can arise when a child is born through PSR. Would the donor have really given consent? Does someone have the right to another person's body? What are the legal rights of the child and mother? Does the child have a right to the deceased father's estate? Will the child be disadvantaged without a father? Will the child suffer social stigma from the way it was conceived? Is the mother prepared to make this decision while grieving? Should the financial obstacles of PSR and fertility treatments be considered?
For Steph, there was never any doubt. Although the doctors at POMA Fertility warned her the chances of a successful pregnancy were very slim due to the condition of Ian's sperm, they extracted a few viable samples. After two difficult, expensive and unsuccessful IVF treatments, she forged ahead. On the third, and what she said was her last, IVF attempt, after she had finally begun to deal with the suffocating grief of losing Ian, after letting go of the stress associated with trying to get pregnant, she conceived. Her outlook remained positive at 12 weeks into her against-all-odds pregnancy when, during an ultrasound, a midwife who was not her usual practitioner told her this might be the last time she hears her baby's heartbeat, possibly due to the condition of Ian's sperm, and asked if she'd like to record it. At 12:32 a.m. on July 26, 2019, 7-pound, 2-ounce Robert Steven Bennett was born. Ten fingers and 10 toes from a biological father who had been deceased for a year and a half.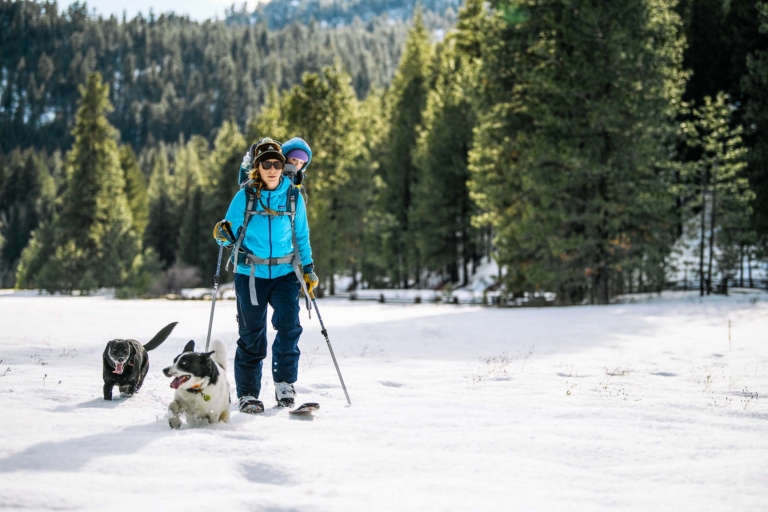 Ian had been the sixth person to die in an avalanche in western Washington in a period of just one week, one of the worst stretches in the state's history. He was 36 years old.
In Steph's garage there's a sign from the annual party friends throw in Ian's honor. "Ian was always the type of guy who would go out of his way to appease other people," she told me in one of our first conversations. "It's where he derived a lot of his own happiness." In this moment, it's hard not to feel the void of this man. Inside the house, there are photos of Ian slashing pow and fly fishing, his big blue eyes blazing. You can still feel his presence. I wonder if Robbie will feel the same way.
Ultimately, so many close friends and family of both Steph and Ian found this story inspiring during a time when they all felt so much grief. Steph decided to help tell it with the goal of bringing hope to others. "Not that PSR (postmortem sperm retrieval) is the answer to anyone's grief," she says. "But the idea of community, love and determination can bring so much light in times of utter bullshit."
This story was first published in the Patagonia Fall 2021 Journal.