How to Disconnect for Deeper Connection
Cassidy Randall
/
noviembre 30, 2017
/
Lectura de 5 Minutos
/
Comunidad
"Disconnect to connect," Leah Evans says to us, 13 total strangers standing in a circle at a remote trailhead in British Columbia's Purcell Mountains.
We're about to embark on the inaugural Airplane Mode Camp led by Evans and her dream team of experts: Madeleine Martin-Preney, a hiking/ski guide and the first woman to traverse the formidable Selkirk range on skis, and Katie Burrell, a legend on the comedy scene for her hilarious take on mountain-town living. Airplane Mode is a radical experiment to connect a group of strangers to each other through nature, self-discovery, comedy and complete disconnection from the outside world.
None of us know exactly how this will work, and there's a nervous anticipation in the air as the questions swirl in our heads. Are we supposed to set an intention for the weekend? How does comedy fit in? I'm not very funny … Am I supposed to bare my soul to people I don't even know? And what's an "intention," anyway?
But in our craving for a break from the 24/7 connection of our cell phones, we handed ourselves over to Evans without question, and given her background, we felt pretty good about it.

A pro skier who's featured in Jumbo Wild,  Pretty Faces,  Into the Mind and other films, Evans is known as much for her prowess on snow as for her dynamism. She's the force behind the iconic Revelstoke-based Girls Do Ski program that's single-handedly created one of the strongest communities of female skiers that the sport has ever seen. And Airplane Mode isn't her first experiment in marrying mountains with an unknown element: She produced the upcoming documentary Cabin Jams that brought music creation into backcountry skiing.
Airplane Mode introduces human therapy and comedy into the natural equation. And because we didn't know what to expect, none of us expected what actually happened.
As we hiked the 7½ miles to Purcell Mountain Lodge, we skipped straight over the small talk. With our phones tucked discreetly in our packs, we got to know each other on the kind of deep level that's unique to the backcountry, where time slows and an hour feels like a day.
That evening, Martin-Preney capitalized on the comfort we'd begun to build with each other on the hike in. She gathered us on the clearing in front of the lodge, and as the sun set over Mount Sir Donald in the far distance, she led us in a series of self-discovery exercises with code words like "green zone" (comfortable like your favorite hoody), "yellow zone" (pushing the edge of comfort like an aggressive ski turn where you may or may not bail spectacularly), and "red zone" (so far from comfort it sounds like air-raid sirens going off in your head). Thanks to her straight-to-the-heart techniques, we bared our souls to each other—and to ourselves—before we even sat down to dinner on that first day.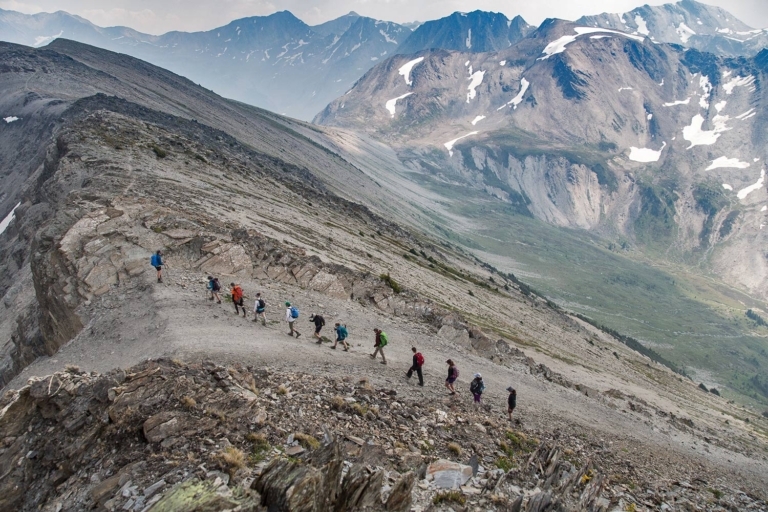 Evans led us into day two, a door-to-door loop from the lodge through alpine meadows and a ridge-top expedition that left us breathless. As we hiked in single file, trading stories and diving deeper into the things we learned about each other the day before, she would stop us to tell natural history stories with towering landmarks and wildflowers as the main characters. She held us in moments of silence to absorb the sound of the wind. That evening, we watched the alpine glow on Copperstain Mountain from the lodge deck, and knowing we'd stood on top of it, traversed its ridge and walked through its basin, we basked in the familiarity of a place that feels like home.
It's worth noting that Evans chose hiking as the basis for Airplane Mode. We're surrounded by media that tells us that Type 2 and Type 3 fun are the only legitimate definitions of "adventure." We've become caught up in the pursuit of rad, and we're feeling the ripple effects.
We spend inordinate amounts of time during our adventures thinking about the Instagram shot that will show how fearless we are and how to craft a Facebook description for ultimate epic-ness. Sometimes, we may even build an entire adventure around the perfect social media glory shot. In our rush to do the raddest thing, we can end up playing on the landscape or through it, rather than actually in it. Lastly, not everyone is capable of the skill-heavy or endurance-heavy adventures that are often requirements for Type 2 and Type 3 fun, and that often limits the feeling of inclusion and community.
In rooting Airplane Mode in hiking rather than an activity like mountain biking or ski touring, Evans chose an adventure that's infinitely accessible. Walking through a landscape slows time to the point that connection to it—and to the people you're walking with—is inevitable. While it may not be "rad," it might be more soul-feeding than we thought possible in our Red Bull age.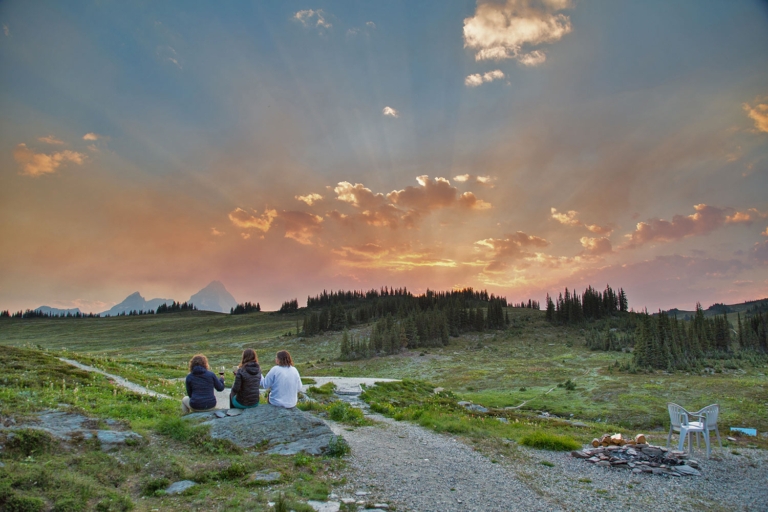 Burrell took the reins on comedy-themed day three. We were primed for making total fools of ourselves, radically comfortable with each other and our environment by then. She led us in light improv games between hiking and hit on inside jokes we'd been nursing all weekend. She had us laughing in those fits that leave your stomach hurting, the kind of shared laughter that works better than any drug. This type of laughter seems to be in short supply these days because our heads are tucked into our screens.
After dinner, without the easy escape into our phones, we found ourselves talking for hours in the cozy living room of the lodge. And suddenly, we were closer to each other, in the space of a few days, than to some people we've known for years.
We needed that connection. We craved it just as much as we craved the break from constant cell and internet.
Mounting studies show that spending time on social media actually leaves us more depressed than before. Rather than feeling connected to people, we feel lonelier. And yet we're addicted to the easy time-kill of scrolling through Facebook and Instagram, to the endorphin bump of notifications that someone liked your post or commented. We've become addicted to virtual relationships with our phones. With this addiction, we've lost the feeling of community with other people and with the natural world that's nurtured the human spirit for ages.
In our increasingly digital era, close friends with whom to watch the sunset on a beautiful landscape might be as close as we come to grace. I have Airplane Mode to thank for reconnecting me to the important things.