Just Released: SoulFish 2 – Fish Mode
Mikey Weir
/
julio 6, 2011
/
Lectura de 2 Minutos
/
Fly Fishing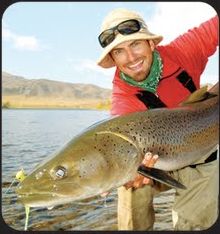 Good news to all you trout-chasers sidelined by swollen creeks this season: SoulFish2, Fish Mode from the Burl Productions is now available on DVD. Fire up the video while you're waiting for the waters to mellow out and enjoy footage from choice locations around the world. Here's a note from Burl Productions' founder and Patagonia Flyfishing Ambassador, Mikey Weir. – Ed
After 3 years in the making, SoulFish 2, Fish Mode is ready. It's been an amazing journey that has taken us all around the world and allowed me the fortune of spending time with some of the most dedicated anglers on this planet. It's a privilege to finally share these stories in our latest feature-length flyfishing travel documentary.
Our crew survived camping near black wolves during a 140-mile float in remote Mongolia; scorpions, spiders and man-eating crocodiles in Egypt; banditos in Mexico; freezing temperatures in B.C.; rugged and remote backcountry hikes in California; suprising cold on the marshes of Louisiana; and the hot tropic environments of Belize and Hawai'i; all to bring you the very best in flyfishing videography. SoulFish2, Fish Mode explores the minds and travel habits of some of the most notable characters in the fly-fishing industry today including: Ralph Cutter, April Vokey, Jeff Currier, Brent Dawson, Jonathan Boulton, Coach Duff, Richard McPherson, Mike Copithorne, Bryan Carter, Peter Mullett and myself (Mikey Wier), among many others. Join us for the ultimate adventure in search of the world's greatest fishes. With over 10 years of filming experience behind us, I'm proud to say that this is BURL Productions finest work to date. 
Hit the jump to watch a trailer from the new movie, and find ordering information.
[Mikey Weir on location in Mongolia, from the original SoulFish video.]
SOULFISH 2, FISH MODE Trailer from Mikey Wier on Vimeo.
DVDs are available at fisheyevideos.com. Be sure to tell your friends and fellow fisher people.  A percentage of the proceeds from DVD sales goes to fisheries conservation work around the world and to maintain the resource for future generations to enjoy.