Kitty Calhoun Chases Ice Climbing First Ascents in Iceland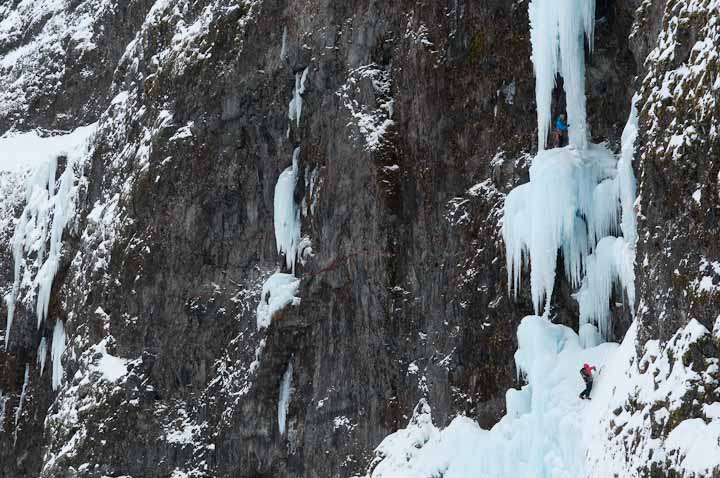 Iceland is frozen in time. Arriving there in February 2012, it was exactly as I remembered from 1998 when I was there to climb with Jay Smith and the late Guy Lacelle – grey, windy, and remote. It is the largest land mass along a mountain ridge that begins under the ocean, where the North Atlantic and Eurasian tectonic plates are pulling apart. The soil is poor, so most food is imported or grown in greenhouses. The horses, sheep and cattle are 1,000-year-old purebreds, brought over by the Vikings. The quiet is only disrupted by the sounds of millions of birds born in the undisturbed sea cliffs.
My mission, along with Dawn Glanc, Pat Ormand, and Jay Smith, was to do as many first ice climbing ascents as possible in two weeks. Prospects looked good, since Iceland's coast is barely eroded and most of the snow on the plateau above tends to melt and refreeze. Rapid changes in temperature produce wild features on frozen waterfalls such as tunnels, hanging umbrella-like roofs, and daggers that freeze horizontally. Iceland is not well-known in the climbing world and there are only an estimated 40 local climbers – most of whom find enough ice near Reykjavik to keep them content. Or so they led us to believe. In exchange for a slide show for the Icelandic Alpine Club, we diplomatically pried inside information from a very welcoming group. They confirmed our suspicions: the West Fjords, just below the Arctic Circle, was the mother-lode.
After a six-hour drive, we arrived in Isafjordur, founded as a salting station for the once-plentiful cod coming from Greenland. We were keenly interested in meeting Runar Karlsson and Sigi Jonsson who have a business, Borea Adventures, in which they sail to a nearby nature preserve or to the east coast of Greenland to ski, kayak, or climb. We hoped the temperatures, which hovered around 32 F, would drop so we could do some boat-assisted ice routes.
After spending the first day on slow winter roads and driving as much of the peninsula as possible, we finally discovered the prize – a cliff band in a cirque an hour's hike from the road. A dozen emerald blue smears pasted the black face, overhung by a large ice cornice. It appeared that the snow had been saturated with water and then froze, while nearly retaining its original shape. The entire quarter-mile-long wall was untouched except for one route on the far end. After three punishing days of climbing, we completed seven new routes, most of which were two pitches long, WI 4-5.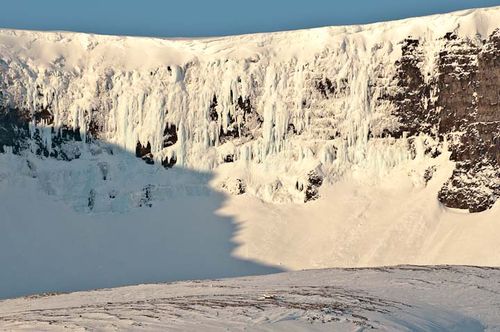 Kono Wall, Iceland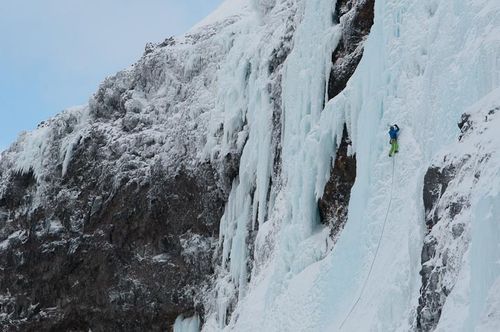 Kitty Calhoun on Kono Wall.
I felt like I had grown soft, having spent most of my winters climbing on well-climbed ice in calm, sunny weather in Ouray, Colorado. In Iceland, every climb had a wall or column of overhanging ice and there were massive unstable ice lenses that were too big to clean. Gingerly climbing up them was like playing Russian Roulette. To add to the stress, the winds grew by the hour and by afternoon I found it difficult to maintain composure while being battered by the gust, as my face and eyes stung from the driving snow. Yet down in the fjord, the birds were bobbing in the swell, making life look easy.
In fact, the farmers below, in the town of Nupur, build stone shelters to encourage wild eider ducks to nest. The birds use some of their feathers to make the nests and farmers collect them. Iceland is still the largest exporter of eider down in the world.
The next new routes we climbed were just past Haukadalur, site of one of the more famous Icelandic sagas. These are generally stories of bloody family feuds between 94-980AD. In the saga of Gisli, Gisli takes revenge for prior misdeeds by stabbing his brother-in-law through the heart. He goes on to perform increasingly violent deeds and is eventually hunted down and killed – but not before being declared an outlaw and a hero.
Always searching for the crown jewel of ice climbs, we were tipped off to possibilities in "Betty's Valley" at the furthest tip of one of the peninsulas. We were greeted by Betty, her 13-year-old son Thor, and 200 sheep. Thor goes to school on another peninsula and had not been home in three weeks because the last 20 km home hadn't been plowed since the last storm. His mom, a single woman of 57, had post-holed two hours to get to a party a few nights earlier. Like the ducks in the swell, she seemed unfazed. Unfortunately, the hanging daggers we had come to climb above her farm were too thin, so we hurried back over the pass and up another valley to attempt a couple more climbs before heading home. We had scored though – by the end of the trip we'd done 12 new routes in seven days of climbing.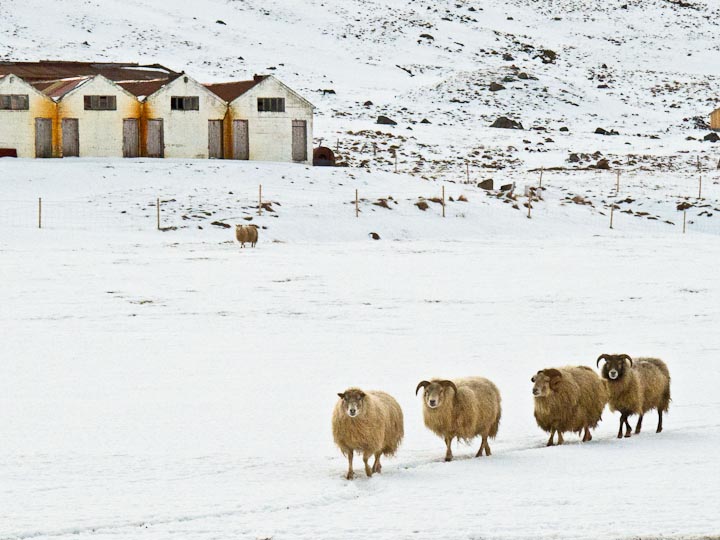 Betty's place.
"What's been the high-point of the trip for you?" Dawn asked me on the last day. Again, I thought about the birds bobbing on the water. Every day I had a routine – get up before dawn, eat, drive, hike up a slope, climb, and reverse the process. I shivered constantly, got pumped, excited, and scared. In hindsight, there was no high point. It was all necessary, and all good. Overnight, the wind obliterated our tracks up the slopes. Unless we told someone, there would be no record of our ever being there. It was simply a moment, frozen in time.