Sporting-Sails – A Downhill Family Tradition Since 1977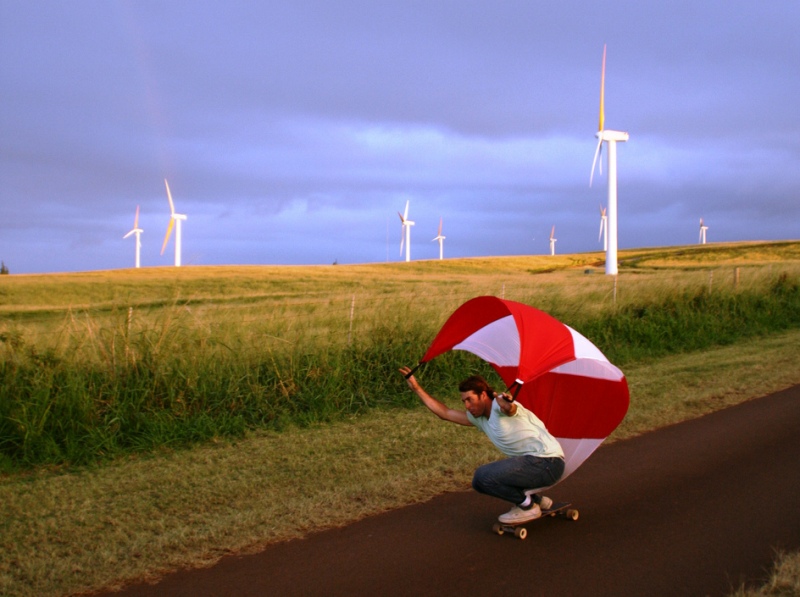 When he's not in the office developing Patagonia wetsuits and surf gear, you'll find Billy Smith and his crew carving the hills around Ventura and Santa Barbara on their skateboards. In fact, they're pretty hard to miss. Billy and his brother Nick are the creators of the Sporting-Sail, a parachute-style speed break that was originally conceived by their grandfather H W Smith Jr.
My brother and I were rummaging around the attic of our grandfather's Colorado home looking for fireworks and schnapps, when we discovered an old carton filled with what looked like colorful kites or capes. Not knowing what they were, we asked our grandfather. He replied, "Ski-Klippers. I made them. They'll slow you down and they're a lot of fun. Back in the day we lit up the slopes, 20 or more deploying at once. We put on a show and people would cheer from the chairlifts. Just weaving in and out of turns, carving lines in the snow and enjoying what the mountain air had to offer. The sun would shine through and illuminate us with various shades of color and light. Against a blue sky and a snowy white backdrop covered in Aspen trees, it was the most beautiful sight you'll ever see. It's easy, you boys should give 'em a try." So we did, and immediately we were inspired. The feeling was as close to human flight as we had ever experienced on land.
[Patagonia wetsuit developer, Billy Smith, harnesses wind power to control his speed in Hawai'i. All photos courtesy of Billy Smith and Sporting-Sails.]
When we were kids, we'd always use our imagination and would take bed sheets and pieces of fabric and try to use them to slow down. The more we grew up we never let go of that imagination. We just built upon it. So when we saw this in my grandfather's attic, we were inspired. We wanted to share them with the rest of the world.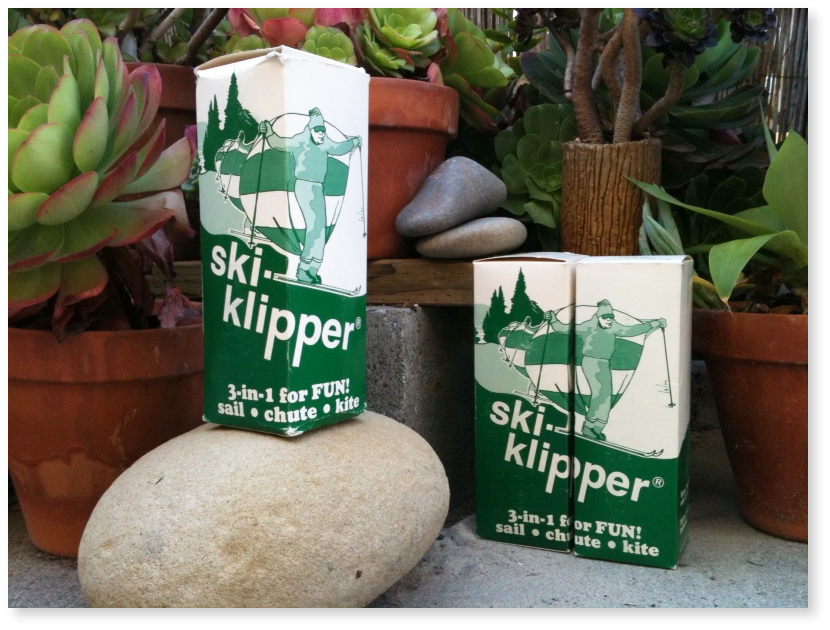 [The original Ski-Klipper Billy and his brother found in their grandfather's attic.]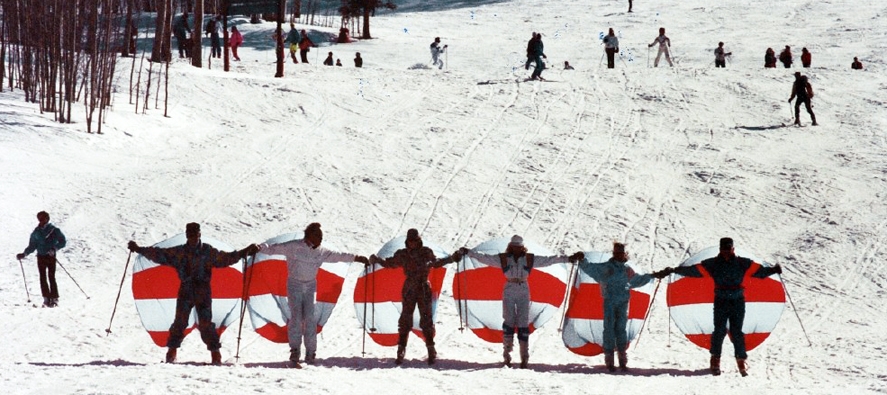 [Billy's grandfather, H W Smith Jr. (second from the left), having fun with his Ski-Klippers.]
[Present-day packaging for the patented Sporting-Sail.]
Shifting our attention from snow to street, high on top of Mt. Tamalpais and the Marin Headlands, nestled in the Redwood groves surrounding Muir Woods, we began toying with our grandfather's concept on skateboards. Managing speed, increasing stability and being seen for safety never seemed so simple. Our goal was never to reinvent the descent, however, that was exactly what we did. From that point on, it became only necessary in these fast times to slow down the experience and share it with the world. After all, the man behind the Ski-Klipper (our grandfather) was never in any hurry to grow up, he was having too much fun to worry about things like that.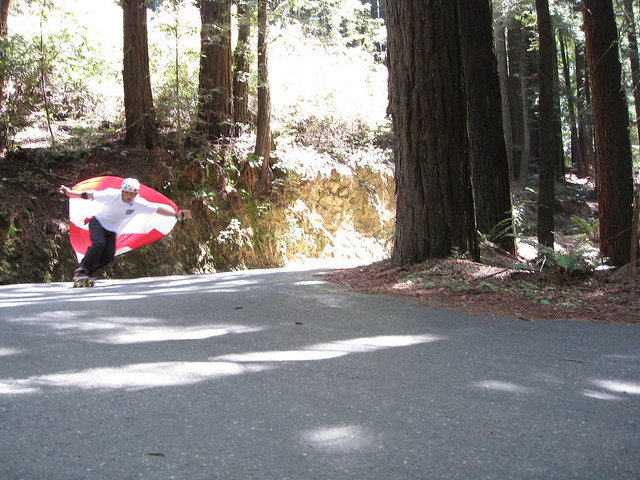 [Summer sailing in Marin, on Mt. Tamalpais.]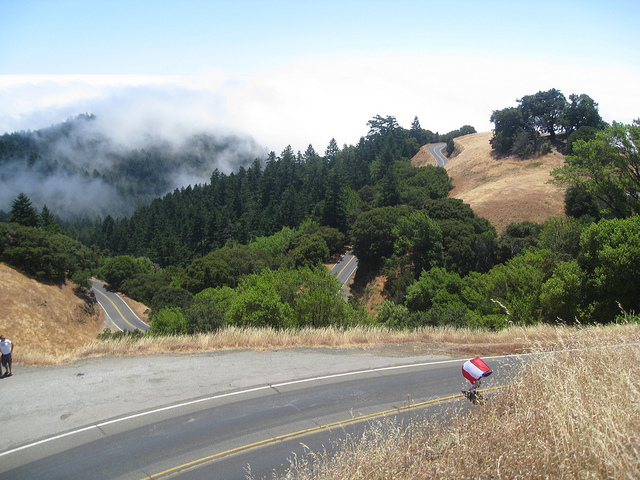 [The bright colors of the Sporting-Sail make it easy for drivers to see skaters coming down the hill from a distance.]
After several test runs on skis, snowboards, skateboards and surfboards with the Ski-Klipper, my brother and I began sewing our own prototypes in a Mill Valley, California garage — giving the colorful kites a new name: Sporting-Sails. With this new-found confidence discovered through air-resistance, we began tackling steeper terrain on smaller, quicker, slalom skateboards that yielded more responsive results than traditional "straight shooter bombing" longboards. Like tow-in surfing, the Sporting-Sail allowed us to carve bigger and longer hills on smaller more playful set-ups, and in the process, draw whole new lines on the land.
Realizing the potential for the Sporting-Sail, we began dialing in the design by working closely with friends at Patagonia, FCD Surfboards and Long Treks On Skate Decks. Looking towards speed ascent alpine jackets, kite-surfing foils and lightweight climbing packs for research and development, we realized that a 1.15-oz. zero-air porosity nylon rip-stop with a dual silicone surface treatment would be the best performing fabric for the Sporting-Sail. From there on out, we have coined our own version of a "clean descent." Never again will we have to wear through gloves and shoes by dragging our hands and feet on the street to control our speed.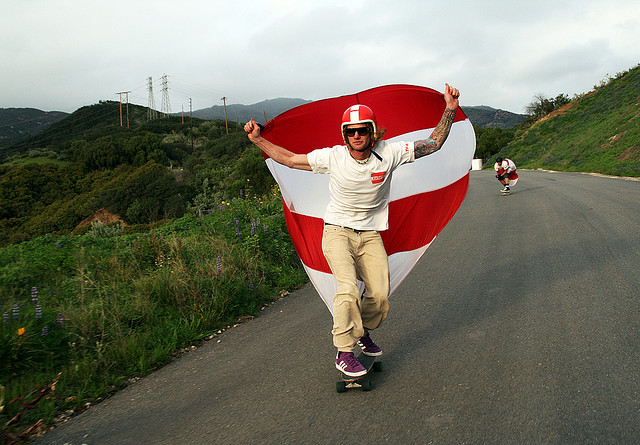 [Team rider Ryan Dafoe demonstrates the two tenets of sport sailing: deploy …]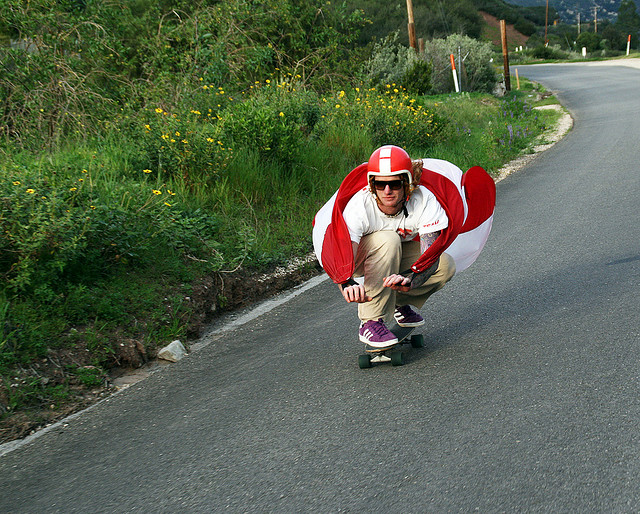 [… and enjoy.]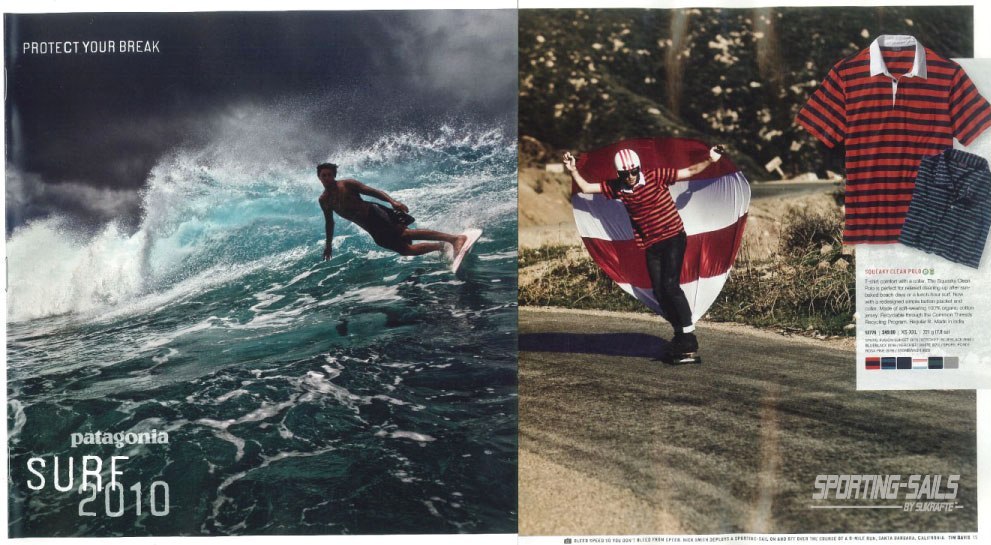 [Sporting-Sail featured in the 2010 Patagonia Surf Catalog. Photo: Tim Davis; Cover photo: Morgan Maassen]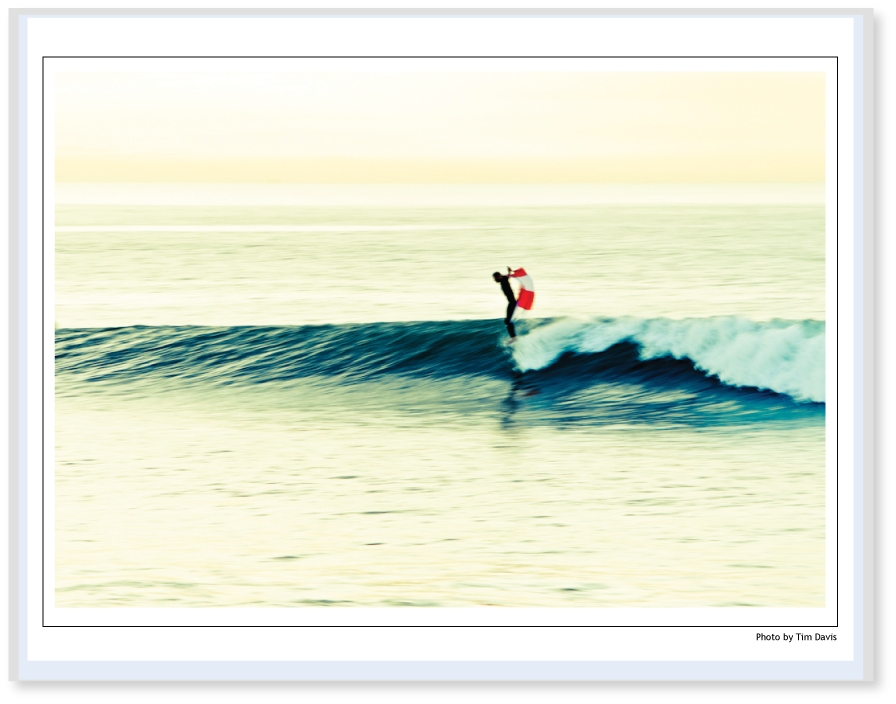 [Hang ten and deploy. Photo: Tim Davis]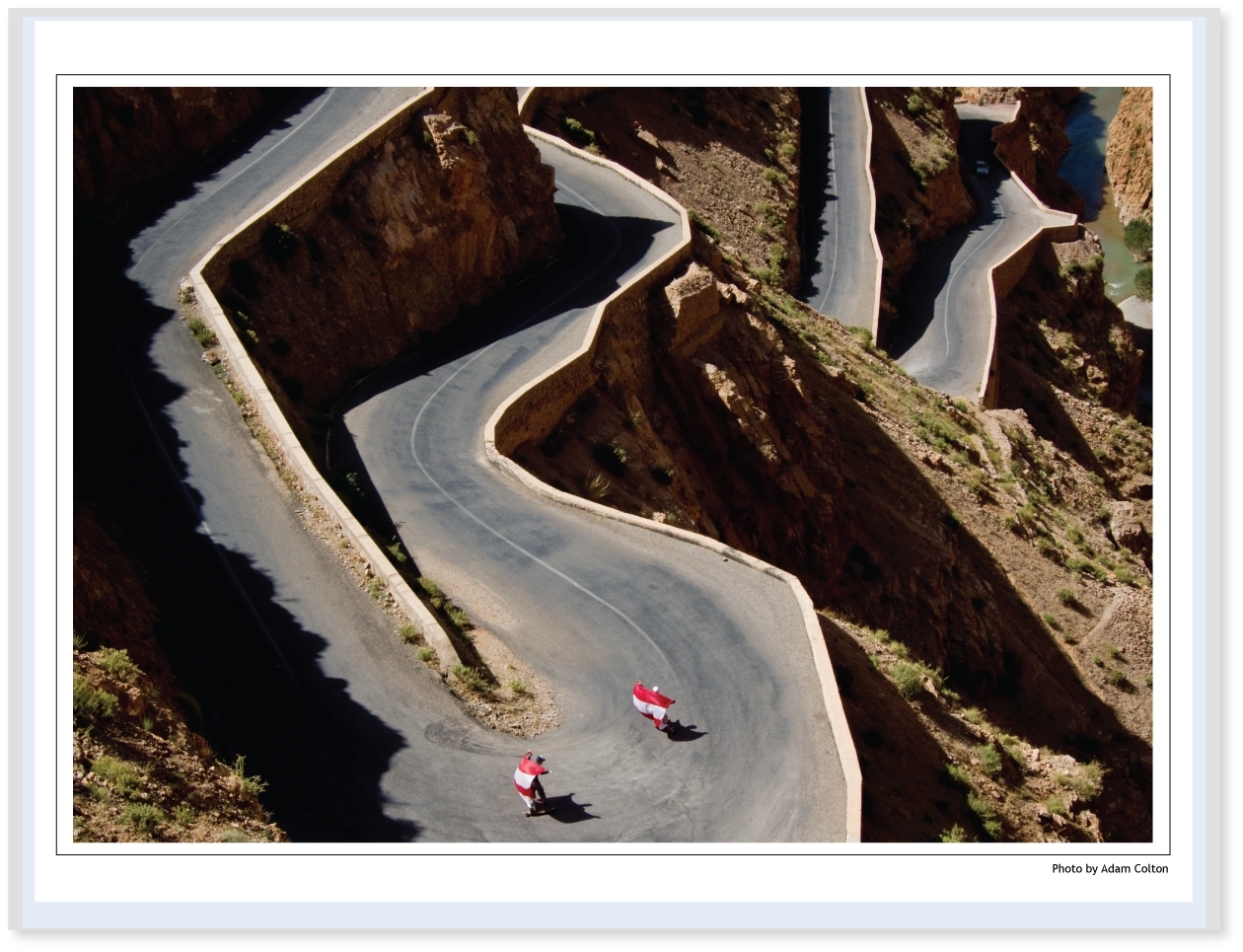 [Paul Kent and Aaron Enevoldsen from Long Treks on Skate Decks put the Sporting-Sail to good use while pushing 2000 kilometers across Morocco. Read our previous blog post for more on this story. Photo: Adam Colton]
[Patagonia ambassador Timmy O'Neill interviews Billy Smith and tries the Sporting-Sail for himself. Remember kids, always wear your helmet.]
Visit Sporting-sails.com to order a sail for yourself, or contact Billy if you have further questions. You can also connect with Billy and the Sporting-Sails team via Facebook, YouTube, Flickr, Twitter and their blog.