Listen to "A Lifeline Home" Dirtbag Diaries Podcast Episode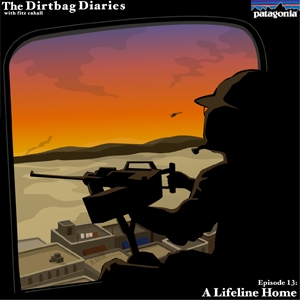 Amidst the hell of war, Fitz Cahall has discovered a story that will warm your heart:
There was nothing exceptional about how Ryan Utz and Micah Helser became friends. After nodding at each other in the office hallways for weeks, they happened to discover that they shared an interest in sustainable building. They got to talking and pretty soon found that they both shared a love for climbing and the great outdoors. While the beginnings of their friendship sound average, the circumstances were anything but.

Micah and Ryan were members of Charlie Company, a medivac unit serving the Baghdad area. Together, they were responsible for shepherding the wounded and the dead from the Iraq's battlefields to the hospital in a Blackhawk helicopter. They cared for fellow soldiers, Iraqi police and the civilians who got caught in the midst of the violence. In the process of saving others, they dodged bullets and mortar rounds. In the long empty hours between shifts and missions, they needed to find a way to escape back to the things the loved the most. So in a flat, arid country plagued by violence, they set out to do the one thing that might seem impossible – to go climbing.

Today, we bring you the tale of two friends – both climbers, both soldiers – and their quest to create a lifeline back from the frontlines to the things that matter the most – friends, family and that freedom found only in open spaces. We are headed to the world's most improbably climbing wall. This is Camp Taji. Welcome to Iraq.
Listen to The Dirtbag Diaries:
Episode 13 – A Lifeline Home (mp3)
Like what you heard? The RSS feed, subscription link to iTunes, and contact information for future story ideas are all available at www.dirtbagdiaries.com.
[With thanks to Micah and Ryan – the soldiers featured in the story – for your heroism and sacrifices. May peace prevail on Earth.]