A Tiny Buddhist Kingdom Wrestles with River Conservation: "Power of the River" Film
Greg I. Hamilton
/
Apr 12, 2017
/
5 Min Read
/
Activism
There is something refreshingly uncluttered about the debate swirling around hydropower in Bhutan. India will finance the megadams through grants and loans, then pay Bhutan for the power the dams generate—supposedly providing revenue to the Bhutanese people for decades into the future. To a cash-poor country like Bhutan that's a mighty enticing offer. Sugar-coat the deal with promises of green power with zero ecological impact and the decision is easy: dam every river.
Fortunately, an increasing number of Bhutanese are challenging the promises of megadams, tuning in to lessons learned in countries like the U.S. where last century's dam-building frenzy has been replaced by a rush to free the rivers. Our new film Power of the River seeks to share Bhutan's conundrum before it's too late.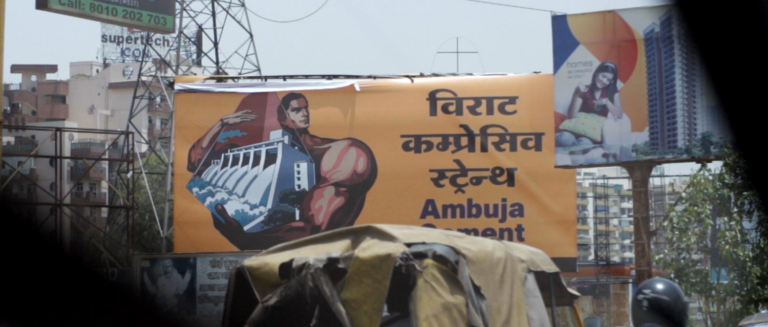 Though it took 40 years, some important people are finally starting to catch on to the wisdom of the last Himalayan kingdom. In April 2012, the U.N. adopted Gross National Happiness as part of its agenda for the developing world. "Gross National Happiness" (GNH) is a concept Bhutan's Fourth Dragon King coined in 1972. The kingdom's current prime minister has gone on record saying that Bhutan never claimed to be the happiest place on earth (even if its tourism slogans are guilty of taking such liberties) but he challenges you to find another place that has made human happiness a higher goal than monetary wealth.
A key ingredient in Bhutan's recipe for GNH is environmental conservation: A full 60% of the kingdom's forest cover is protected forever under the constitution. Such a lofty commitment will certainly see plenty of challenges in our lifetime, but it's that sort of aspiration that makes Bhutan worthy of the world's attention.
Our team felt it was important that we highlight the voice of Bhutan in our story, the same voice that had spoken up to protect its natural environment for the future. So trekking guide and cultural expert "Good Karma" Tshering became our primary character: a man swimming upstream in his own culture.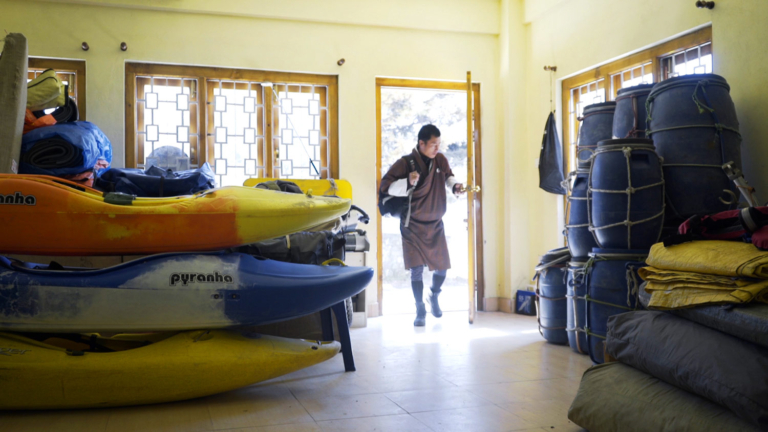 Tshering dances paradoxically between his deep knowledge of the ways of old Bhutan and a very different future that is fast descending on the Bhutanese people. To reach each river put-in, Tshering's crew schleps brightly colored rafts and kayaks through villages that could be time-warped from medieval times. The cultural incongruities are as rich and searingly spicy as the cheese and chilis in ema datshi, Bhutan's national dish.
We filmed herders hand-churning yak butter in their shanty at 12,000 feet, replete with its government-issued solar panel. We filmed monks watching "WrestleMania" during a study break in their monastery. And perhaps most surprising of all, our expedition's lead river guide only just learned how to swim one year earlier. "Bhutanese kids, we are not advised to go to the river," Tshering says. "Our parents say you'll get carried away by the current, so we are not good swimmers."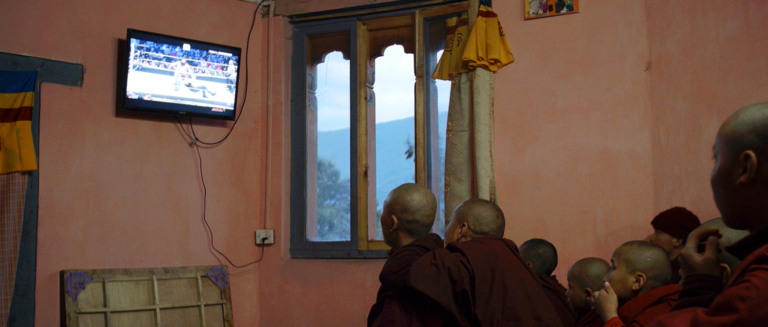 By training young Bhutanese guides to take guests into the wilderness, Tshering bucks a trend of rural-to-urban migration in his country. He sees youths, drawn like moths to a zapper, swarming to the electric city on the hollow promise of jobs and so-called modern comforts. They abandon family crops and grazing pastures, signaling an unsustainable generational slough away from the land. This is all the more concerning in a Buddhist kingdom whose spiritual reverence for the land tolls from every hillside, like the bells of water-driven prayer wheels that inhabit virtually every mountain stream here.
Two Patagonia fly fishing ambassadors advised our team: Andy Danylchuk, as our science and conservation expert, and Dave McCoy, whose river-running cred would help us navigate monsoon-engorged Class IV+ rapids. We also called on Misty Dhillon, the world's foremost expert on catch-and-release fly fishing for our target species, the endangered golden mahseer. Dhillon and his wife, Aikta, are pioneering community-based river stewardship programs in the villages of Northern India, but it is a labor of love. "One mile of river takes five or six years before the village looks at it as a source of sustainable income," sighs Dhillon. He keeps the faith, however, adding, "A live fish is worth much more than a dead fish."
Power of the River attempts to spark conversation about the higher value of a wild river. It's a crucial topic worldwide, but it's especially urgent in Bhutan. The river we targeted, the Drangme, is the country's largest waterway and a top-ten untouched river in the world according to the International Rafting Federation. The Drangme has successfully sidestepped plans to build a dam since the 1970s, but we observed survey markings and met a hydrologist actively scouting locations for a future megadam.
Did our expedition have all the answers? Hardly. But we felt we assembled a team of people who could ask the right questions—in a highly entertaining way. We went seeking the human heart that beats beneath a divisive issue and we found it in a place that is both a reason for hope and cause for concern.
Power of the River: Expedition to the Heart of Water in Bhutan
An official selection of seven film festivals, Power of the River is now planning a tour of community outreach screenings, cross-cultural river conservation programs between kids in Bhutan and other countries, and other forms of audience engagement. To learn more and support these efforts, visit poweroftherivermovie.com.
Patagonia ambassador Dave McCoy wrote about the film's expedition in June 2016 for The Flyfish Journal (print and digital subscriptions available).