A Town Renewed
Agostino Petroni
/
Oct 18, 2021
/
7 Min Read
/
Activism
An Italian town began emptying out, so its inhabitants turned to renewable energy to save it.
All photos by Richard Felderer
Hills filled with wild olive trees and Mediterranean bushes surround the school complex of Borutta, a small town nestled in the hills on the Italian island of Sardinia. Atop the red tiles of the roof, three long lines of photovoltaic solar panels rest, shining under the sun. The panels produce 25 kilowatt-hours, enough to provide the energy needs of the building, which today functions as a social center, library, gym and events location for the residents of Borutta.
The panels were installed just three years ago, part of a larger initiative which gave a new life to the empty primary school. The building hosted its last class in 1993—there were not enough kids to keep the school open any longer. Only 285 people inhabit the town today, down from over 700 a century ago. While many Italian towns have lost a majority of their inhabitants due to internal migration and an aging population, Borutta is trying to show that their town can be given a new life by reigniting its stagnant local economy with a long-term strategy. The town set out to create an energy community, or a comunità energetica, to make their own renewable energy and make it free and accessible to all its citizens. The solar panels mounted on the school's roof are part of the project that might lead the small Sardinian town toward an unexpected re-birth.
Borutta is located near ancient volcanoes, the ruins of nuraghe—conical structures built between 1600 and 1000 B.C. by the Nuragic civilization—and Romanesque churches. It's a few dozen kilometers from the beaches of Sardinia, and residents' cellars are filled with local pecorino cheese, cured meat and organic produce. There is a church, a monastery with a handful of Benedictine monks who can spare a room for visitors, a pharmacy, a cafè and a social club where elders meet to chat at night. Life is slow in Borutta, but it doesn't miss a beat.
Throughout the 20th century, small Italian agricultural towns saw their populations decrease as more people moved to fast-growing northern Italian cities where the demand for labor grew with the arrival of new engineering and automotive industries. Larger cities gave a glimpse of hope to farmers who wanted to be part of the country's economic boom. Those who stayed behind grew old, and villages soon turned to ghost towns.

There are more than 6,000 abandoned towns in Italy, and those that survived have experienced a 60 percent decrease in population in the past 40 years. Borutta, together with 30 other towns in Sardinia, could be uninhabited by 2080, doomed by a migration process thought to be irreversible.
But Borutta's administration was not prepared to give up, and in 2012, they embarked on a quest to avoid oblivion. While other towns tried to attract people by selling abandoned houses for one euro, Borutta bet on the future: The community set out to revive its town by generating their own renewable energy.
First, the town's administration started exploring ways to use renewable energy to bring economic value to their town. They imagined a renewable energy production system powered by solar panels that could fulfil the energy needs of its residents and contribute excess energy to the national grid. The idea followed the national plan, the Piano d'Azione per l'Energia Sostenibile (PAES), that's regulated by the European Union and supports communities to become energy independent in order to reduce overall fossil fuel consumption.
Silvano Quirico Salvatore Arru has been the mayor of Borutta since 2011. He was born in Sassari, the second largest city on the island with over 127,000 inhabitants, but 20 years ago, he made the unusual decision to move away from the city to Borutta. He immediately fell in love with his new home and began thinking of ways to revive it.

"This town has a history that dates back millennia. If this town dies, its history and culture will go with it," Arru said.
However, bureaucracy slowed down Borutta's aspirations. The project just got approved in 2020, thanks to the milleproroghe, an Italian government decree that recognizes the juridical entity of energetic communities and regulates them. Borutta plans to build a 1.2 megawatt solar-energy farm on 2 hectares right outside town.
"In this way, every inhabitant of Borutta will own part of the energetic community, and by consuming that energy produced, we'll have a significant economic advantage," Arru said.
According to him, every citizen of Borutta will save between 3,000 and 4,000 euros a year, a significant slice since the average Italian household earns 10,800 euros a year. By using solar energy for lighting, heating systems, cooking and many other activities that require power, families will be relieved of a substantial economic burden.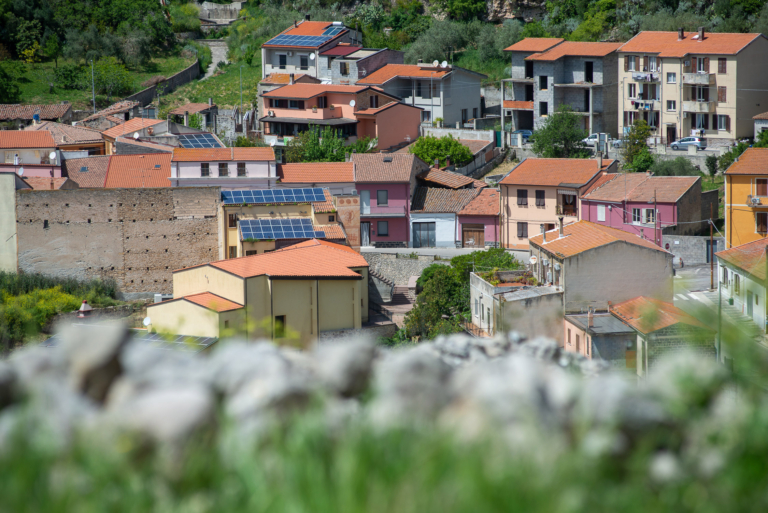 During the years while the project was stalled, the municipality of Borutta began its green conversion by installing solar panels on all public buildings—schools, museums, libraries, retirement homes, streetlights and even public electric bikes. Every year for the past 10 years, the town's administration put aside money until they saved the 1.5 million euros they needed to build the solar farm. Arru said that the solar farm should have already been working by now, but the pandemic slowed down the project and delayed the opening date. If the pandemic allows for it, the solar farm should be active sometime this year.
Two years ago, Giovanna Demartis, a 44-year-old tour guide, decided to move back to her mother's house in Borutta with her husband. She used to live and work in the coastal city of Alghero, but the appeal of Borutta's quieter and less expensive life was hard to resist.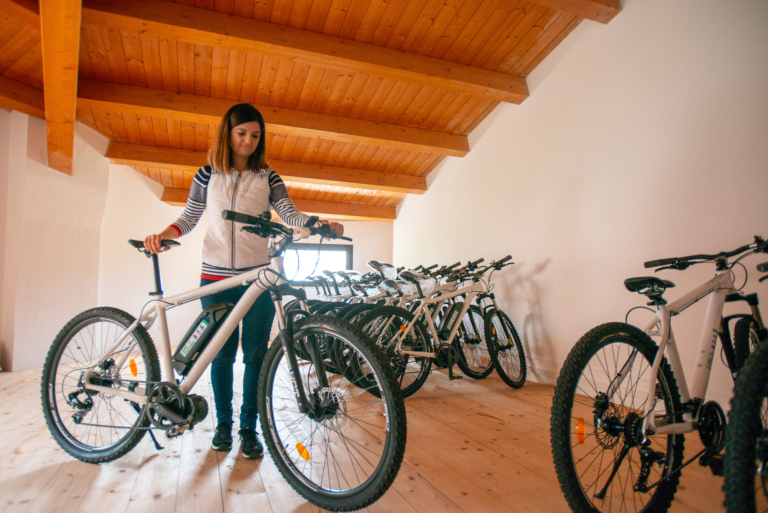 "We won't have to pay for electricity anymore, and this is a great incentive to repopulate Borutta," she told me excitedly. "I saw that other people are already coming back to their parents' abandoned homes."
According to Arru, the pandemic showed how tough life can be in a city during an economic downturn. When you have no job, bills to pay and a family to support, any financial incentive is welcome, especially to young couples trying to start a life together.
"With the money you save from electricity bills, you can think of paying a mortgage to buy a house," Arru said, adding that homes in Borutta are incredibly cheap—less than 10,000 euros for a place before refurbishing. Furthermore, a governmental bonus provides citizens with a tax credit for renovation costs to make their homes more energy efficient.
But, the town's slow pace has caused essential services to disappear. Over the years, commercial activities have closed, and Borutta doesn't have a supermarket anymore: People have to drive 2 kilometers to buy their groceries.
"This project will have a positive spillover effect on the rest of the community, on commercial activities and on nearby towns," said Costanzo Demartis, a 45-year-old farmer who lives in Borutta. "If somebody has cash, they can treat themselves by buying meat and maybe also a bottle of wine."
Costanzo hopes that the grid will eventually reach his 14-hectare farm, where he raises pigs and cultivates grapes and olives. "Energy independence could be crucial for those who work in agriculture. Irrigation systems consume lots of energy," the farmer said.
The news that Borutta will soon be energy independent spread around Italy, and the mayor is now receiving requests from people interested in moving to the town. Arru hopes that Borutta will become a gastronomic destination that will support the community of small local farmers.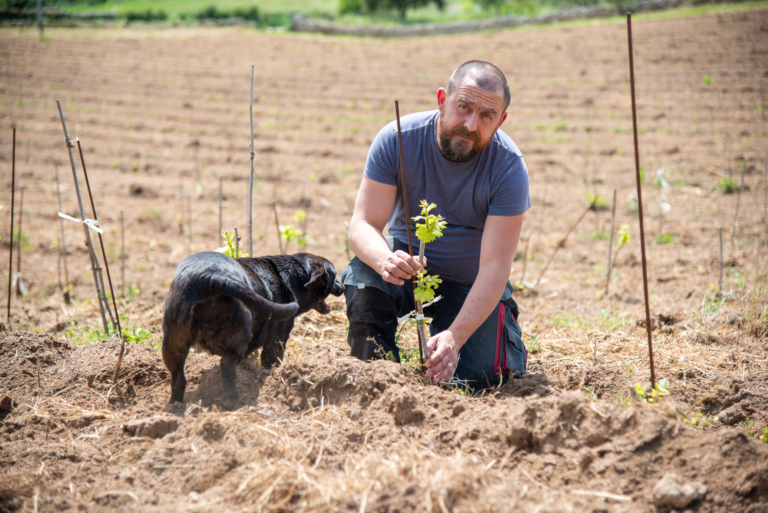 "In our small town, life quality is great because we live in a pristine territory," Arru said. Once the solar farm is up and running, Arru's goal is to buy the infrastructure that distributes electricity around town because its usage still accounts for part of the electricity bill. He said it would take up to two years for the comunità energetica to acquire the electric grid.
"I believe that instead of living an anonymous life in the suburbs of a big city, it's better to live as a protagonist in a small town," Arru said.