"The Utility Bike as Art" by Grayson Schaffer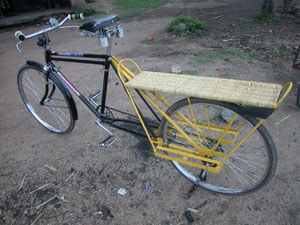 For most of us at Patagonia, biking to work is choice versus driving our cars. But for the world's poorest communities, a bicycle is one of few affordable transportation options. Grayson Schaffer, Associate Editor for Outside magazine, has written a post for the blog Those Responsible about hardcore kayaker Ed Lucero and the bike he made for the Design for the Other 90% exhibit. The bike is currently in use in Kenya and Uganda.
Read "The Utility Bike as Art"
[Photo courtesy of Grayson Schaffer. Thanks Grayson]