Listen to "A Thousand Words" Dirtbag Diaries Podcast Episode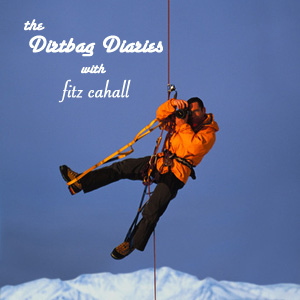 We just got word from Fitz Cahall that the newest episode of The Dirtbag Diaries is now live. In this special episode Fitz adds photographs to his podcast to help tell the story of adventure photographer Corey Rich and his unique profession. Watch and listen on your computer or download it to your photo-ready iPod if you're on the go. From Fitz:
There is no textbook on adventure journalism, but if there were one, it would contain one single, steadfast rule — you can't photograph adventure from a safe distance. There are no sidelines in wilderness. El Capitan doesn't have a press booth. Even for the most safety-conscious, danger can come in many forms — falling rock, toxic jellyfish, even a bad case of the Itch. This week, adventure photographer Corey Rich gives us photos and the untold stories behind them. They say a picture is worth a thousand words. Which words? Find out.
Episode Four (with photos) – A Thousand Words (click to listen; right-click to download)
Episode Four (audio only) – A Thousand Words (click to listen; right-click to download)
Subscribe to The Dirtbag Diaries in iTunes