Excerpt from "The Calling: A Life Rocked by Mountains" by Barry Blanchard
Barry Blanchard
/
Oct 21, 2014
/
8 Min Read
/
Climbing
Patagonia is proud to announce our latest publication: Barry Blanchard's memoir, The Calling.
With heart-pounding descriptions of avalanches and treacherous ascents, Blanchard chronicles his transformation from a poor kid from the wrong side of the tracks to one of the most respected alpinists in the world. This is the story of the culture of climbing in the days of punk rock, spurred on by the rhythm of adrenaline and the arrogance of youth. It is also a portrait of the power of the mountains to lift us—physically, emotionally, intellectually, spiritually—and the depths of relationships based on total trust in the person at the other end of a rope. Includes climbs with renowned alpinists such as Kevin Doyle, Mark Twight, David Cheesmond and Ward Robinson.
Chapter 1
I SAW THE AVALANCHE COMING. It charged over the step of dirty brown ice above like a breaking wave of black water. It hammered back down into the gulley, driving into us like the fist of god, and I screamed.
The avalanche slapped my crampons out from under me, and I was folded in half. I was going to die. The animal in me fought to force my hand into the torrent, to grab something solid. My crampons raked over the ice as I stumbled, thrusting my knees into the pressure of the onslaught, trying to get my feet under me. I shouted and I thrashed and the surging snow pushed my arms down at the same time that it swept my feet out to flap like rope-anchored logs in a strong current. My anchor leash was as tight as cable; it hummed with a high-frequency vibration that was transmitted into my bowels along the waist-belt of my harness. My senses where overcome; I didn't know which way was up. I was terrified.
The avalanche surged onto any surface that opposed it, and I felt the power and the weight of it. It felt like hundreds of tons of sand pouring through the hourglass of the mountain, piling onto us, burying us. Desperate and profane objections were torn from my lips, then muffled and swept off down the mountain. I thought that I would never see my wife again. I knew that I could lose love and life here. I started to plead, to pray, "No. Please, no."
The avalanche began to pulsate. My right hand found my locking carabiner. My fingers wrapped into it and the muscles of my hand bulged into a firm hard fist. My left crampon scratched into the ice. I slammed its metal spikes in four times and forced myself upright into the flow. I sensed Ward to my left, had felt the knocking of his body against me and heard the rip of his screams like the tearing of air from an open window when trains pass. I looked up and saw the hazy warmth of his yellow jacket like the flash of a fast moving hull from deep underwater. There was no air. Because I'd leveled my face to the avalanche's flow, an ice-cold seal of moving snow pressed over my face until I panicked and thrust my head down to create a channel in which to breathe.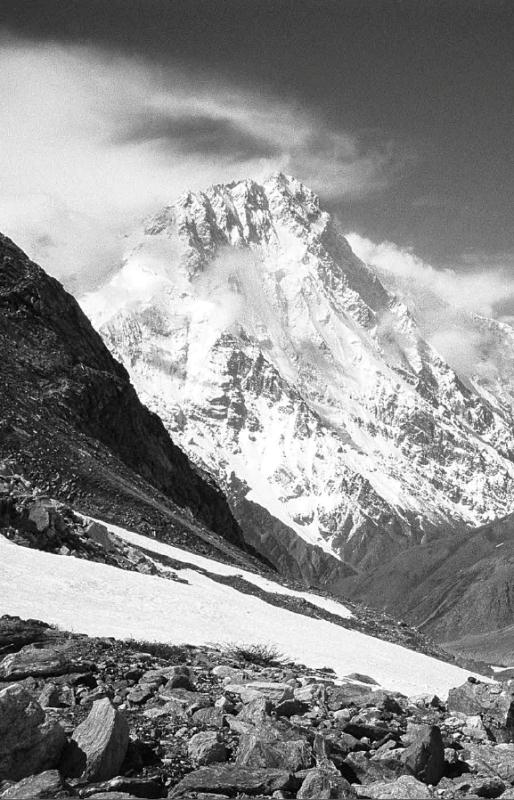 The Rupal Face of Nanga Parbat, the highest mountain wall on earth, seen from below Shigri Peak. Photo: Barry Blanchard
The avalanche continued, for minutes, and the rushing snow drummed like a waterfall onto the taut fabric of my hood, stretched tight over my helmet. There were surges and with each surge I quivered and prayed that there would be no chunks of solidly bonded snow. I knew the impact of any firm mass would snap the single nine-sixteenths-inch loop of webbing that the three of us were anchored to. I did not want to die. I wanted my life. Ward was still beside me, and left of him I assumed, and prayed, was Kevin. Mark had been on rappel, last man down, when the avalanche hit. I did not know about Mark.
"Please, please let Mark be alive, please."
The pressure was so cold. Millions of ice fragments—the snow— poured over my head and neck and back, each one stealing a small measure of my body heat. After fifteen minutes I was trembling from hypothermia. The avalanche continued. At twenty minutes my mind allowed the macabre irony of dying from the cold, instead of the physical violence of the avalanche, to enter.
The avalanche had become an opponent by then, an enemy. I hated it, swore into it, challenged it. "Alright, you fucker. Give us a break, you fuck! Enough already, you rotten cocksucker!" The raging snow carried my curses into the vortex that it had created: a foot long funnel below my down-turned face. I shook violently, my body jackhammering to produce heat. Then the avalanche hissed away down the polished glare of the ice like the retreating edge of an ocean wave over wet sand. Snowfall turbined around us, and the air felt lik e cold metal on my teeth. The atmosphere quivered and I could hear the tension of the storm's electrical charge—white noise crackling in my ears. The midday sky was as dark as dusk. I scraped hard-packed snow from the face of the watch that was threaded through my harness. It was 3:47 p.m., July 13, 1988. The avalanche had ended twenty-seven minutes after it had begun.
Ward's face looked old. Deep lines dragged down the corners of his mouth; I had never seen those lines in his face before. His eyes had the improperly focused look of shock, with too much black in his pupils. Streams of snot and compacted snow ran from his nose and snow had been rammed into his collar and hood because he hadn't had the wherewithal to lower his face from the flow, to protect himself. He was sick from the altitude—cerebral edema. The swelling inside his head was killing him.
"I was just going to unclip and get it over with," he said in a flat emotionless tone.
"Where's Mark?" I gasped, my jaw in spasm.
"I'm here." I saw him left of Kevin and I sighed, "Thank God."
Between us Kevin began shaking the snow off like a wet angry dog.
"Alright, that's enough of this fucking shit!" he snarled, looking very much like he intended to slug someone. "We are getting the fuck out of this fucked up place!"
Comically, half-meter-high dunce caps of snow had accumulated on our heads and shoulders. Mark reached across and pushed mine off.
"We have to get the hell out of here," he said.
I saw fear, and resolve, in his eyes. The four of us stood anchored to one tubular drive-in ice screw. It was hitched with a purple bar-tacked sling the width of my ring finger, which, if it were loaded with 1,000 pounds, would sever. When the four of us had snapped tight to it we must have hit it with over eight hundred pounds. We stood at 25,300 feet on the Rupal Face of Nanga Parbat, the ninth-highest mountain in the world. We were 1,300 feet below the summit and we had nearly 14,000 feet of the face to descend. I twisted in another screw…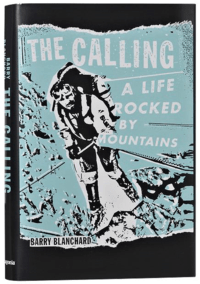 The Calling: A Life Rocked by Mountains is now available at Patagonia.com, Patagonia retail stores and booksellers everywhere. Check out a video preview and some photos from the book below. Barry will be setting out on a book tour at the end of the month; we hope you can join us. Details at the bottom of this post.

Video: The Calling: A Life Rocked by Mountains by Barry Blanchard.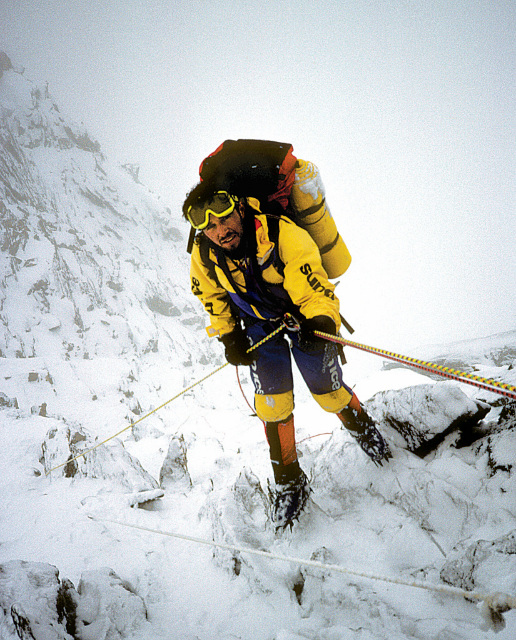 Rappelling the Rupal Face of Nanga Parbat after the avalanche and storm, Pakistan. Photo: Mark Twight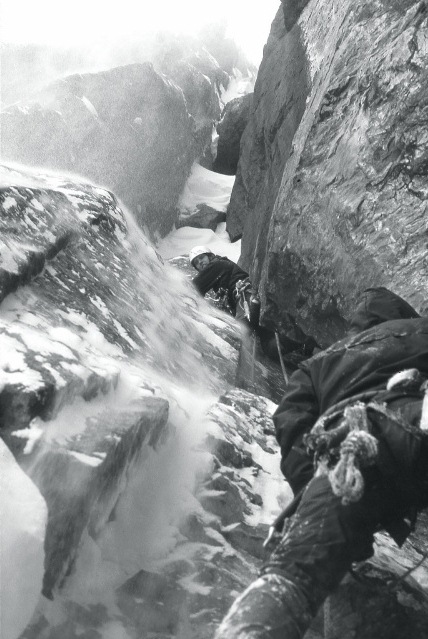 I'm leading the crux pitch of the Wild Thing on the northeast face of Mount Chephren. Twenty feet higher, Wally took over the belay from James, and I took a thirty-foot leader fall coming to rest just opposite them. Photo: Kevin Doyle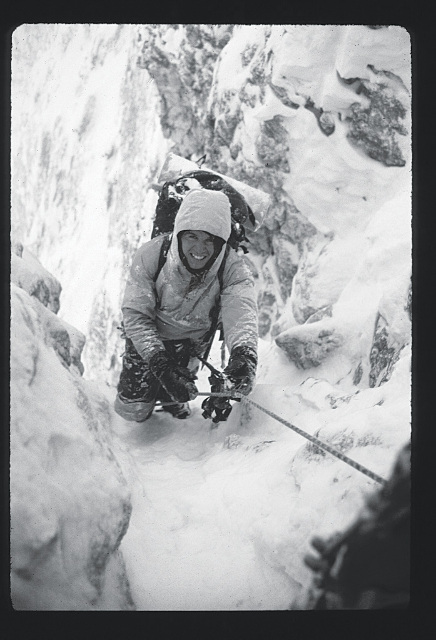 Out of the leading with a bruised and battered right shoulder blade, I ride the jumars on the east face of Mount Fay. Photo: David Cheesmond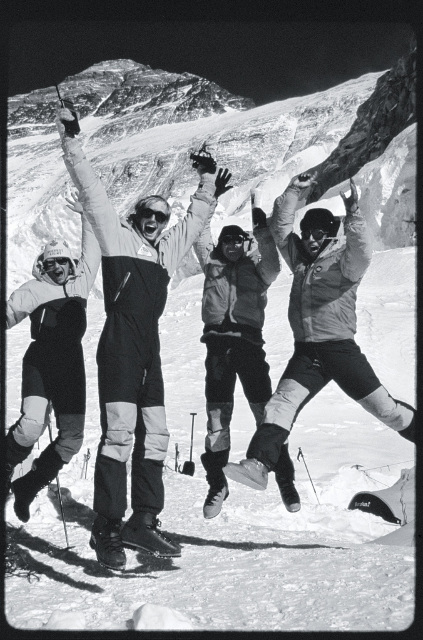 Kevin, Jim, Albi, and I jump for joy and relief on hearing that Sharon and Dwayne are OK after making the summit of Mount Everest. Photo: Bob Lee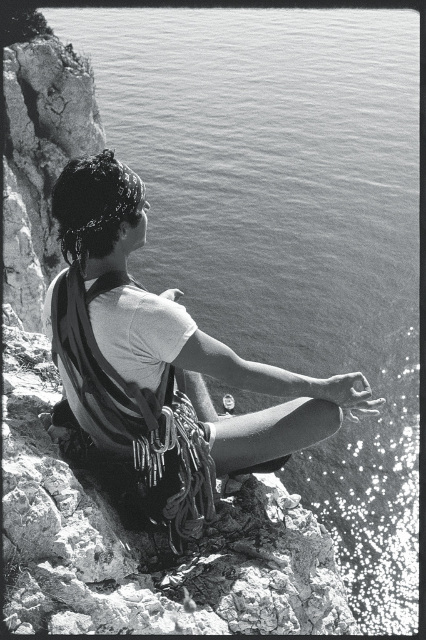 Me at Les Calanques on the south coast of France, where Wally and I went to rock climb and get our heads together before attempting Les Droites. Photo: Kevin Doyle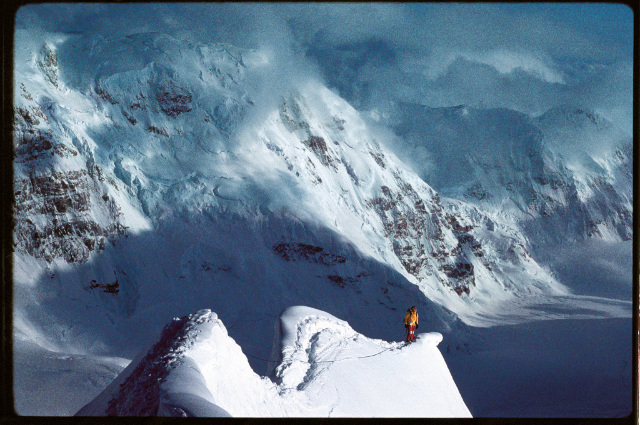 Traversing the Tent Arête on the Cassin Ridge of Mount McKinley, Alaska, 1982. Photo: Kevin Doyle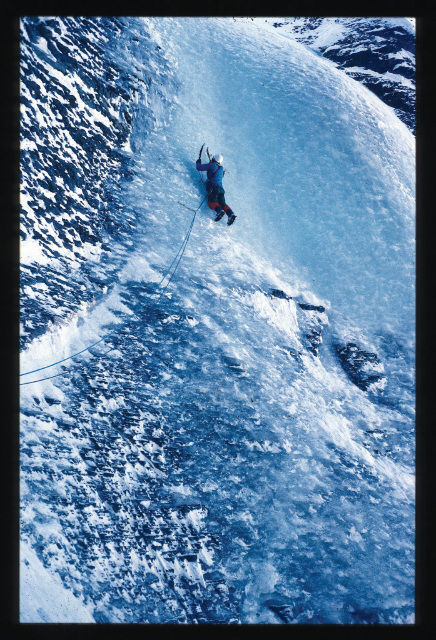 T. P. Friesen planting ice picks and crampons into the exit bulge of the Andromeda Strain—ice that had never been touched by man. Canadian Rockies. Photo: David Cheesmond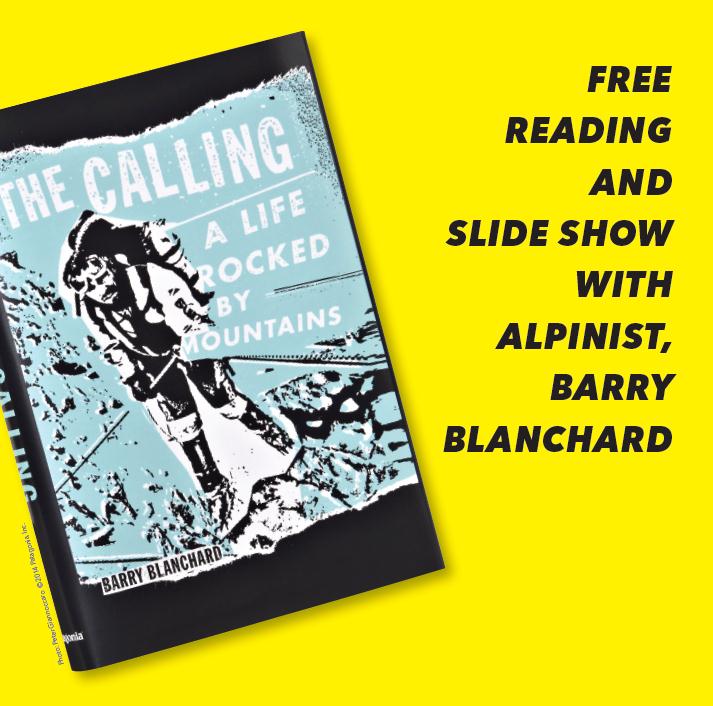 VENTURA
THURSDAY, OCTOBER 30, 2014
DOORS 6:45 PM, EVENT 7:15 PM
Great Pacific Iron Works
235 W Santa Clara St
Ventura, CA 93001
(805) 643-6074
Refreshments will be served by Patagonia Provisions.
SEATTLE
MONDAY, NOVEMBER 3, 2014
DOORS: 7:00 PM,  EVENT 7:30 PM
Feathered Friends
119 Yale Ave N
Seattle, WA 98109
(206) 292-2210
Refreshments will be served by Patagonia Provisions.
NEW YORK CITY
TUESDAY, NOVEMBER 11, 2014
DOORS: 7:30 PM, EVENT 8:00 PM
Patagonia Meatpacking
414 West 14th St
New York City, NY 10014
(212) 929-6512
Refreshments will be served by Patagonia Provisions.
BOSTON
WEDNESDAY, NOVEMBER 12, 2014
DOORS: 7:30 PM, EVENT 8:00 PM
Patagonia Boston
346 Newbury St
Boston, MA 02115
(617) 424-1776
Refreshments will be served by Patagonia Provisions.
TORONTO
THURSDAY, NOVEMBER 13, 2014
DOORS 6:45 PM, EVENT 7:15 PM
Patagonia Toronto
500 King Street West
Toronto, ON MSV IL9
(416) 861-1102
VICTORIA
SATURDAY, NOVEMBER 15, 2014
DOORS 4:00 PM EVENT 5:00 PM
Patagonia@Victoria
616 Yates Street
Victoria, BC V8W 1K9
(855) 541-5713
PORTLAND
THURSDAY, NOVEMBER 20, 2014
DOORS OPEN 7:00 PM EVENT 7:30 PM
Patagonia Portland
907 NW Irving St.
Portland, OR 97209
(503) 525-2552
Refreshments will be served by Patagonia Provisions.
DENVER
FRIDAY, NOVEMBER 21, 2014
DOORS OPEN 7:00 PM EVENT 7:30 PM
Patagonia Denver
1431 15th St.
Denver, CO. 80202
(303) 446-9500
Refreshments will be served by Patagonia Provisions.