Are You Arrestable?
Sarah Hartigan
/
Sep 12, 2019
/
5 Min Read
/
Activism
Everything you need to know about being a nonviolent climate activist
I ink an uppercase Y on the sign-up sheet in the box next to my scribbled name. The letter stands for the word "yes." Yes, I'm willing to get arrested. Yes, I'm in a dimly lit bar in Studio City, California. Yes, I'm here for a nonviolent climate-activist training session with Extinction Rebellion Los Angeles.
Where do I stand?
Good question. I mostly sit.
Behind a computer.
To be honest with you, the predominant feeling I have around the climate crisis and what we are facing is—overwhelm.
I am overwhelmed.
So, I bring my own cup to the coffee shop.
I drive less and walk more.
I sign petitions.
The other night I had a nightmare about how many paper towels I've mindlessly used over my lifetime. It was a lot. And in the dream, I was buried in them. So now, when there's no hand-dryer, I use my pants and when there are no pants, I pet my dog. Hairy hands equal a happier planet, right? Sometimes, when I can't sleep, I go online and get lost in comment threads with angry words about inaction. I nod along with my eyes, and it makes me feel like I'm doing something. But recently I've come to the sad realization that my activist voice is barely louder than a whisper. Not because I don't want to get loud, but because I don't know where to begin. This training is my attempt at a start.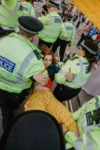 Why did I choose Extinction Rebellion?
Because they're joyful. You might think the word "joy" doesn't belong in a movement that's riddled with fear and anxiety around our home planet quickly becoming uninhabitable—but joy is there and love is there, and I appreciate that this group brings these qualities, and creativity, to the arena. Extinction Rebellion shut down London during rush hour several times last spring, and they are planning more actions in major cities this fall. I want to be there. I want to fight alongside these folks because I like the way they fight. In their words: "We act in peace with ferocious love of these lands in our hearts."
How does one fight creatively?
By delivering a prop coffin with the words "Our Climate Future" boldly stenciled on the side to the Brazilian Consulate in Los Angeles. That's what one man at the training recently did along with 40 Extinction Rebellion members. He doesn't talk about how devastating the fires in the Amazon are—we all know—but I get the sense that everyone agrees a coffin is the perfect shipping container for our collective grief. He tells us how they politely declined security's requests to leave and how they were peaceful but determined. When you watch the footage, you can hear the cracks in their voices. Their vulnerability is unabashed. In the end, the group convinced the consul to bring their message back to Brazil and to deliver it, not as a government employee, but as a father.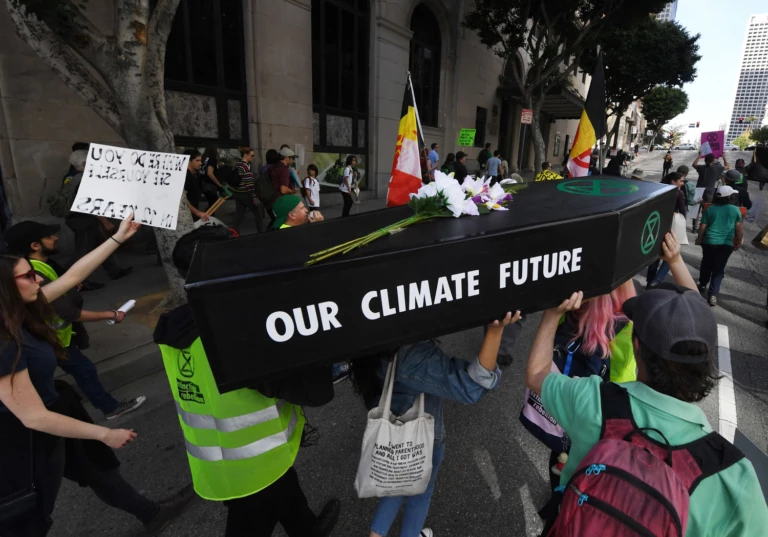 What's the temperature of the room at this training?
Warm. Not glacier-melting, extreme-temperatures warm—but emotional, human-to-human warm. It's refreshing to be in a space full of palpable care—conversations happen face to face, not text bubble to text bubble. The discussion shifts and morphs: Should we drop all the politics? Is it really just about one thing? Do we focus on the environment or the people? Suddenly I'm in a real-life Reddit thread about Gandhi. Almost everyone agrees that he accomplished great things, but one person reminds us he was also "violent and deeply flawed." If I were on my computer, I might have missed this voice—especially in a sea of other comments. But the tone, passion and ultimate understanding within the group gives me the sense that we are truly hearing each other.
How do I get arrested?
Without wetting my pants, I hope.
They bring a lawyer up and immediately sweat starts pouring out of my armpits. I already feel like I'm in trouble. Confrontations with the law freak me out—the last time I got pulled over, the officer made me take the whole touch-nose, straight-line test because I was acting so weird. I don't do well in these situations. But the lawyer calms my nerves by starting us off with the basics: Make sure you don't touch your arresting officer. Even a finger poke could be considered battery. Then he shows us a cartoon of an enormous hand pointing a finger at a small police officer. Close to poking. But definitely not poking. The slide will forever be seared in my memory. He also goes into detail about our right to remain silent—anything you say can be used in court, and you don't have to answer every question. Basically, no touching and don't be too verbose.

Is it really that simple?
Of course not.
Most of what we learn about being arrested is pretty complicated and, for many people, civil disobedience, even the nonviolent type, comes with serious and unjust repercussions. During our discussion, questions about bail pop up more than once—I'm lucky that the company I work for values these actions and will bail me out if I do get arrested for protesting, but not everyone has this luxury.
Am I arrestable?
Yes.
Because I want to stand up for our home planet. Because I'm tired of spectating from behind a computer. Because I'm ready to turn up the volume on my activist voice. Yes, I'm joining my local Extinction Rebellion group, and I'll be at the next planned day of rebellion on October 7. Yes, I might get arrested. Yes, I'll bring an extra pair of pants.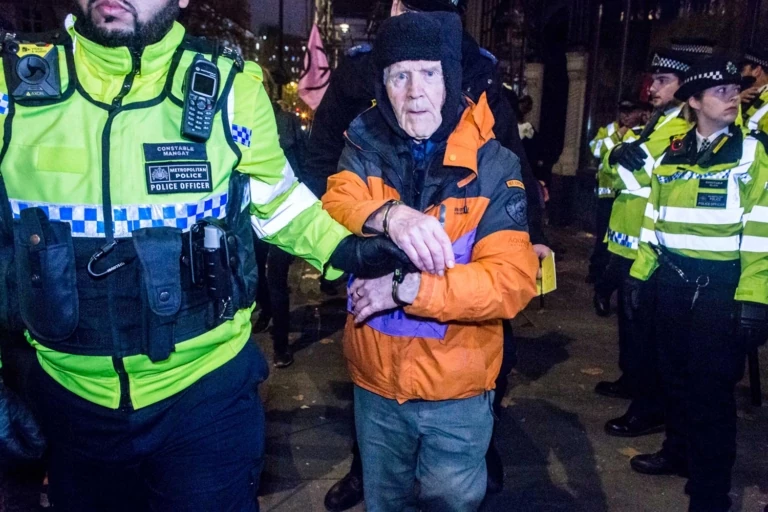 Answer with Action
Tell Congress there is no room in government for climate deniers
Act Now