Atlantic Salmon Net Pens Don't Belong in Puget Sound
Amidst all of the commotion, the subtle shift would have been easy to miss. Behind me in the waters off the coast of Washington's Bainbridge Island, an armada of activists were blaring air horns and chanting, "Protect Our Sound!" This flotilla of commercial fishing vessels, recreational boats, kayaks, canoes, SUPs and even a jet ski had converged on the Governor's hometown to send a loud and clear message that Atlantic salmon net pens don't belong in Washington's waters.
As empowering as this demonstration was, what was perhaps more uplifting was the steady flow of Washingtonians who interrupted their Saturday park stroll to inquire about the protest. Two months ago, most of these folks would not have known that Puget Sound is home to eight Atlantic salmon net pens, even though one of these floating factory farms is only 100 feet off the coast of the park. But that all changed on August 21st when a net pen breached and released more than 100,000 farmed Atlantic salmon into the sound.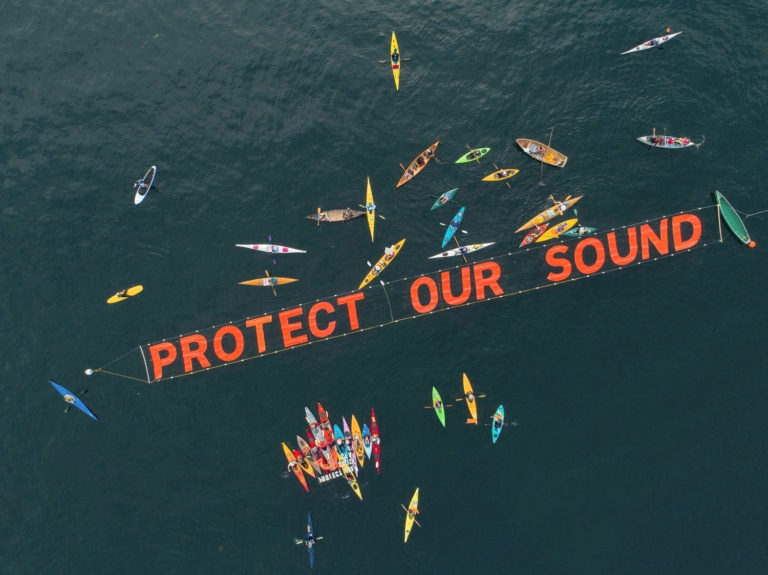 Finding the silver lining of an environmental catastrophe is often harder than finding a needle in a haystack, but these conversations made the silver lining obvious. For years we've worked to raise awareness about this issue and have struggled to break through all of the noise. Finally, the extensive news coverage of this disaster has captured the public's attention and enraged them. As a result, conversations that for years began with a lengthy explanation about the danger of net pens now begin with excited questions from people about how they can help.
And boy, do we need their help. In the aftermath of the spill, Governor Inslee instructed the Department of Ecology to put a hold on any new permits for net pens until a thorough investigation of the escapement is completed. This directive is no doubt a victory but make no mistake, it is just a temporary moratorium, not a permanent ban.

Washington's extensive 30-year record of supporting this industry and one unfortunate state mandate give us every reason to expect that once the dust settles, the state will revert back to its net-pen-friendly ways unless we can pressure them not to. And pressure them we must because the net pen industry is on the precipice of a massive expansion that will reverberate for generations.
For years, a Washington-based company called Icicle Seafoods owned and operated all eight net pens in Puget Sound. However, in 2016 Cooke Aquaculture, an international corporation with major salmon farm operations in Chile, Spain, Scotland, Canada and Maine, purchased Icicle. Following the purchase, Cooke unveiled their ambitious plan to transform this relatively small operation into one that replaces all U.S. imports of Chilean farmed salmon with salmon farmed in Washington.
To make that happen, Cooke claims they would need to ramp up annual production from 15 million pounds to 200 million pounds. Expanding their production by more than 1,300 percent would require building an additional 340 acres of net pens in Puget Sound and the Strait of Juan de Fuca. Eight net pens is already eight too many. If Cooke's plan becomes our reality, the future of Puget Sound and its wild salmon will be bleak.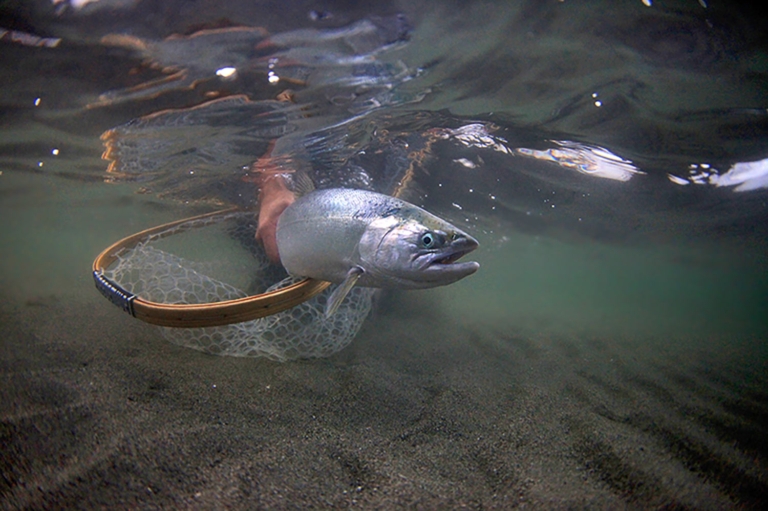 It is important to note that while the coverage of this massive escapement brought to light the horror of Atlantic salmon net pens, this catastrophe was by no means an aberration or even the greatest threat these factory farms pose. In 1996, 1997 and 1999, catastrophic escapements resulted in the release of 591,000 net-pen-raised Atlantic salmon according to the Washington Department of Fish and Wildlife. In addition to these widely publicized incidents, net pens also pose a series of less visible, pernicious threats that endanger our sound and our wild salmon on a daily basis.
Washington's lax regulations and the industry's lack of transparency make it hard to quantify the total impact of Atlantic salmon net pens in Puget Sound. However, we do know these net pens have a poor safety record that includes a major viral outbreak, the spread of lethal parasites, significant use of toxic chemicals and decades of pollution. This history of destruction is consistent with the global track record of Atlantic salmon net pens, which have wreaked havoc on ecosystems and wild fish populations everywhere they operate, from Norway to British Columbia to Chile.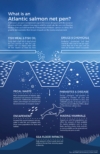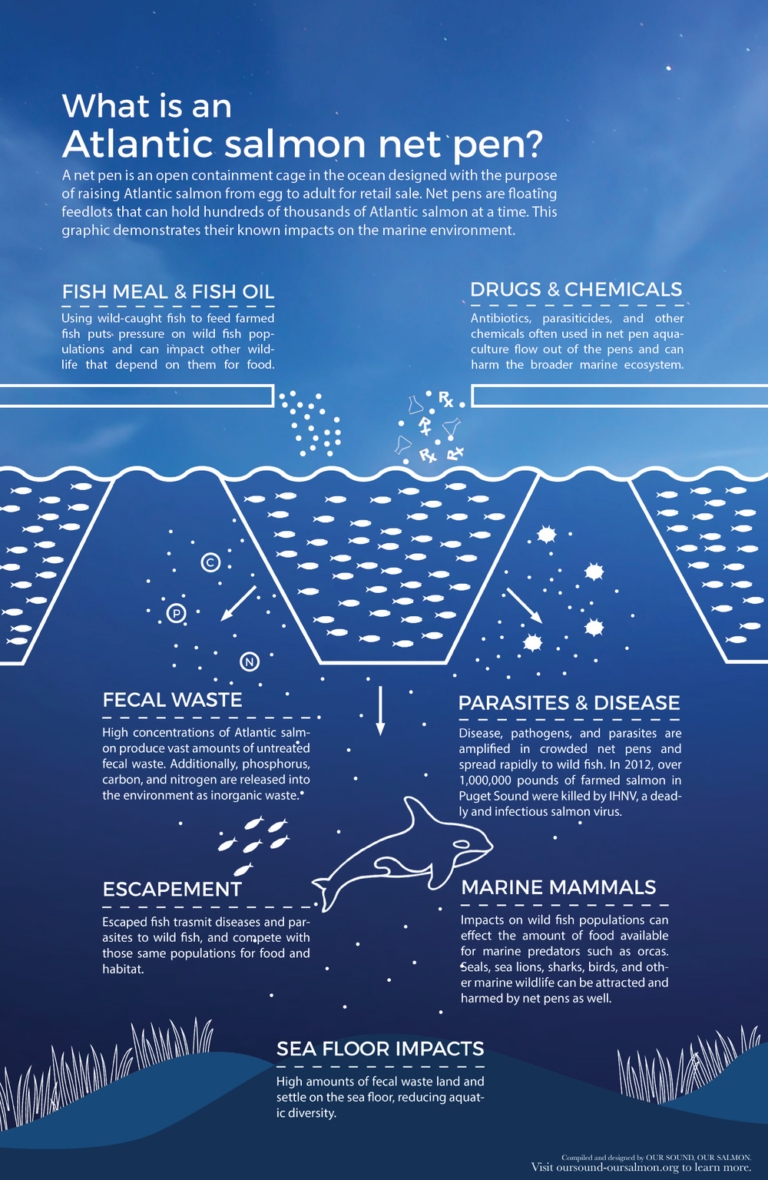 In the wake of the most recent environmental tragedy perpetrated by the net pen industry, Washington faces a major decision. Fundamentally, this decision is a gut check that will illuminate the state's priorities and demonstrate how much it values Puget Sound and its iconic wild salmon.
Option one is for the state to continue its long support of the net pen industry and enable Cooke's plans to transform Puget Sound into a global epicenter of net pen production. I am by no means a prophet but based on the mountain of scientific evidence that has been generated by net pen operations across the world, I feel confident predicting this option does not bode well for Puget Sound and its salmon.
Option two is to follow in the footsteps of California, Oregon and Alaska, which do not allow the Atlantic salmon net pen industry to operate in their waters. We know enough to know that the costs of this industry far outweigh the benefits. And we value Puget Sound enough to prioritize its future health and well being over the future profits of an international net pen conglomerate. The only question is whether or not we will do that.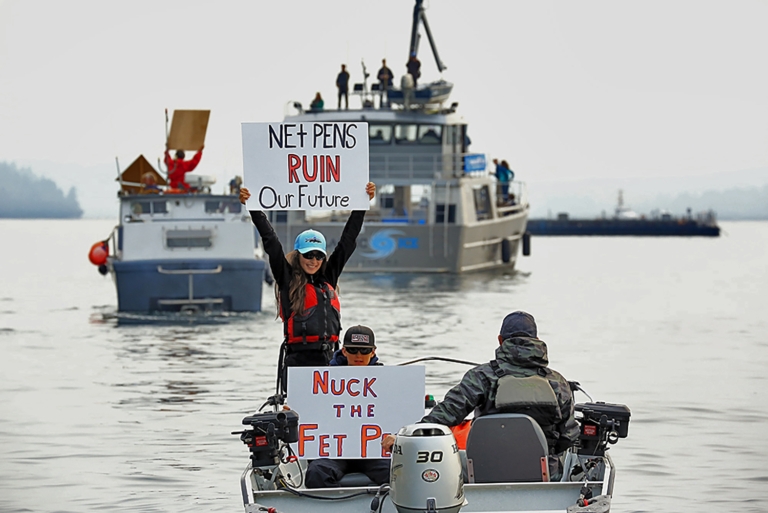 The Our Sound, Our Salmon campaign is working to make this decision an obvious and easy one for the State of Washington. This collaborative campaign has forged a robust coalition consisting of more than 80 businesses, commercial fishing operations and conservation organizations as well as 10,000 individuals. Together we are igniting a powerful grassroots campaign that is fighting to determine the future of our sound and our salmon.
The August 21 escapement that flooded Puget Sound with more than 100,000 thousand diseased and deformed Atlantic salmon was a tragedy that will have major repercussions for years to come. However, we have the opportunity to transform this tragedy into triumph by converting the heightened awareness this tragedy generated into widespread action.
Ultimately, the future of Puget Sound and its salmon is in our hands. It's time for us to stand up for our sound. It's time for us to stand up for our salmon. And it's time we stand up for our children's future by stopping the expansion of destructive Atlantic salmon net pens in Puget Sound.
Take Action Today!
Please join Patagonia, more than 80 other businesses/organizations, as well as the 10,000 individuals who are standing up for our sound and our salmon. Please sign our petition to Governor Inslee asking him to stop the expansion of net pens in Puget Sound and visit the Our Sound, Our Salmon website to learn about other opportunities to support this critical campaign.
Sign the Petition
Campaign update (March 5, 2018): We are please to report the Washington State Senate voted to approve EHB2957, a bill that will phase out Atlantic salmon net pens in Puget Sound. This is a significant victory for wild salmon! To learn more about the decision, visit the Our Sound, Our Salmon Facebook page and read this article in The Seattle Times.