Krissy Moehl and Jeremy Wolf Run from Bellingham to Mt. Baker
On clear days in the Pacific Northwest, views of Mount Baker depend on the marine layer and the storms. The 10,781-foot snowcapped dome is often obscured by the shifting weather, and though I'd grown up looking at the mountain, I didn't see it much this year.
But when Jeremy Wolf emailed me about running to the top from the town of Bellingham where we both live, I immediately said yes.
This whole run was actually Dan Probsts's idea, a friend of Jeremey's who was working on the concept of a trail system linking Bellingham to Baker. His inspiration came from a film about  14 men from the logging and mining townships scattered along this far northern coastline who in 1911 raced to the top of Baker for a $100 prize. When he first heard their story, he couldn't stop thinking about connecting these two places. Insistent, passionate and borderline obsessed, Dan has dedicated most of his waking hours to dealing with the logistical roadblocks that building such a trail entails.
It took us three days to come up with a basic outline detailing our time splits, meetup locations, crew logistics and food. We also found a mountain guide for the summit which would require crampons and an ice ax to complete. We weren't sure of the exact mileage, but estimated to be just over 70 miles.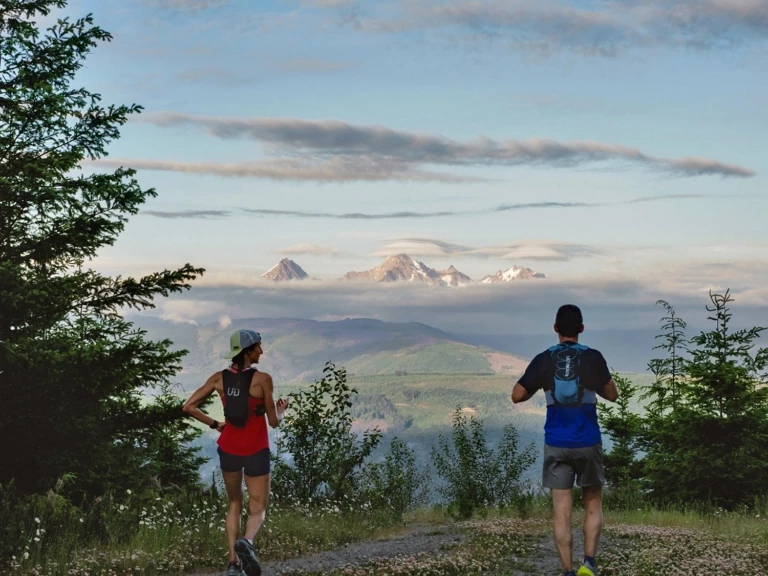 At 3 pm on the day of our run, I received a text from Jeremy that he was out the door. Our plan was for him to cruise down the Interurban trail until we met on the Village Green, which was also the starting point of a couple familiar training runs.
We put our hand in the waves at Cornwall beach, shared hugs and high fives with our early crew, and continued through town, until we hit the trail leading to Whatcom Falls. We popped out by the car dealership and looked for our first pacer, Autumn, Jeremy's 7-year-old daughter. She rode with us on her bicycle though Whatcom Falls, although Jeremy did have to haul her wheels up 80 stairs and give her a nudge on the steeper inclines. Autumn rode with us until we reached our next crew.
We made it across the park and on to the Lake Whatcom side. From there, we paralleled the main road, utilizing Dan's suggested side trails, and following the power lines as long as we could toward Stewart Mountain.

After meandering along the waterfront, through town and city parks, and following the road along the lake, Stewart was a highlight. Suddenly we were on dirt. We exchanged handheld water bottles for packs and said goodbye to our early crew. "Enjoy your beds tonight," Jeremy called to his wife, daughter, and our friends. This would be Jeremy's first all-nighter.
We talked for hours over the next 12 miles. Both Jeremey and I had moved to Bellingham two years ago, and within a couple months of each other, but we'd never run tougher prior to planning for this.
We were deep in conversation when we realized we were lost. We'd taken a uphill left at a fork in the dirt road where we should have stayed straight, a mistake that added a few climbing miles.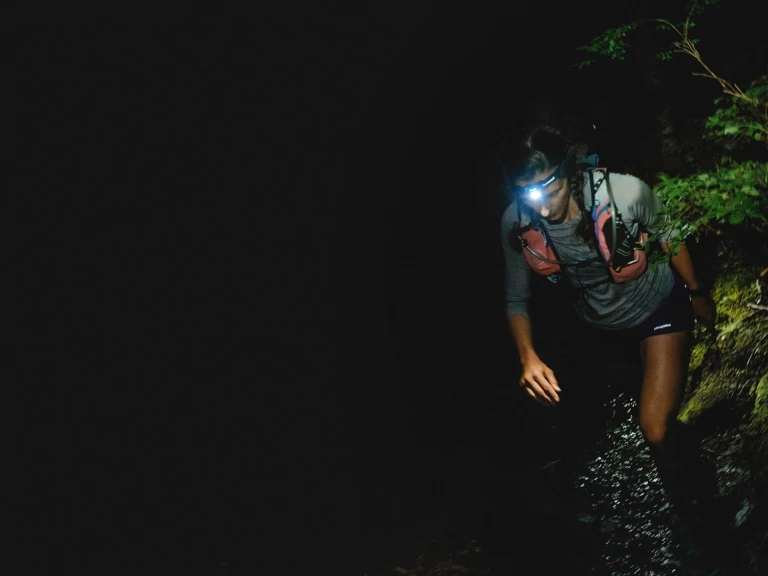 Back on course and still talking, I interrupted Jeremy. I heard crashing through the underbrush behind us and with a gasp I stopped, turned to locate the noise. Bear! I pointed enthusiastically, unable to utter the words. We stood staring at the big black bear in awe.
From there we descended in to Acme on the long dirt and gravel road, careful not to destroy our quads, knowing we still had twenty-some miles to go to the base and 15 summit miles on top of that. We met up with our late crew at the Acme Diner, which is famous for its milkshakes, and posted up at the counter for burgers and fries. But it was getting dark. After saying goodbye to our crew, we settled in for the long, dark, full belly, headlamp miles ahead. We had 21 miles to go before reaching the campground where we would start the ascent.
When the pavement ended and the dirt began, we both started feeling sleepy. Thankfully our crew had some fun ideas and initiated a dance party at the gravel pit. My friend Nichole piped in Justin Timberlake's "You can't stop the Feeling," from my 40th birthday lip sync battle and we all wiggled and moved, impressed with our mobility after so many miles.
Nichole did a superwoman car change, and joined us for a few more miles. At one point, I paused to look at the InReach device we were using in place of cell phones, and had one of the most vivid hallucinations I've ever had as a runner including the time I saw crazy clown masks blowing in the wind along the side of the road during a race in Africa. In my mind, the road pitched uphill and I announced to the team, "oh good, a walk break." I was surprised when the terrain continued downhill.
A bat swooped into my headlamp, giving me and Jeremy a pretty good startle.
We saw the crew two more times as we wound up the gradual grade, and reached the cul-de-sac, marking the end of the road around 2am. My watch showed 50 miles since I left my doorstep 11 hours earlier.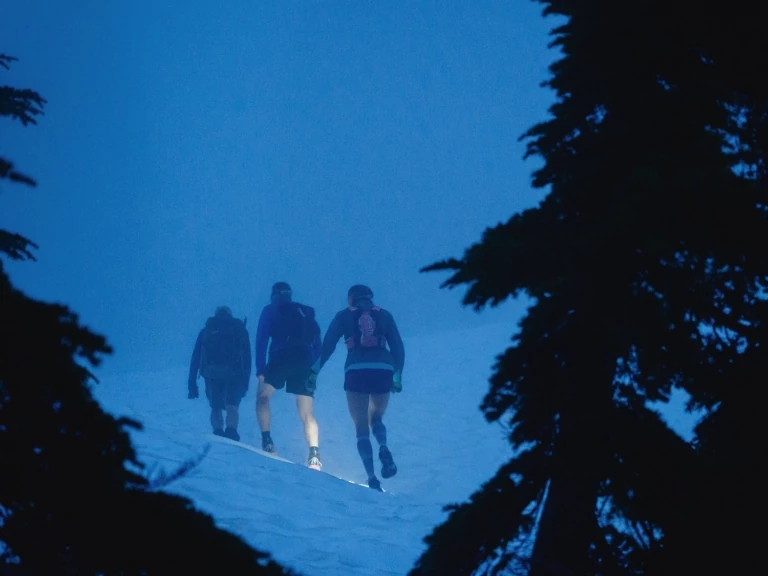 We took our time changing clothes, eating noodles, and sifting through our pack to make sure we had everything we needed for the summit. Our crew set up tents to sleep for the night, and we headed out around 2:30 am.
Something about the change in gear and terrain made it feel like we'd just started a new adventure. The next few hours blended together in the obscured perception of our headlamp beams.
Early in the morning, as the sun's rays broke through the high clouds and illuminated the snowy terrain around us, we stopped to take in the view. For a brief minute, the clouds opened to reveal our rout to the summit, but closed again as we started moving upwards. We wanted a chance to see Bellingham from the summit. Jeremy and I looked at each other and didn't say a thing.
We ended up a bit higher than the point where our guide, Zack from Baker Mountain Guides, had slept the night before, but luckily we were able to pick out his green tent tarp and descended a couple hundred hard earned feet. "Not as fast as advertised," Jeremy told Zack when we arrived. We ate again, changed into boots, waterproof pants, and crampons and reviewed our gear. Lastly we put on helmets and started moving up. It was the first time I'd ever worn a climbing helmet on a run. It was another hour before we roped up.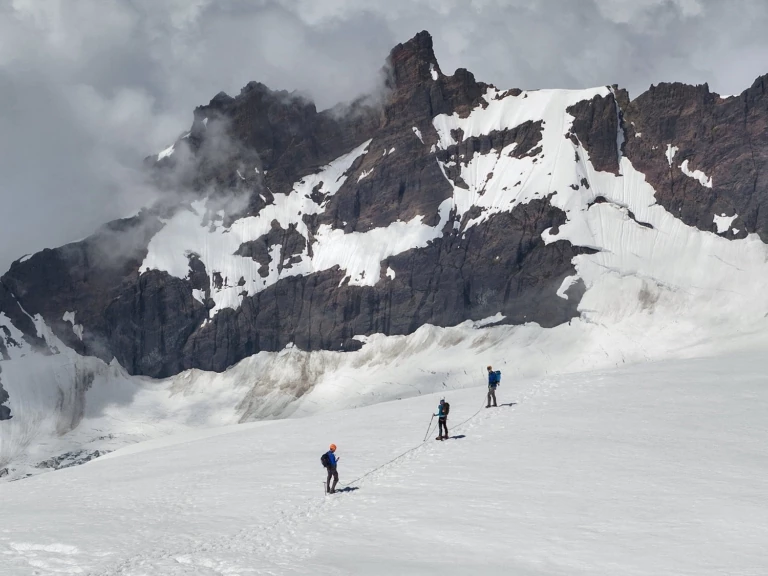 Jeremy and I completely under-estimated the mountain, and the time it would take to summit and descend. Thinking about it now, those hours were some of the most focused and present I've felt in a long time. The challenge and the unfamiliarity of the terrain kept me focused on Zack's steps, my foot placement, the tugs of rope, and my breathing. I didn't look around. For hours my entire attention was focused on placing one crampon after another in the kicked steps ahead.
Zack was amazing in his patience, positivity, and reminders. "Step over the rope Krissy."
Climbing the Roman Wall was by far the most intimidating stretch. It was only a couple hundred feet, but straight up and icy. My breathing switched from a familiar endurance pace to longer pressured exhales—a strategy that helps keep me focused and calm when I'm nervous or stressed.
The final push felt like freedom. Just before 11 am, we un-roped and walked the slightly uphill traverse to the summit. We'd done it! Bellingham to Baker in just under 20 hours. Jeremy and I high-fived. We took in the rare 360 views with views extending all the way to Rainier, pointed out local peaks, and soaked in the sunshine before heading back down.
Our entire sweaty and exhausted crew stopped at Acme Diner for milkshakes on the way home.