Crystal Thornburg-Homcy's Dispatches from Patagonia: Touring Southern Chile
Crystal Thornburg-Homcy
/
6 Min Read
/
Surfing
by Crystal Thornburg-Homcy

As I packed my bags for my trip to Patagonia, reminiscing about my last visit over four years ago, I remembered the sudden shift of weather patterns from cold to hot, to snow and even rain. My activities would range from surfing, kayaking, hiking, snowboarding, to relaxing in the natural hot springs, and a few film festivals in the cities, so I had to pack accordingly. For my trip to Southern Chile, I had this Patagonia gear list in mind.
Editor's note: Patagonia surf ambassador Crystal Thornburg-Homcy follows up on her recent post, Back to Patagonia, with today's entry.
I was invited to be part of the crew from 1% For The Planet member, Sol Raiz Organics, to head off on an adventure with world renowned cinematographer, Jack McCoy, and big-wave surfer, Jamie Sterling, to explore the path of our hero, Yvon Chouinard, and to experience the area that inspired him to name his outdoor gear company Patagonia.
We gathered as a group in Santiago on one of the most festive days of the year, Independence Day! The streets were empty, quiet, and preparing for the night festivals. There was not a soul in sight. That night we decided it was mandatory to be part of the activities, so we took a taxi to the heart of the party. Thousands of people filled parks and walkways singing, dancing, and drinking. There were hundreds of stalls selling anything from honey, to wool products, to handmade jewelry. It was the perfect introduction to Chile and its loving, bright culture.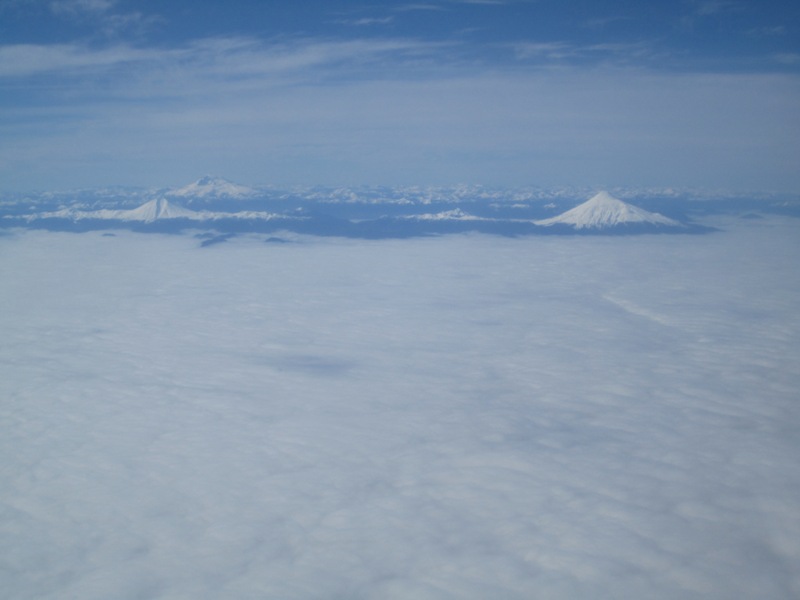 [Flying from Santiago to Puerto Montt.]
The next morning we jumped on a plane and headed south to the little fishing town of Puerto Montt. Looking down from the sky onto the sea of clouds, the Patagonian peaks reveal themselves, looking like tiny islands. When we arrived in Puerto Montt, I could not believe how nice the weather was, perfectly sunny and in the high 70s. Our crew made our way to the coastal town to join up with Patagonia guide Gerardo, who runs the Banff Mountain Film Festival World Tour in Puerto Varas, Chile. He showed us a map of the Fjords, pointing out the journey we would be taking for the next five days by kayaks and boat throughout Pumalin Park.
"In 1991, North American Douglas Tompkins, a long time visitor to Chile since 1961, bought the Reñihué Ranch with the idea to set aside 42,000 acres of evergreen temperate rain forest from possible exploitation. In the intervening years The Conservation Land Trust has added another 700,000 acres in nearly contiguous parcels to comprise the Pumalín Park. These properties have been declared a Nature Sanctuary on August 19, 2005, a special designation of the Chilean State, granting it additional environmental and non-developmental protection. The Conservation Land Trust (a U.S. environmental foundation) has donated these protected lands to Fundación Pumalín (a Chilean foundation), for their administration and continual development as a type of National Park with public access under a private initiative."

[Image and quote from Pumalin Park website.]
I was thrilled to return to a kayak after so many years had gone by since I traveled the country as part of the U.S and Hawaii Canoe and Kayak Team, competing in Olympic K-1, K-2 and K-4 in flat water. It was a dream come true to return to Patagonia, and spend time with the marine ecosystems so I could keep my gills wet.
Our next step was to jump on a ferry, which took us south to the port of departure, Horno Pieren. I was blown away by the massive amounts of fish farming there was in this area. The landscape is so untouched, pristine, but the rectangular and circular cages along the shores are an eyesore. Not only does it look invasive, but the system of farming fish in Patagonia is absolutely devastating to the marine ecosystems in the area.
According to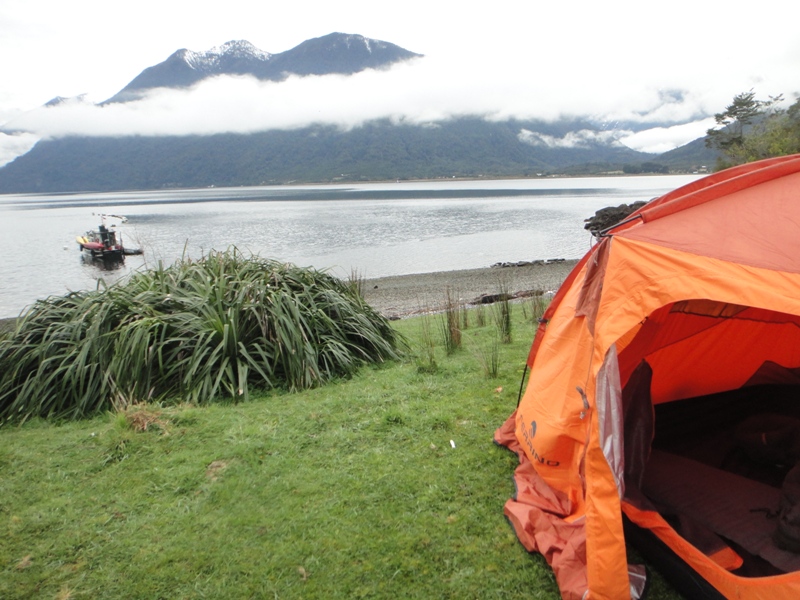 Lit only by the southern hemisphere constellations and a headlamp, Jamie and I set up our tent on the wet grass to what sounded like a wild bull guarding his plot of land. He did not want any overnight visitors, especially a handful of humans sleeping in bright orange tents. The bull made it clear that this was his zone. It sounded like he was breathing fire, jumping and bucking right in front of our tent. Jamie and I moved behind the nearest tree. I felt totally vulnerable without much light. Leah, a friend and sister of Kenny, Sol Raiz Organics' founder, was standing next to Jamie and me with the headlamp, ready to make a dash towards the water, when our trusty guide came to the rescue. I felt totally embarrassed and belittled when she just started to clap her hands walking in his direction, shooing him away up the hill with ease.
With the bull a few hundred meters away, we felt safe enough to tuck ourselves into our tents and sleeping bags. After a few minutes, right when Jamie and I thought we were safe, we heard Kenny yell, "Ohhhhhhh, Shhhhiiiiiittttt," simultaneously with the deep breaths and stomps of "The Wild Bull." Instantly, Jamie and I were huddled in the middle of our tent, my nails digging into his arm, big-eyed in the dark. I thought we were done for. Getting trampled in the night by a wild beast was by far the last way I thought I would die.
Someone from outside our tent flashed his or her light towards us and created a shadow of the monster as massive as our tent. I turned to Jamie, raising my hand over my head, and asked, in total honesty, "Would you rather be surfing 30-foot Waimea Bay or be in a tent with me afraid of being run over by this bull? He didn't even think twice about his answer. "Waimea!" he replied. That made me think I should start surfing Waimea more, if I could handle the animal.
"The Wild Bull" halted in his tracks, calming down but still circling our tent all night long. I heard his breath just outside our tent until dawn. I don't think the beast slept a wink, and neither did I. Morning broke and I was eager to see the status of the creature. I unzipped our tent to find … a COW? It had to be a different animal from last night! I couldn't believe my eyes. No real bull in sight, just a small cow with tiny horns.
We packed our tents and loaded the kayaks for a day on the water. Our next destination was Fjord Quintupeu, a few hours south. Paddling into the wind, we made our way to the fjord while enjoying the surrounding beauty of clear emerald-colored water, sea lions, sea birds, waterfalls, and clear sunny skies.
–Crystal Thornburg-Homcy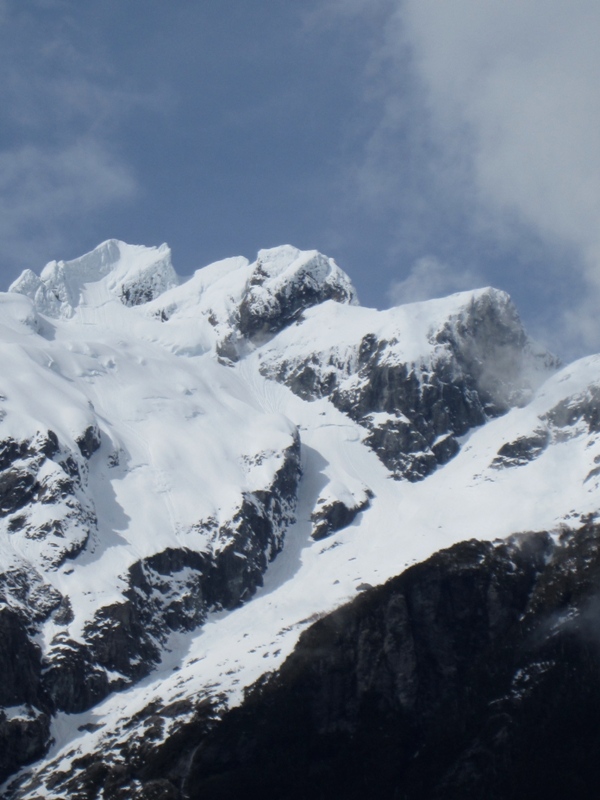 Stay tuned for more from Crystal…