Excerpt from "Dirt Work: An Education in the Woods" by Christine Byl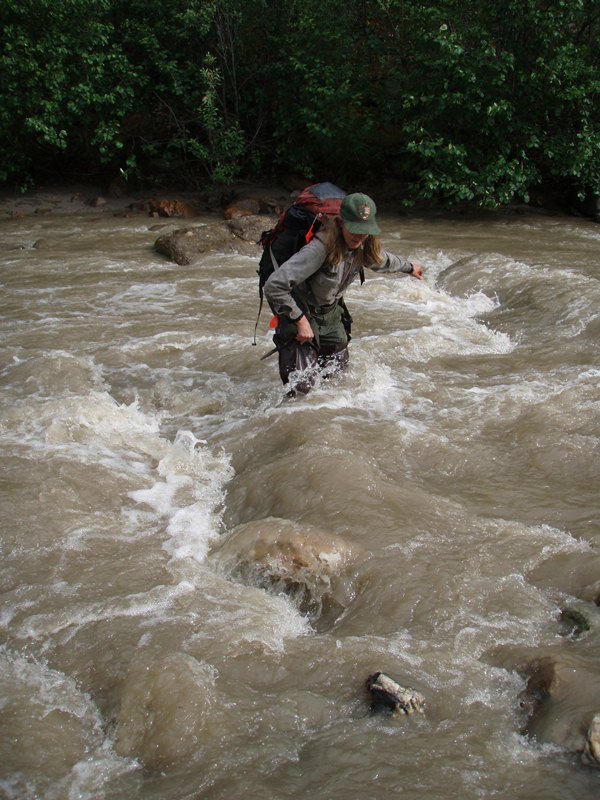 Back in 2007, author Christine Byl sent a juicy little story entitled "Innard Mongolia" to our fledgling blog. Today, we welcome Christine back to The Cleanest Line with congratulations on the publishing of her first book, Dirt Work: An Education in the Woods by Beacon Press.
The first half of Dirt Work is set in Montana's Glacier National Park. This excerpt, from the second chapter, finds the novice traildog out with a new crew in the Middle Fork district on Glacier's west side.
One of my first days in the Middle Fork resembles my firsts nearly everywhere in Glacier: out of my element, eager to get in, following along quietly until the former state gives way to the latter. This particular day found my own crew leader sick and me shipped off for the day with Brook and his Middle Fork guys to get a jump-start on the heavy clearing in the Coal Creek burn. I knew Brook by reputation only. Thirty-something, wiry, hyper, and flat-out hilarious, Brook was at the center of some of the most outlandish pranks and stories in the trails canon. He was drawn to drama, calamity, and excess. Brook loved attention. If he was on a search and rescue, he'd end up on the local news, and you could see why. He told a monologue worthy of a one-man show, complete with pantomime and imitations. He teased until the butt of the joke was ready to throttle him, stopped just before he was resented. His crews worked hard, hiked hard, drank hard, laughed hard. I was eager to see him in action.
On the south side of the river we sat on the rocks, unlacing our shin-high boots. I'd never forded the Middle Fork before, or any river of its size. The guys were loosening their belt buckles and dropping their pants, and though I'd brought sandals for the ford, I hadn't thought to bring shorts. Four of them stood in clownish boxers at the edge of the river, kicking water at each other, swinging their arms in the cool air. Clearly, I'd have to strip, too. I briefly considered fording in my pants. Stupid. The river was mid thigh. The heavy cotton canvas would take all day to dry.
"We always ford in our underwear," Brook reassured me. "Don't think twice about it." I dropped my pants slowly, pulling my T-shirt down as far as I could. I tucked my rolled-up Carhartts under the top of my backpack. We tied our bootlaces together and slung them over our shoulders. Brook and Mike carried the saws, the rest of the guys the other tools, the unwieldy Dolmars of saw mix knocking against their knees. I had only a shovel in hand, the very least you could carry and still hold your head up. Mike waded in. I hung back as if finishing something, fussed with the straps on my Tevas.
"Have you done this before?" Brook asked, noting me sidelong, and I shook my head. Posturing was pointless. They'd guess as soon as they saw me stumble through the current. Maybe I'd fall in, drown, even. Brook gave me a quick overview, kindly, with no teasing, and then gestured me to go ahead of him. The icy water at my ankles kept just at bay an awareness that I was walking in my underwear in the middle of a line of strange men. At twenty-three, I was not particularly self-conscious about my body, didn't "hate my butt," as was the common refrain. Even so, it was disconcerting. A vulnerable promenade.
Soon I was in above the knees, and current pushed water waist-high, obscuring clear view of anyone's rump. I concentrated on facing upstream, one foot placed solid before moving the other, shovel handle triangulated in front of me like the third leg of a tripod. In the thickest part of the current, the water coursed between my toes and I sensed what it would be like to lose my footing and be swept quietly downstream. When the water shallowed, I ran for the bank, where the guys shook water off their legs. We stomped and howled as feeling reentered numb flesh. Brook laced up his boots without putting his pants back on, doing a funny little jig in his logging boots and undies. I glanced around. All of them, the same, no pants.
There was a shallower ford of Ole Creek a ways up the trail, and anyway, their
boxers were soaked, Brook said, and would dry while they hiked. They nearly
convinced me to do it too, those varmints, but I was wise to them, what was necessary, how far they'd push, and I held my own.
I hid in the brush and shucked my undies, pulled on Carhartts over bare ass, and hung the wet bikinis over the handle of the pulaski strapped to my pack. (Could the proverbial mother ever have guessed, when urging clean underwear, that this scenario, not an unexpected trip to the hospital, might be reason to heed her advice?) I took my place in the middle of the line. I had to laugh at the sight of the sawyer hiking ahead, underwear stuck to his skinny white thighs. I was glad to be covered up, despite the chafe of cotton duck against damp cheeks. No matter how much I liked these guys, no matter how much I longed to be part of the gang, damned if I'd be the story they'd crow out later over beers: We got her to walk in her underwear for hours!
Dirt Work: An Education in the Woods tells the story of Byl's years working as a traildog in the National Parks of Montana and Alaska. In the book, Byl recalls long days of clearing brush, digging ditches, building bridges, cleaning up after forest fires, and blasting snow; offering the reader an intimate look at life on the trails. She explores the language, tools, skills, and fraternity of traildog work, writing candidly about the harsh living conditions, injuries, and insecurities that come with the job.