How I Came to Actually Kind of Like Bouldering
Kate Rutherford
/
Dec 4, 2017
/
5 Min Read
/
Climbing
As a younger climber I was totally committed to big long routes, often in the mountains and often involving a lot of suffering. The beauty of each place is what got me there, and the partnerships kept me there. I wanted to be in those big landscapes, sleeping on the wall, scoured by the wind, squeezing into cracks, standing on top and sharing those experiences with special people. To go bouldering seemed not only silly—you spend so much time on just one little part of the landscape—but also dangerous. Risking a broken ankle and jeopardizing a future big alpine objective was not justifiable to me.
Something has shifted. I like bouldering now, kind of.
It is like playing, mixed with training, mixed with fun people, mixed with intense focus and many small successes. But I knew I needed a teacher to crack the whip if I was going to learn how to boulder. So one chilly January day, two teachers, Alex Megos and Ken Etzel, showed up on my doorstep in Bishop and a plan took shape: I would fly 30 hours to climb on world-class striped boulders that are teeming with exuberant international strong men wearing brightly colored t-shirts.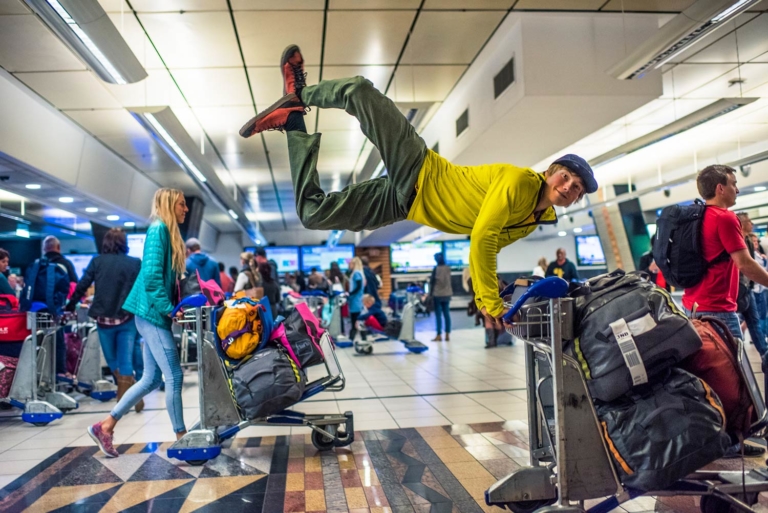 I landed in Capetown, South Africa, at midnight and was scooped up by a lovely local climber and whisked away to the boulder fields of Rocklands in the Cederberg Mesa, all in the name of practice. On my first day at Rocklands I watched Alex climb The Finnish Line on a boulder taller than some of the roped climbs I have done. I could see in his shoulders that it was hard. His moves were slow, not snappy and carefree like I often see in his climbing—this must be a big deal. The contrasting black and orange stripes were fierce in the mid-day light. Alex had been trying this problem all morning and for days before I arrived. He let out an emotional roar at the top, all the frustration, focus and desire released. It was spectacular! It was a piece of art, physically expensive in its V16 effort.
I was inspired. I needed a project. There were thousands to choose from. Some were tiger striped and fun, some had long traverses. Some with big moves, little crimps, high balls and scary landings. I explored and laughed everyday as Alex showed me the moves in his flip flops, baggy shorts and Cheshire Cat grin. His youthful enthusiasm was the perfect medicine for my fear of big moves and big boulders. None of it mattered if it was fun.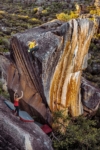 Late on day three, we arrived at the base of Creaking Heights, a beautiful grey boulder with a broad and smooth face. It had one problem on it ending in a perfect crack. The boys were sure this was the right problem for me, except it was 25-feet tall. Eek! We put down a few pads, Alex wandered off to eat some carrots or try something harder, Ken put his shoes on and pulled his lanky frame to the top.
I was nervous, but I put my shoes on anyway and set off to see how it felt. I made some awkward progress, my feet moving above Ken's out-stretched arms. But at the crux there was a rush of uncertainty and fatigue. I was absolutely over it. No amount of encouragement could get me higher. I glanced at the pads and jumped down. Vertigo spun me around and by the time I landed on the pads I knew I'd never do this problem. I tried again, same thing. The vertigo made me feel nauseous and I was exhausted. The boys were right, this was my style, so what was wrong with me? We went home to cook dinner.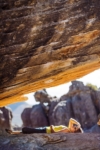 A few days later we were back at the Roadside boulders seeking shade and carrying pads for a friend who wanted to try something tall. I'd climbed a few beautiful and hard problems already, I'd eaten many carrots and I was content. But as we came around the corner Creaking Heights loomed majestically, with just the tip top of it in the sun. Alex looked at me and smiled. Our friend Shauna chimed in, "Oh Kate, you'll love this one!" I started whimpering that it had already scared me off as everyone padded the landing double thick.
I pulled my shoes on again, feeling better than a few days ago. Alex and Shauna's friendly banter behind me was lighthearted and infectious. Alex was doing handstands as I stood up and calmly found the starting holds. As soon as I stepped on the rock, they stepped in closer, hands up, gently sending me beta in funny accents and being silly at the same time. "No, no, yes, yes, that's it, a little higher, just a little higher!"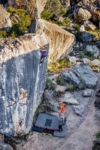 I felt light and supple, acutely aware of each tendon in my body. Strong fingers gripped the holds, toes pressed rubber into polished stone. I was happy with my teachers down there whispering in my ear, even though I was 20 feet above them. All of a sudden I had my hand in the crack, the slippery feet had grown texture and I was reaching into the sun. At the top I let out a wolf's howl, the fear, frustration and focus released.
I laughed. The practice was paying off. I was learning to be a boulderer.