Singing and Paddling for a National Park in China
Words often fail us. If their basic goal is to generate understanding between human beings, let's face it: they fall short with epidemic frequency. News headlines around the world are riddled with conflicts that are caused by the breakdown of communication and the inability to compassionately understand differences.
This thought plays heavily on my mind as I stare into the eyes of a Tibetan nomad named Tsering and he stares back at me. I'm many miles into the high backcountry, in a remote corner of the Tibetan Plateau, on a solo backpacking trip. Meanwhile, in my home country of America, opposing ideologies are locked in vicious stalemate. Disturbing headlines jarred me out of a pleasant Tibetan reverie when I stopped in town to get provisions and check email. I'm now struggling to comprehend them at 15,000 feet beneath a sacred mountain.
I set out with a small pack, nothing but the essentials, looking for some rumored high lakes and hot springs. Now here we are, Tsering and I, soaking in an extremely hot bubbling spring—a few female nuns, their heads closely shaven, sit in a different pool. We are not talking, and we couldn't if we wanted to. We don't share a word of common language, so all communication is relegated to other forms. Occasionally we look at one another, nod and smile. I sweep my hand toward the craggy peaks above and the deepening green of the meadows riven with silver streams, all aglow with ineffable light from a sinking sun, and we both grunt our approval. He gives me a quizzical look and reaches across the steaming pool to tug on my chest hair, then laughs. His Tibetan genetics graced him with a mostly hairless sheen and I'm … hairier. We chuckle at our differences and enjoy the magic of the place in silence. Occasionally a yak wanders over to one of several small pools and plunges his snout into the hot water for a drink.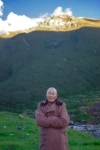 I'm here as part of a mission to bring attention to an emerging conservation movement. The big news is that the Chinese central government is opening a formal national park for the first time in the nation's history. There are many other land designations in China with names that hint at conservation. Forest parks, wetland parks, geo parks and archeological parks, but all have failed to halt the environmental degradation we often associate with this vast country. They have been run for profit and turned into something like outdoor theme parks. This new designation promises to be different. In an uncharacteristic move, Beijing is turning to Western voices for input on design and implementation, and one of the key voices in the conversation belongs to Travis Winn, an American who runs a river outfitter here called Last Descents River Expeditions.
Travis is a passionate advocate for Chinese rivers and his dedication to them is all-consuming. While his wife and week-old firstborn daughter await his return in Colorado, he is here making good on his commitments to help shape the vision of this park. He has spent over a decade in the region full time, kayaking and leading rafting trips. Long ago he recognized the disappearing treasures that were Western Chinese rivers and began a campaign to bring attention to them. In many cases, his descents were the last before whole canyons along with their histories and whitewater were drowned behind hydroelectric dams. Hence the name: Last Descents. It's a stark reminder.
Travis' experiences here have taught him that if he can convince the government that ecotourism is a good thing for the land as well as for local people, he can make a real impact on their decision making.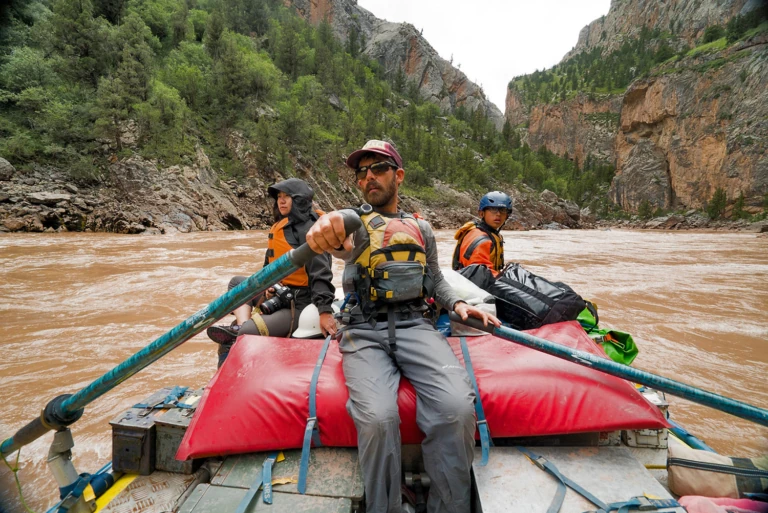 Now, arguably for the first time, Travis has cause to celebrate. This park, the first of nine pilot parks to come, will encompass a vast protected area—123,100 km2 of Qinghai Province's Sanjiangyuan area. To put that into context, it's well over half the total area of America's national parks combined. Sanjiangyuan, or "Source of Three Rivers," contains the headwaters of the Yellow, Yangtze and Mekong (Lancang) Rivers. Sometimes called Asia's "water tower," this critical and largely pristine watershed sends water to a staggering number of people—almost half of the world's population lives along rivers that begin on the Tibetan Plateau. This is one of the key factors that makes this region such an important—and contentious—political prize, one that will only grow more valuable as dwindling clean water sources support ever more people. The protections here in Sanjiangyuan will deflect threats from mining, poaching, a bottled-water industry with broad ambitions in the Tibetan Plateau, and the hydroelectric dams that have flooded so many of Western China's river canyons already.
My role in all of this is small but unique. Let's call it music diplomacy. At home I spearhead an organization called Music For Wild Places. The goal of Music For Wild Places is to untether music from the confines of the concert venue and recording studio and create it in the wilderness, inviting guests and musicians to deepen their appreciation of wild places and conservation in the process. We do multi-day excursions featuring musical performances by world-class artists in magical, wild places.
Here in Qinghai, with Last Descents, we're taking a weeklong float trip through the new national park. The trip features American and Tibetan musicians joining forces to create collaborative music along the way. I am joined by the American roots music group Front Country, three local Tibetan musicians, videographer Trip Jennings, a dozen Chinese ecotourists and a crew of guides led by Travis Winn. The musicians sit by the riverbanks and perch atop sandstone cliffs, sharing traditional tunes and improvising together. The Americans play banjo, fiddle, guitar, upright bass and accordion. The Tibetans play things we've never seen: a stretched snakeskin head with a carved dragon for a neck called the dramyen and something else that looks like a mandolin but isn't. Their folk songs don't quite bend to the logic of most popular Western music—they are "crooked" like many American old-time traditionals. It takes some very focused listening, but we start to follow their twists and turns and exotic but familiar modalities. The Tibetans, in turn, love to sing and dance when we play old-time Appalachian tunes and Paul Simon covers.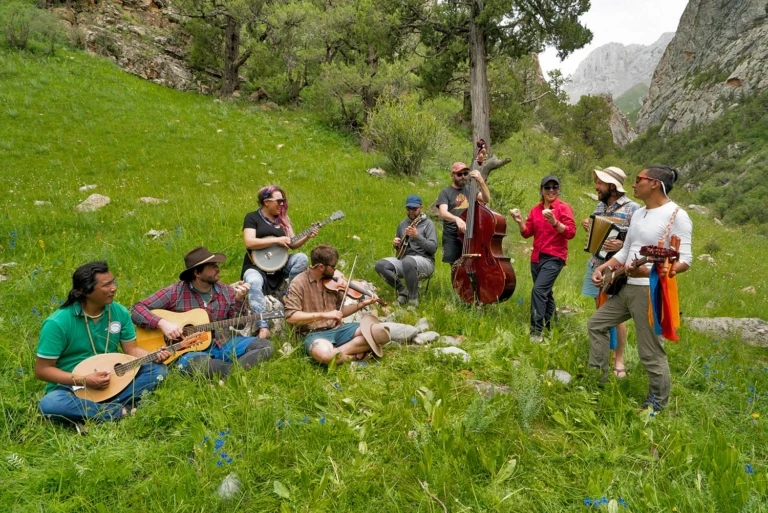 The river we're floating is known as the Daqu in Tibetan or the Lancang in Chinese. It is the main stem of the Mekong River which flows through five countries after it leaves China before merging with the South China Sea. Here, where it's still a pristine free-flowing wilderness river, the water is cold and milky brown from the sediments in the bottom of the canyon. The lower elevations in this area are Zion-esque sandstone—red sweeping arches and hoodoos dotted with juniper. Above, tall, treeless limestone peaks rise endlessly, bringing to mind the Dolomites of Italy and the imposing Himalaya. We drift past thousand-year-old monasteries, spared in the Cultural Revolution by virtue of their remoteness. Yaks and prayer flags blend into the landscape. Nomadic families sometimes spot us from high above the riverbanks, waving slowly with both arms above their heads and a sway of the hips. The Tibetan musicians, Tsochen, Dondrup and Palden, sing songs in their native tongue as we raft along.
After a few days on the river we have become inexorably close. Although the three Tibetans speak no English, and we struggle to even pronounce the Tibetan word for "hello," we still manage to find inside jokes, moments of reflection, ways of expressing a full range of emotions without speaking a word. The music has given us a trust and a language. We share a love of the river and surrounding mountains, and our hope that it forever remains wild. We deepen our respect for the ancient native culture; we generate compassionate understanding where before there was none. Two things help to make this possible: the power of wilderness and the power of music to strip away thoughts, fears and assumptions, and leave us connected in unspoken but real ways. This always seems to happen a few days into every music-wilderness trip I've ever been on.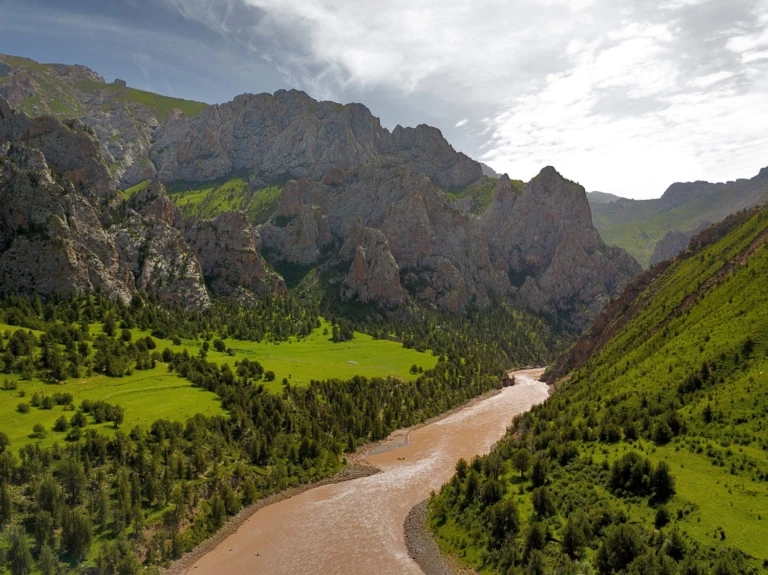 In addition to the musicians and river guides, the guests on this float trip are Han Chinese, the ethnic majority in the larger eastern cities like Beijing and Shanghai. Several are children and teenagers, sent along or joined by their parents to give them a taste of wilderness they never get in their cosmopolitan homes. Early in the trip, many of the kids display a moody mixture of insolence and entitlement. They sulk because their iPhones don't work here, and they drag their feet and roll their eyes on group hikes. But by the fourth day this starts to change and with a little prodding they are lured into a true adventure. They circumnavigate the crumbling towers of a 16,000-foot sacred peak, climbing steep knife-edge ridges in the thin air. They get caught in a thunderstorm with lightning and sideways-blowing rain on an exposed saddle just below the summit. Nature has their full attention now. They take shelter under overhanging rocks and learn to skree-ski down a steep muddy ravine to reach a narrow puddling yak trail.
On the way back down, we all stop on a grassy saddle freckled with wildflowers to hydrate and rest. The rain has passed. After five minutes of reverent silence watching the storms move across the landscape, Tsochen suddenly pierces the breeze with the high crystalline tones of a traditional Tibetan song. It is shockingly gorgeous, echoing off escarpments in every direction, and perfectly suited to the landscape as if it were organically erupting from the place itself. Everyone, even the most adamantly disinterested teenager, is wiping tears from their eyes. The power of wilderness and music together to usher in compassionate understanding has never been more clear.
In this moment, listening to this voice echoing off these canyons, it hits me for the first time why I am really here, why we have spent over a year organizing and planning this trip. It seems naively simple, but we are together here, from around the globe, because we all seek to honor and protect wilderness. We share a common compassion.
Compassion is a word that has taken on a whole new meaning for me here. The concept of compassion is foundational to Tibetan culture in a way that I couldn't have understood before coming. Like most Americans, I had vague impressions of what Tibetan Buddhism was. The words conjured images of monks in orange robes, incense and singing bowls—a soundbite version of a culture. But on my very first day here, we visited a place that immediately reduced me to tears: the largest collection of mani stones in the world. Mani stones are rocks and stones of varying sizes, hand carved with the prayer Oṃ maṇi padme hūṃ. The most common mantra here, it is essentially a prayer of compassion for all sentient beings. The stones are piled up by people of all walks of life who carve and paint them themselves. And there are over 2.5 billion of these little manifestations of compassion in this pile alone (and counting). They comprise a maze-like structure, 10 or more feet tall, covering an area larger than three city blocks. Tibetans make pilgrimages from all over the country to add stones to the collection and walk clockwise around the enormous heap whispering their essential prayer as they go—compassion for all.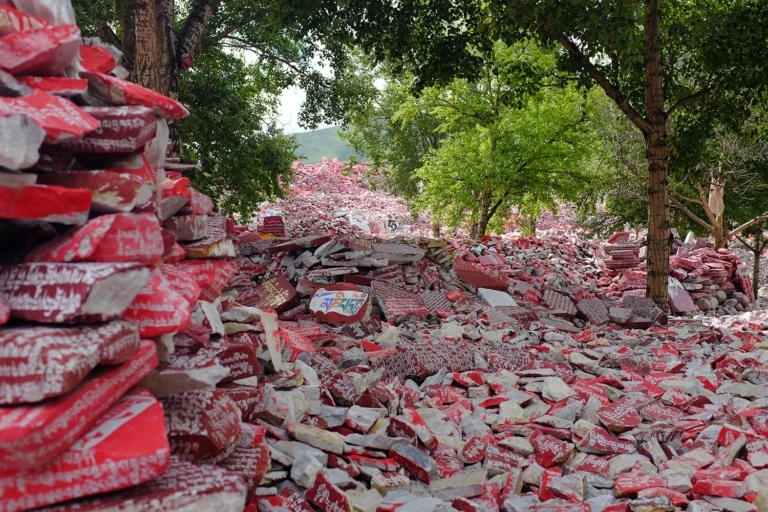 The fact that people would dedicate countless man hours carving these stones for no "purpose" other than to put a prayer of compassion into the world, stuns me. The idea behind this and other forms of Tibetan sacred art—including prayer flags and cliff paintings—is that when the wind blows over the mantra, the prayer is carried off to the rest of the world. Tibetans will even carve these words into the ice when rivers freeze in winter, so meltwater in spring will carry the compassion downstream. I can think of no equivalent to this in our culture. We are so focused on accomplishment that a selfless outpouring of time and energy like this seems almost wasteful.
The very simple idea of compassion tolls like a bell here. I tend to avoid the phrase "experience of a lifetime"—the only experience of a lifetime is a lifetime of experiences, and we are constantly changing and evolving—but this concept has struck a chord with me that will keep ringing for a long, long time. I leave Tibet with a new outlook, one that centers on this idea of compassion for all things, human and non-human alike. Compassion is the key element of both communication and conservation. Communicating is an expression of compassion from one human to another, with or without words, and conservation is an expression of compassion toward the rest of the lifeforms we share this planet with.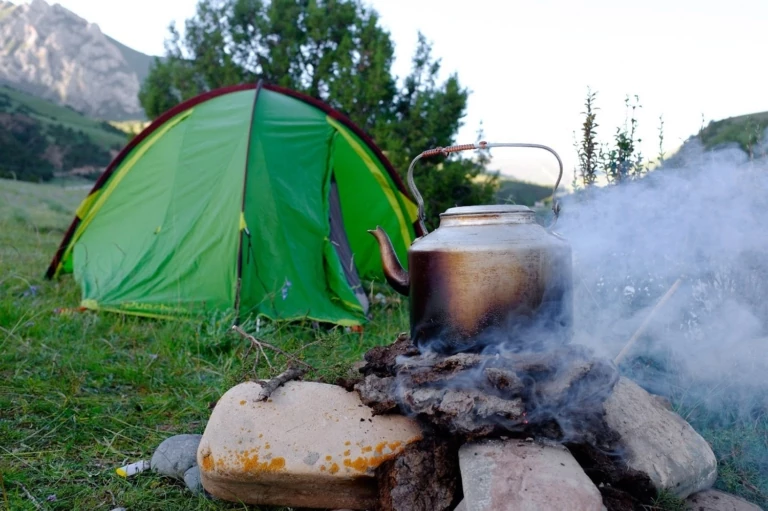 Back up in the mountains with Tsering, the sun has set and the rich olfactory cocktail of burning yak dung and juniper surrounds us. Tsering has made a hollow cylindrical tower about a foot tall by stacking yak dung flops in a tight circle. He then stuffs a dry branch of juniper into the hollow center and lights it, delicately perching a large tea kettle on top of the dung tower—a clever yak herder's stove. Some of the flops are dryer than others. I eye the wet ones warily as the smoke thickens. There's no use trying to move away, it billows like ink in water and settles back down around the whole camp.
One of Tsering's family members offers me a cup of yak butter tea from the kettle. Despite my meek protestations (Did it reach a rolling boil? Giardia?), she prevails and now I'm enjoying the most delicious version of this potentially foul drink I've ever tried. She starts to hum and sing softly to herself as she tends the fire. I catch the words, "Oṃ maṇi padme hūṃ," and realize she's praying. I recognize the melody from the musicians on the river trip and clumsily start to sing along. Her eyes light up and a huge smile creeps across her face. We sing as the mountains succumb to the dusk, and then laugh at nothing in particular.
We speak no words but we understand one another.
As the world rushes headlong toward an uncertain future, as old issues of nationalism and race combine with new unknowns like climate change and the disconnected hyperconnectivity of the internet, threatening to divide us in ways never before seen, we need compassionate understanding now more than ever. The heart of diplomacy, the very idea that we can find a better understanding with those who are different, is critical to our survival as a species. And from what I've seen here in Tibet, something as simple as singing songs in the mountains can be a powerful tool.