The Coronation of King Jigme Khesar Namgyal Wangchuck of Bhutan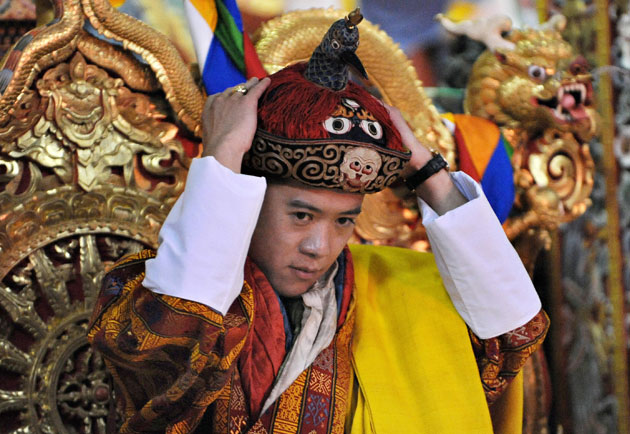 This post came to us courtesy of Patagonia Pro, Matt Holmes. Matt is the president of adventure travel company Boundless Journeys, which specializes in active and unique small group adventures to hidden corners of
our world. While the majority of Americans were marinating in their own historic moment this past November, Matt was bearing witness to a much-less-publicized but–for this culture–far more techtonic shift of power.
"I will never
rule you as a King…I shall always serve you, day and night, in the spirit of
kindness, justice and equality."
–
King Jigme Khesar
Namgyel Wangchuck.
I was recently honored to be invited to a very special occasion in the Kingdom of Bhutan. While many Americans were celebrating a change of government in the U.S., people in Bhutan were observing the change of an era. The tiny Himalayan nation of Bhutan crowned its new King on November 6, after a two-year wait for the precise moment deemed most auspicious for a successful reign.
[The Raven Crown on the Dragon King. All photos: Steve Holmes]
At exactly 8:31 a.m., former King Jigme Singye Wangchuck, 52, placed the Raven Crown on the head of his son, 28-year-old Jigme Khesar Namgyal Wangchuck, giving him the title of Druk Gyalpo, or Dragon King. The elder Wangchuck, who was crowned in 1974, announced two years ago that he would be abdicating in favor of his Oxford-educated son as part of reforms yielding much of the monarchy's power and transforming the country into a democracy. Although the son has been effectively acting as King since December 2006, the coronation was delayed as court astrologers waited for an auspicious date.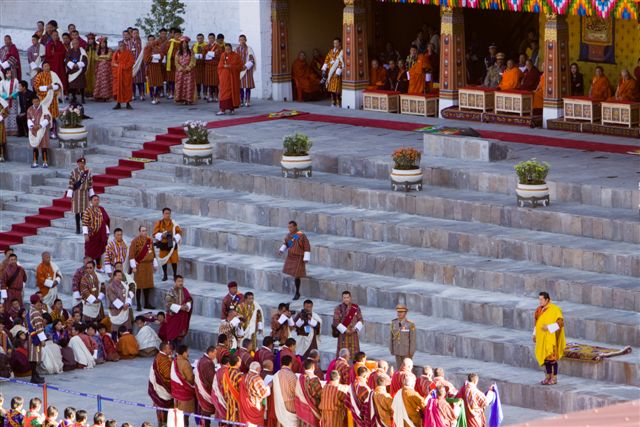 The young monarch, who is the fifth king of Bhutan, was crowned at the Chamber of the Golden Throne in the Thimphu Dzong (Fort-Monastery), in the capital city of Thimpu, and the ceremony was an elaborate display of pageantry mingled with sacred Buddhist rituals. The palace was packed with hundreds of foreign dignitaries, including India's President Pratibha Patil, and ruling party leader Sonia Gandhi. Tens of thousands of people came from all over the country for the coronation, including nomadic yak herders who trekked for days from the icy Himalayan mountains of northern Bhutan and members of the Hindu minority who came from the subtropical south.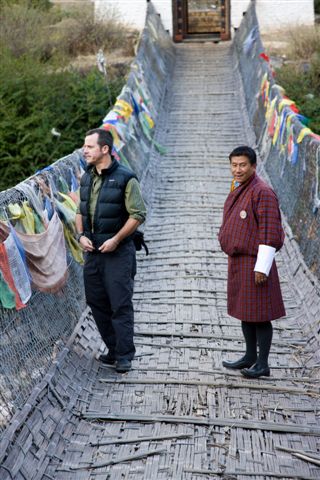 The new king has pledged to maintain his father's unique philosophy of improving "Gross National Happiness," and not the common economic indicators, to ensure well-being in the "Land of the Thunder Dragon." The
transition in the country's leadership might bring new changes to the country where people have lived secluded lives from the outside world. It was only at the coronation of the last king in 1974 that foreign dignitaries and the media were allowed into Bhutan for the first time. Foreigners are still restricted, with only 20,000 tourists allowed in each year.