Biking the Kern Mountains in Service of Wilderness: Part 3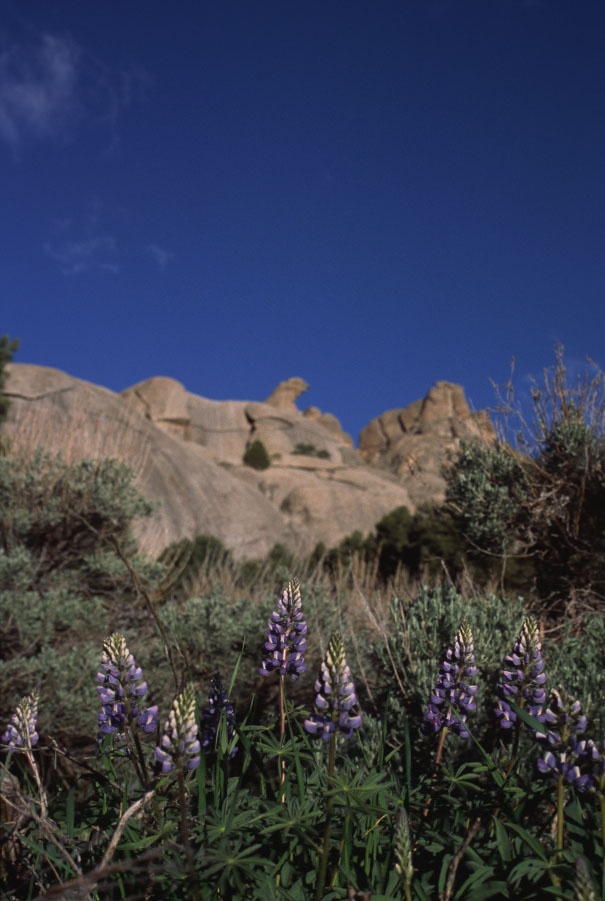 sweep of velvet green meadow ringed with aspens, leaves manicured to an even height by the elk, deer, and few free-range cattle that move through these mountains each season. I'll be leaving the car here, and setting out by bike as soon as I can organize my gear…
[Morning blues in the Kerns. Photos: localcrew]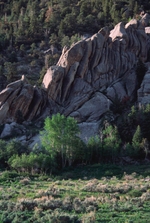 Packing takes longer than expected, as I sort through the month's worth of rations I've loaded into my car. I pack and repack my clothes, twist a map to funnel spices into small plastic bottles, and review my first week's rations one more time to cull unnecessary weight. Though at this point I'd give anything not to have to sort through all of these things, I know I'll need every bit of this food before I can entertain thoughts of going home.
I had test-ridden my loaded bike on one of my regular back-door circuits of singletrack before leaving home, and it had felt surprisingly lithe and manageable. But I wasn't prepared for the reality of my now fully loaded behemoth. It definitely exceeds manufacturer's maximum payload recommendations. The map indicates today's mountain pass lies at approximately 9,100 feet. Small by Rocky Mountain standards, but out here the gain is appreciable. I note one section of the road climbs almost 2,000' in just over 2 miles.  "Is that a road or a hiking trail?" I posit aloud. Heart flumps nervously, hands sweat, bowels shiver. . . there's nothing to do at this point but start pedaling.
Moving this bike up a mountain pass is like pedaling a bowl of water along a fencerail. The load feels completely unsteady, but it's not long before I realize it's me, and not the bike. It can handle it. Aside from the purely mechanical serenade of chain, pedals, and tires, I cannot hear anything over the sound of my internal dialog.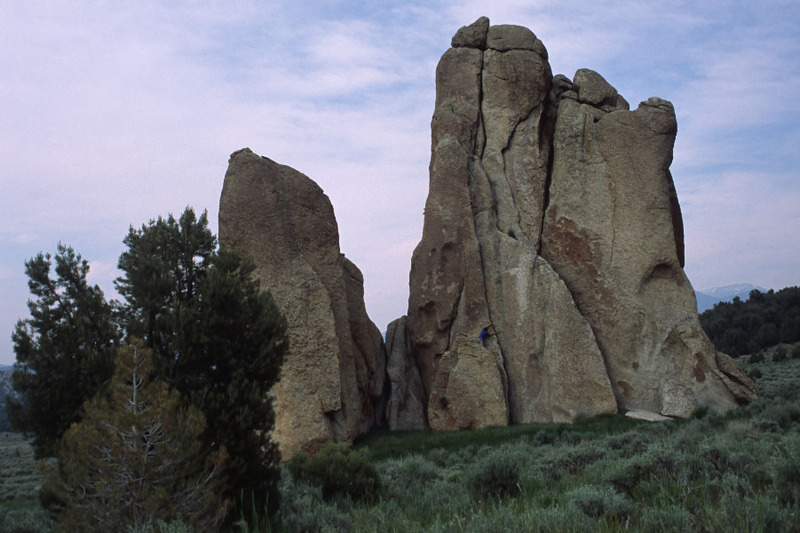 "What the hell were you thinking!?!" it screams. Over and over.
I fight the sounds of doubt by settling into a slow, but maintainable cadence.  And then I hit the first washout in the road. This isn't just any washout.  It's a cataclysmic rend in the earth's fabric, a gaping void where once, not long ago, lived a perfectly passable road.  This is nothing a vehicle could navigate, and nothing I can approach from the other side without at least two full days of travel.
There is no 'going around.'
[Top – One of countless granite towers littering the northwestern corner of the Kern Mountains. Bottom – A lone granite tower in the Rock Springs area. Photos: localcrew]
(Check back for the fourth and final installment of Bike Mountain, Make Wilderness)