How to Identify Bluefin Tuna—and Not Support Overfishing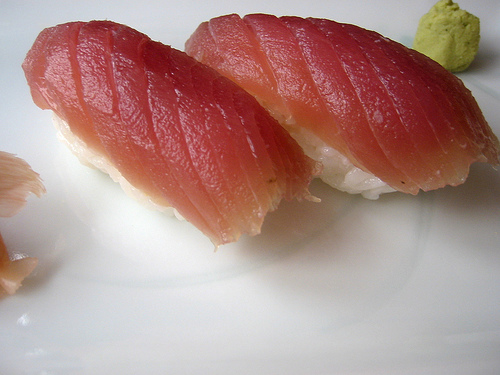 In the last six months, I've been to two sushi bars on the east and west coasts, one in Brooklyn, New York, on Smith Street, and one in Santa Barbara, on State Street (you know who you are) that have bluefin tuna on the menu. Here is what Blue Ocean Institute, a highly respected organization, has to say about Atlantic bluefin tuna: "Exploited heavily for decades, the West Atlantic Bluefin Tuna population is Critically Endangered, and the East Atlantic population is Endangered."
Even sport fishermen and sushi-bar owners are calling for a time-out, on fishing for bluefin. Check out the article on bigmarinefish.com called "Atlantic Bluefin Tuna – Severity of Decline and its Causes." Then, watch a YouTube video with Caroline Bennett, founder of Moshi Moshi, the first conveyor belt sushi restaurant to open in the UK. Bennett stopped serving bluefin tuna in her restaurants seven years ago. The video was created for World Wildlife Fund's excellent Witness Series on bluefin tuna.
In every restaurant, it's important to know what to order and what not to order, and how to talk to the chefs and owners about endangered fish. As many of our readers and customers already know, fish stocks are crashing. If you doubt this, go to our Oceans as Wilderness archives to check out what the experts have to say. Blue Ocean Institute has a handy, downloadable scorecard. On it are many fish you can eat safely and happily, but please, don't eat any bluefin tuna, and speak to your chefs about it.
Nora Gallagher
Patagonia enviro editor
[Tuna sushi (bluefin is typically a darker red). Photo: adactio (cc)]