Breakin' Mama's China at the Hardrock Hundred Mile Endurance Run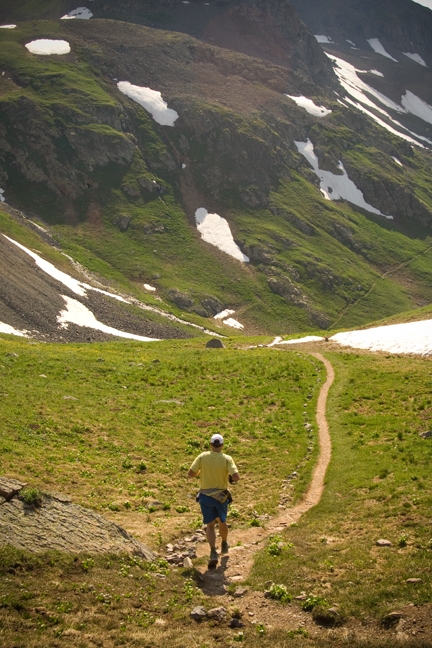 The Hardrock Hundred Mile Endurance Run through Colorado's San Juan Mountains starts and finishes in the mountain town of Silverton, and has a total elevation gain of 33,000 feet. I'd met my friend Roch Horton at Grouse Gulch, the 42-mile mark, intending to pace him as far as Ouray. He'd already run the hardest stretch to the highest point (14,048 feet). I filled his water bottle and asked him how he felt.
"No hail, rain or fog at the top of Handies this year," he said, "but man it was warm up there. Ready to run, Craig?"
"Let's get to work."
Above: Roch Horton running down into American Basin after a long descent off Handies Peak at the Hardrock 100. San Juan Mountains, Colorado. Photo: Luis Escobar (AllWeDoIsRun.com).
We hiked up Engineer Pass at a quick pace and at times broke out into a run. At the top, at 12,910 feet, the view to the west of Mount Sneffels and Mendota Peak was a nice reward. When I asked Roch the names of the peaks to the east he didn't answer – he was already gone. I ran over to the trail's edge to watch him bombing straight down a long, scary descent into a wide-open valley. I took off with eyes glued to the ground, trying to follow the overgrown trail. Catching a glimpse of a trail marker, then another, I managed to stay on course, and the trail eventually bottomed out. I shifted gears and fell in behind Roch's long stride. When I caught up, Roch said, "Doesn't that beat any downhill running in Southern California?" Yes, it did.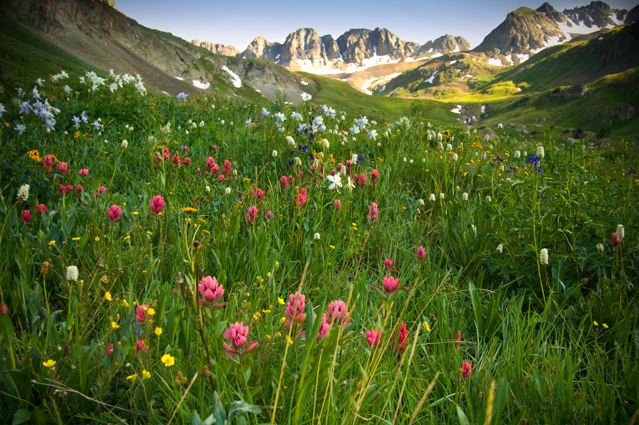 American Basin in all its splendor. San Juan Mountains, Colorado. Photo: Luis Escobar
We refueled at the Engineer aid station, then picked up our pace and found our rhythm as we ran through stands of blue spruce, Douglas fir and birch. The late afternoon light sifted through the branches, casting odd-shaped shadows. Suddenly the trail's surface turned to a chalky dust. "Drought year," Roch said. His big legs kicked up dusty clouds that made him difficult to see. Slowing down, I pulled a bandana out of my pocket to cover my nose and mouth, but tripped while trying to tie a knot. I quickly got up, brushed the dirt off and continued on.
After I caught up, Roch mentioned that we'd be entering the treacherous Bear Creek Canyon. Now we were running on shale. The trail twisted into the mountainside, and moved sharply back out, its edge a perilous 500-foot drop down to a raging creek. The shale made for jagged footing; we moved as fast as we were able. We climbed up to a spot where we could see Ouray's faraway lights outlined against a dusky sky. Then the trail wove its way downward and we rounded one switchback after another, the shale crackling loudly beneath our shoes. "We're breakin' mama's best china, Craig, and she's mad, and she's right behind us!" Roch shouted. He was right. Mama was mad, and she chased us all the way to Ouray.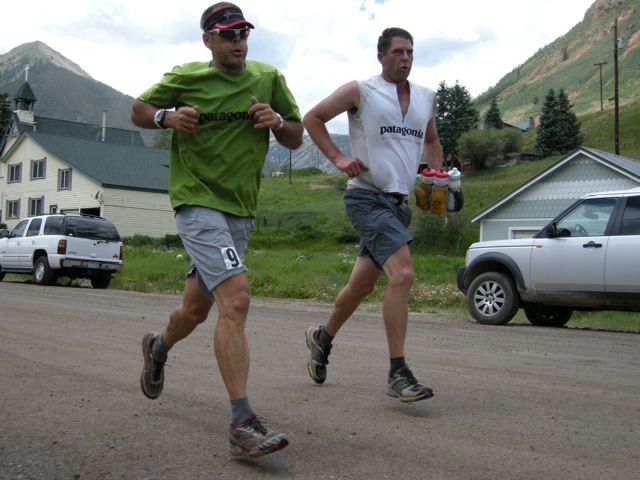 Roch Horton charging toward the finish line with friend and pacer, Big Jim Anderson. Silverton, Colorado. Photo: Luis Escobar