Caring for the Waimea Valley with Crystal Thornburg
Crystal Thornburg-Homcy
/
Jun 2, 2008
/
6 Min Read
/
Activism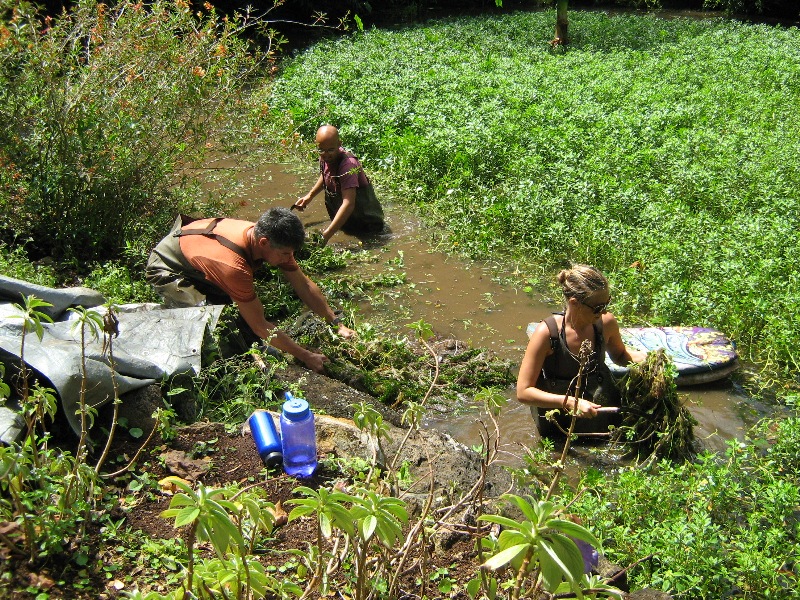 We all play in our local environments, but how many of us take the time to help care for them? Patagonia surf ambassador Crystal Thornburg shares this story about how she and some of the crew from Patagonia Hale'iwa have been volunteering to help restore a portion of the Waimea Valley.
[Hale'iwa store manager Paul Carson, conservationist Laurent Pool, and Crystal Thornburg clear an invasive plant species from a pond in the Waimea Valley to make way for the 'Alae 'ula. Photo: Kelly Perry]
Throughout the past several years, I have been volunteering in Waimea Valley on the north shore of Oahu, Hawaii with other Patagonia staff as part of the Patagonia Employee Internship Program. Just down the road from the Haleiwa store, Waimea Valley is known for its natural beauty surrounded by native, endangered, and indigenous plant and bird species.
While participating in many activities involving ecologicalrestoration, one project that we have been practicing for years hasbecome one of our favorites: a process called air-layering.Working with native and endangered plant species, normal propagationtechniques may not always be successful, so we use a process calledair-layering, which can be used to propagate large, overgrown plantsthat might have a lower success rate otherwise.

While working with plants in the valley, I wouldnotice a little black bird with a bright red bill known as a moorhenwalk by, looking like a chicken but more similar to a Rail. Recently, Ilearned more information regarding this bird, the native Hawaiianmoorhen. This bird is known as an endemic subspecies of the Commonmoorhen, and is a non-migratory bird. Its Hawaiian name is 'Alae 'ula(Gallinula chloropus sandvicensis).

Waimea Valley is also known as a pu'uhonua or place of peace andsafety. Waimea staff and volunteers are doing just that for the 'Alae'ula – working diligently to protect these endangered birds. Thevalley, also a place of great historical significance and a repositoryfor Hawaiian spirituality and culture, contains several myths andlegends that the staff shares with guests.

Valley education staff tell visitors about the important role 'Alae'ula play in Hawaiian legend. 'Alae 'ula were thought to have known thesecret of fire, but chose to withhold the skill from man. When HawaiianDemigod Maui finally tricked the 'Alae 'ula into sharing the secret, hepunished the bird for withholding the secret for so long. Maui burnedthe 'Alae 'ula's head with a hot stick, hence the red frontal shield ofthe 'Alae 'ula. 'Alae 'ula translated from Hawaiian means red shield.The legend of the bird is still passed down today.

Working with Conservation Land Specialist, Laurent Pool, we were ableto learn more about the birds' habitat along with their daily rituals.In Hawaii, the population size is difficult to calculate due to theirshyness, but estimated average count is at about 314 biannually. InWaimea Valley there are now about 10 'Alae 'ula, which are utilizingthe habitat. The 'Alae 'ula breed year-round, producing between 2-7chicks per brood. They are resourceful eaters wandering around thevalley looking for creatures such as, worms, mollusks, aquatic insectsas well as algae from nearby ponds. They spend most of their time inthe ponds building nests and feeding. In the ponds 'Alae 'ula appear tolike the 50:50 ratio for emergent vegetation to open water.

The 'Alae 'ula usually build floating nests on the surface of the pond.Due to the decline in population, the Haleiwa staff and I build raftsmade with bamboo, leafs, and banyan vines to encourage mating withinthe existing population. These nests have been placed in two ponds andare monitored daily for use. To keep predators such as, mongoose, cats,rats, bullfrogs in control, we maintain the habitat by weeding, dailymonitoring, and identification band sighting surveys.

The day after we built the rafts, Laurent Pool, Patagonia Haleiwa storemanager Paul Carson and I returned to eradicate an unknown invasiveplant species from the pond. The invasive plant was taking over thenative plants in the pond as well as making it difficult for the 'Alae'ula to move freely throughout the pond. The over grown plants alsodisables the 'Alae 'ula from spotting predators. In, old hole-filledwaders we worked our way through the pond in chest high water pullingout the invasive plant. The three of us had a system going, pulling theplants out, placing them on a bodyboard, pushing it back to the nextperson, then they would unload the plant filled bodyboard onto a tarpon the water's edge. Continuing the process for about three hours wemade way for the 'Alae 'ula and two newborns. The family seemed veryexcited to have their habitat back. They moved about eating up all thecreatures stirred up by our activity.

Unfortunately, just a few weeks after restoring the pond, the twonewborn chicks went missing. It is thought that the native Auku'u knownas a Black Crown Night Heron might have a role in the disappearancebecause it is also a known predator. Although there aren't any chicksat the moment, nesting is starting to happen. The 'Alae 'ula are movingsticks around which is an indication of nesting. The low reproductionrate of 'Alae 'ula in Waimea Valley may be due to a few differentfactors. One being that there might be only one female or one male outof the remaining six birds. There is no way to tell the sex of the'Alae 'ula, so it is difficult to determine. Another reason may be dueto the size of the pond areas. The habitat might not be suitable forlarger numbers of 'Alae 'ula. Either way, we will continue to monitorthe behaviors and wellbeing of these beautiful native Hawaiian birdsfor future generations to enjoy.

We have had one chick survive in the last year. He or she is now 7months old and his/her shield is getting more and more red everyday.

Volunteering at Waimea Valley gives us the opportunity to learn aboutthe cultural, and ecological importance of this significant area. Beingable to work here also allows us to form bonds between the Haleiwastore staff and our local community. It is a wonderful experienceseeing progress throughout the years we have been volunteering here.All of us at the Haleiwa store are honored to be part of the Volunteercrew in Waimea Valley and hope to continue our work for years to come.

[Building rafts out of bamboo for the floating nests. L to R: Hiromi Hasagawa-Suitt, Tracy Foyle, Kyle Foyle, Crystal Thornburg, and Laurent Pool. Photo: Kelly Perry]

[Finished rafts with leaf nests. L to R: Crystal Thornburg, Kyle Foyle, Tracy Foyle, Laurent Pool, and Hiromi Hasagawa-Suitt. Photo: Kelly Perry]

[Launching the rafts into the pond. Photo: Kelly Perry]

[Aloha! Photo: Kelly Perry]
Our thanks go out to Crystal for taking the time to send this story and photos. You can see and hear more of Crystal in the movie Sliding Liberia. She also appears in this short Patagonia surf video and on the Patagonia mini-site, Bend to Baja.
Side note: the story of Maui and the 'Alae can be heard on the late Israel Kamakawiwo'ole's powerful album Facing Future — the tune is "Maui Hawaiian Supaman