Nico Favresse on Free Climbing the South Pillar of Kyzyl Asker
Nico Favresse
/
Dec 20, 2013
/
6 Min Read
/
Climbing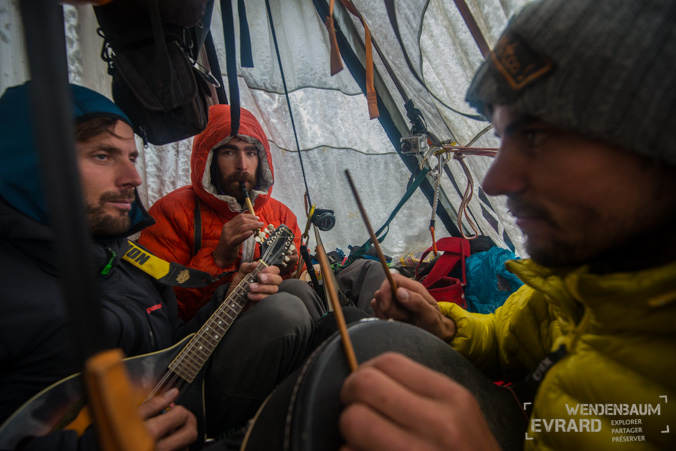 October, 2013: Yes! We (Evrard, Sean, Stéphane and I) have hit civilization and made it back from the Chinese mountains. Thank God, food tastes so good now. And what a treat it is to be able to take hot showers whenever. Sorry for the lack of news. Again, all sat phone credits had to be sacrificed for phone sex to release some tension in our team, obviously crucial for our climbing.
We spent the first week in the mountains just exploring all the valleys around us, looking for interesting climbing targets. We also tried to climb during that first week but everyday the beautiful weather turned into a snowstorm by the afternoon. We realized with the particularly cold temps and fresh snow, we could only consider rock climbing on the south faces hoping the sun would heat things up a bit. This criteria narrowed down our choices a lot but we finally found what we were looking for: A big wall with plenty of potential to keep ourselves busy for a while. It was, in fact, the 1400m South Pillar of Kyzyl Asker (5842m) that attracted us. It's long, steep and high with rock of great quality mixed in with lots of white "things" on the upper part of the wall. I was excited by the prospect that this experience would be something quite different from all the other big walls I had climbed before.
It took us another week to bring all our gear, food and musical instruments up the long glacier to the base of the wall. The last two days, we finally had perfect weather and started climbing with our load, and fixed the first 400m of the wall. Right away we were very impressed by the quality of the rock but also by its crazy hueco shapes which made for some unique climbing.
It was finally on September 10th that we left the ground with 15 days worth of vertical life supplies. We spent the whole day hauling all our gear up the 400m of fixed terrain. We were very heavy and the altitude was pumping our hearts so hauling turned out to be a lot harder than anticipated. Around 2:30 a.m. we could finally relax and eat our lyophilized, or freeze-dried, meals mixed with funky Chinese additions, comfortably installed on our portaledge.
The next couple of days the weather maintained itself perfectly, the best so far! But I caught a cold so I couldn't do anything other than just stay on the portaledge while Sean, Steph and Evrard made steady progress. It's really amazing how the feeling of being on a portaledge changes radically when you are not feeling well. It felt like hell! Inside the fly everything was constantly frozen and moving around. Even melting snow cost me a huge amount of energy. With fever kicking in and the need to make a choice whether I should keep going or bail, I decided to finally take some antibiotics. Twenty-four hours later, I started to feel better and it was great to be back and able to climb.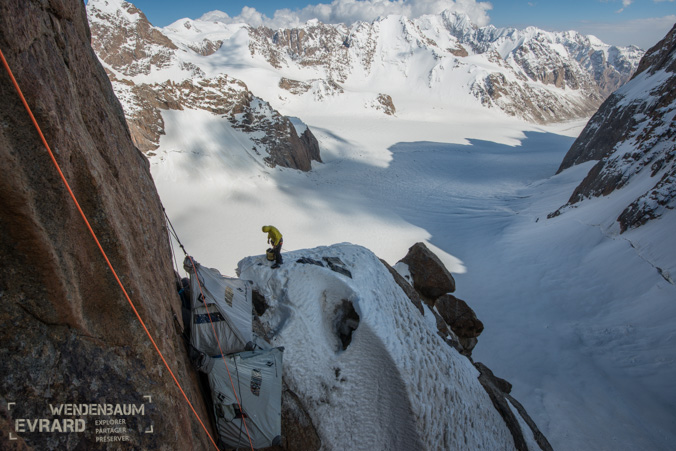 As the sun sets, the temperature drops. Stephane gathers some snow to melt for water for dinner.
We were just getting into the heart of the climb on an amazing section of the wall – orange granite that was vertical to slightly overhanging, covered with perfect splitter cracks. Sean was so excited to do some challenging rock climbing, he decided to leave the most obvious line of weakness to go up a perfect overhanging splitter. It was hard, long and very thin but amazing, and he decided to make it his big-wall cragging project. Meanwhile, Evrard, Steph and I explored what was next: Another perfect, difficult splitter pitch followed by a 3-dimensional pitch moving through huge huecos and crazy shapes.
The next day some bad weather kicked in and all we could do was play some music to wait out the storm. It was cold for our fingers to play well on our instruments, but with the four of us on one portaledge playing fast, we could quickly turn the freezer into a sauna! Evrard, who's new to the band, took some time to make a few adjustments but after a while he managed to put in a nice groovy, xylophone touch.
Video: China Jam – Portaledge Song from Evrard Wendenbaum.
The following day the weather remained the same but, fresh from a full day of rest, we decided to tough it up and confront the bad weather. We moved our camp higher which we thought would save us some time. But as soon as we started hauling, we got ourselves caught in a whiteout with heavy snow precipitation. The atmosphere was magical. Everything was covered with 20cm of fresh snow, but we needed to maintain focus to have everything go right because in these conditions any error could be costly. This day it was Steph's turn to not feel so good with a cold he most likely caught from me. At the end of the day when we managed to set our ledges, slinged around on each side of a horn, Steph was in a more passive mode leaving his feet and hands particularly cold. But fortunately, some hot soup later, heat came back to him.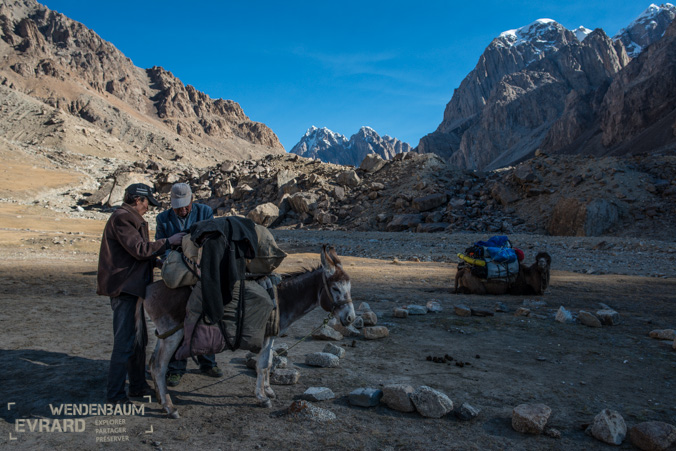 11am in basecamp, the driver finishes loading the camel and the mule. We are leaving this amazing place! Hopefully, Stephane's foot will soon be taken care of.
Video: Trailer – China Jam from Evrard Wendenbaum. Help support the full-length film and get a DVD or digital download at Indiegogo.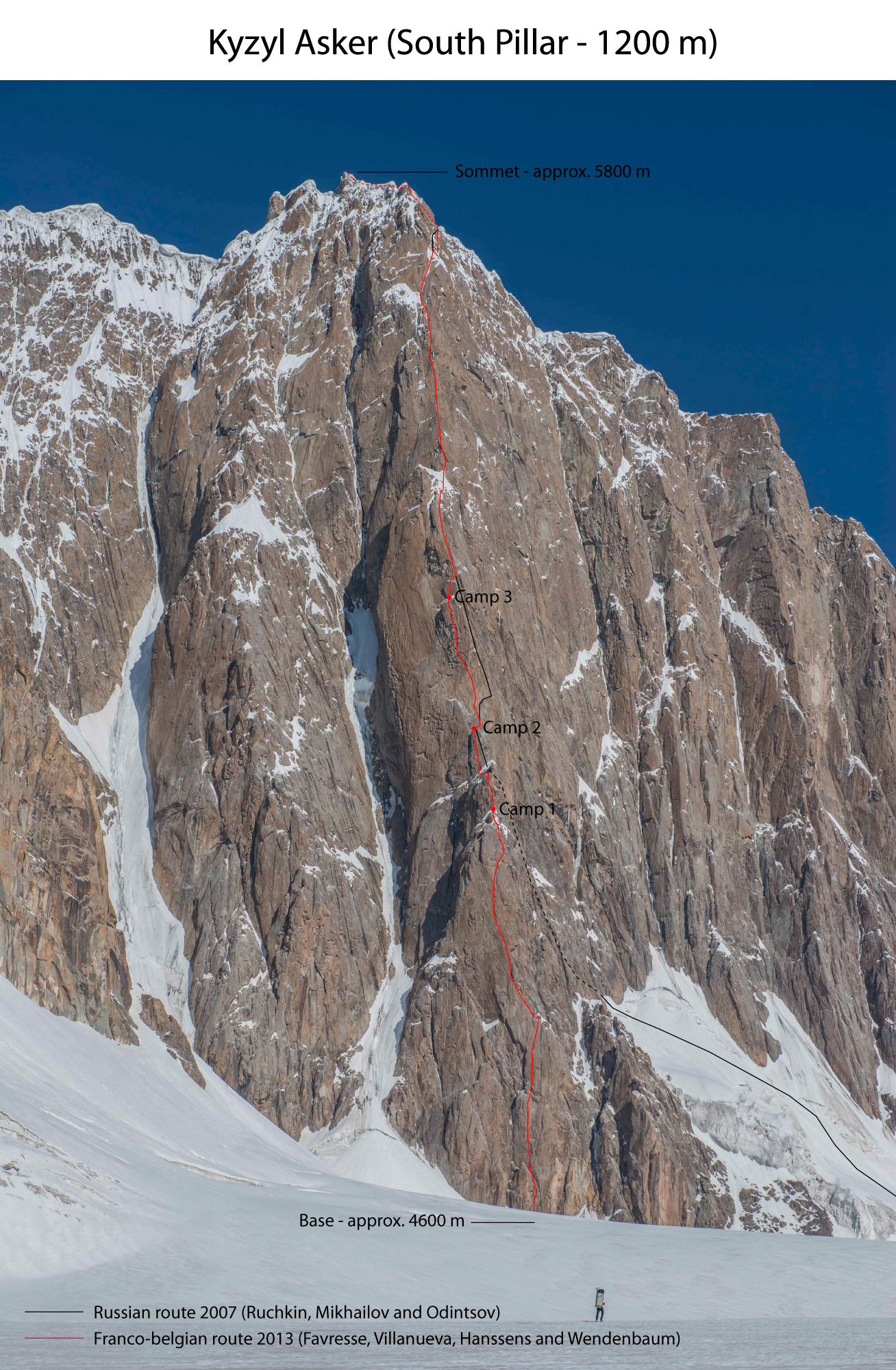 Evrard Wendenbaum's work as a photographer has led him to the most inaccessible corners of the planet over the last ten years. His first film, Amazonian Vertigo, shot during the ascent of Angel Falls in Venezuela, has won 11 film festival awards. Evrard also leads the Naturevolution environmental association and applies his skills to the preservation of biodiversity.
Work on a full-length China Jam film has begun. Help support the film and you could get some sweet perks, including the new Patagonia Ascensionist Pack (coming January 2014). Learn more about the project and pledge your support at Indiegogo.