Listen to "The Accidental Journalist" Dirtbag Diaries Podcast Episode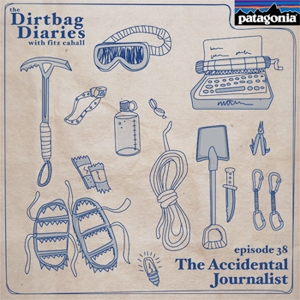 iPods rejoice! The newest episode of The Dirtbag Diaries has just gone live. Our friend and host, Fitz Cahall, is here once again to set the stage.
As a child, Freddie Wilkinson was fascinated by K2 and the adventure narratives from 8,000 meter peaks. It led to an incredible career as an alpinist seeking out difficult routes on obscure peaks across the globe, but his interest in climbing the trophy peaks waned. In August 2008, 11 climbers lost their lives on K2. The ensuing media frenzy was just that — a frenzy. Facts were hazy and right from the start people began making broad generalizations even though the details had yet to emerge. Something about it pissed Freddie off and stirred his curiosity. What really happened up there? Freddie started asking questions and in the process he found himself chasing an incredible story. You don't need a journalism degree or a press pass to be a reporter. All it takes is a little New England "Can Do Spirit" and curiosity that won't rest.

Listen to "The Accidental Journalist"
(mp3 – right-click to download)
Bonus episode: Faithful Dirtbag Diaries listeners have no-doubt heard the latest Short, but we erroneously neglected to post it here on The Cleanest Line. Hit the jump to listen to James Lucas talk about his dreams of rock climbing stardom — recorded in a tent at Camp 4 in Yosemite Valley.
From Fitz (this episode originally aired on June 3rd):
The Shorts — Yosemite's Next Top Idol

Yosemite has always been a crucible of hard climbing and big egos. Every year the sport's stars, die-hard dirtbags and hungry youngsters flock here to throw themselves at the big stone. Only the great will become legend. There is Surfer Bob, Mr. Magoo and Platinum Rob. James Lucas had dreams of rock stardom. He wanted to cast a shadow longer than El Cap. He wanted to live forever in camp fire conversation.  He wanted to be Yosemite's Next Top Idol. What would it take? He would have to chisel his body into a granite monolith, learn to suffer through storms and develop swagger. He turned to the legends for advice and they welcomed him with open arms. Turns out nobody can resist sandbagging a young hungry climber.

Listen to "The Shorts – Yosemite's Next Top Idol"
(mp3 – right-click to download)
For more on the music from both episodes, visit the Dirtbag Diaries. You can subscribe to the show via iTunes and RSS, or connect with like-minded listeners via Facebook and Twitter. 
Fitz, and his partner Brian, are also helping us with a new video series called "Tracing the Edge." To see the trailer and the first three episodes, step into the Tin Shed.